One must be very careful in using the term "resort" to describe Underneath the Mango Tree (UTMT). This boutique luxury hotel located in the tiny town of Dikwella (180 km from Colombo) is anything but your typical resort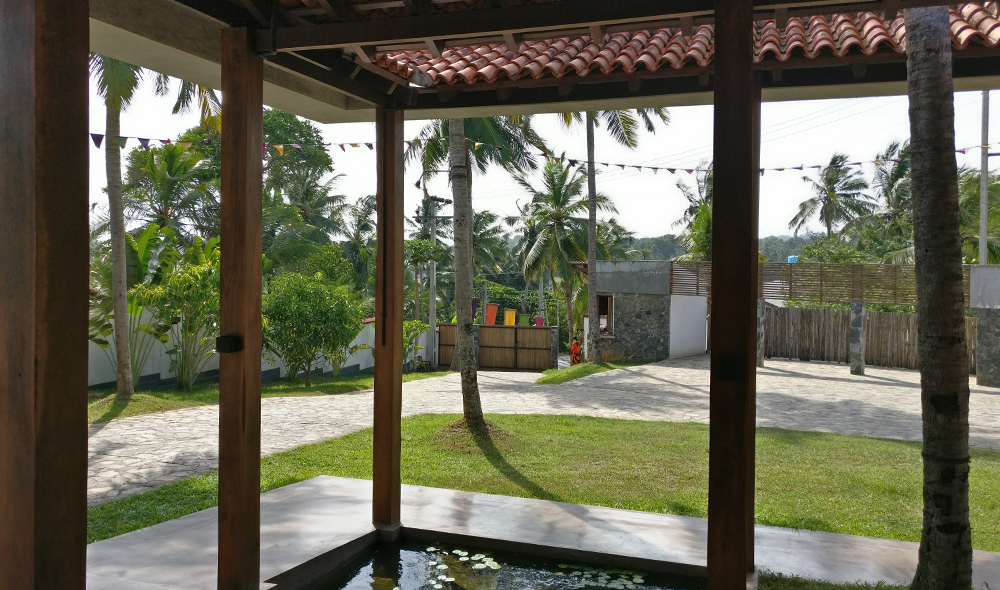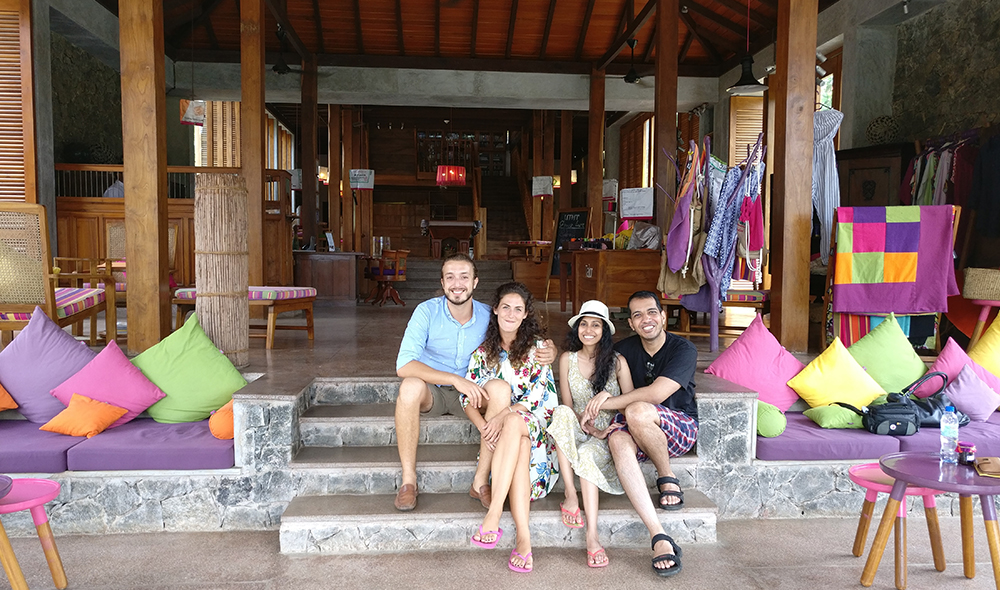 You realize this from the moment you enter the main lobby when you see the little shop and the tailor's desk on the right. Besides purchasing the ready items, you can also get custom outfits made in 24 hours by the local seamstress.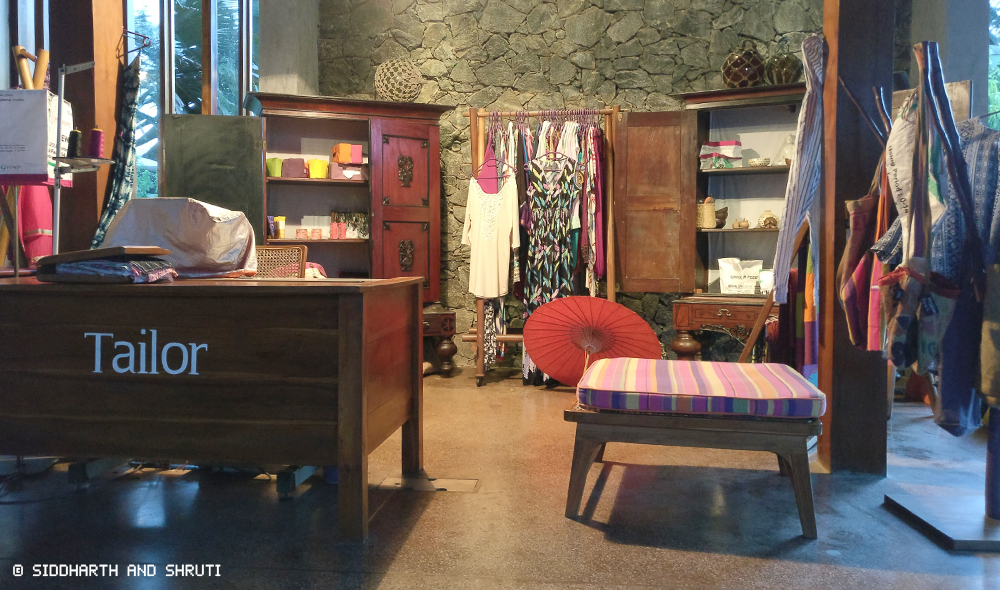 Check-in:
The not-your-usual experience continues with the welcome drink. Now, this was only the second hotel we stayed at in Sri Lanka but we were a bit amazed to be served a large coconut with two test tubes sticking out of it! While we were busy examining the curious apparatus, out of the resort walked the lovely Tina Pezzarelli; one half of the dynamic duo (Alex being the other half) that manages UTMT. Tina is basically just a bubble of energy. Despite being tired after our long journey from Ambalangoda, her enthusiasm was hard to resist and she got us excited about exploring this new place.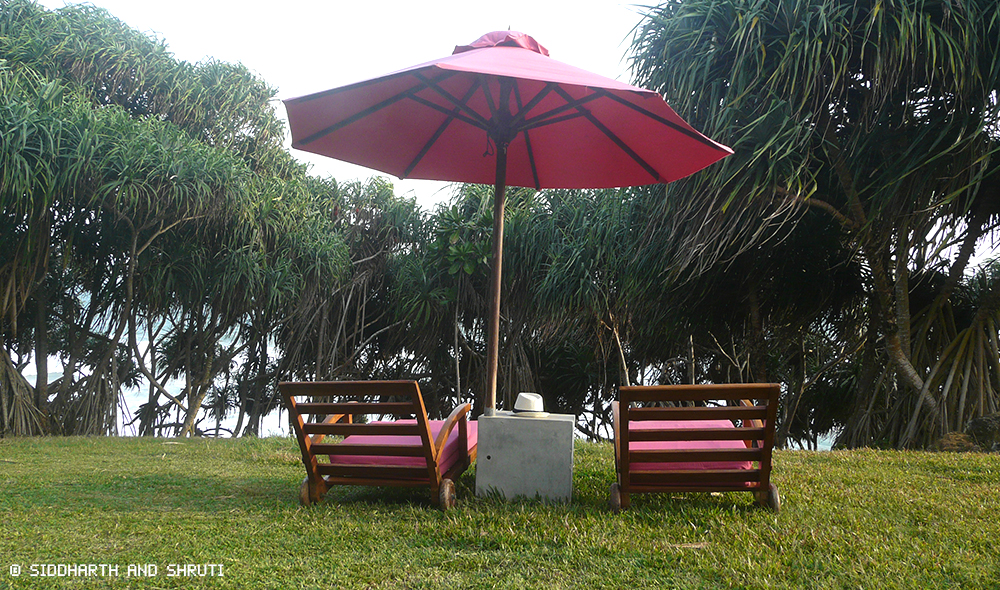 Visually, UTMT's main reception area (and indeed the rest of the resort) is decorated with bright colours but not in an overpowering way. Old world yellow lamps hanging from the ceiling give a warm & cozy feel. As you are escorted to your room, it is impossible to not notice the game room & the children's play pen in the centre of the lobby but the real attraction is the cinema theatre; that's right…Underneath the Mango Tree has a full fledged cinema hall complete with a popcorn machine within its premises! Three movies are screened every day; make sure you check the blackboard for the show listings. The posters at the entrance are a cool mix of Hollywood and Bollywood classics.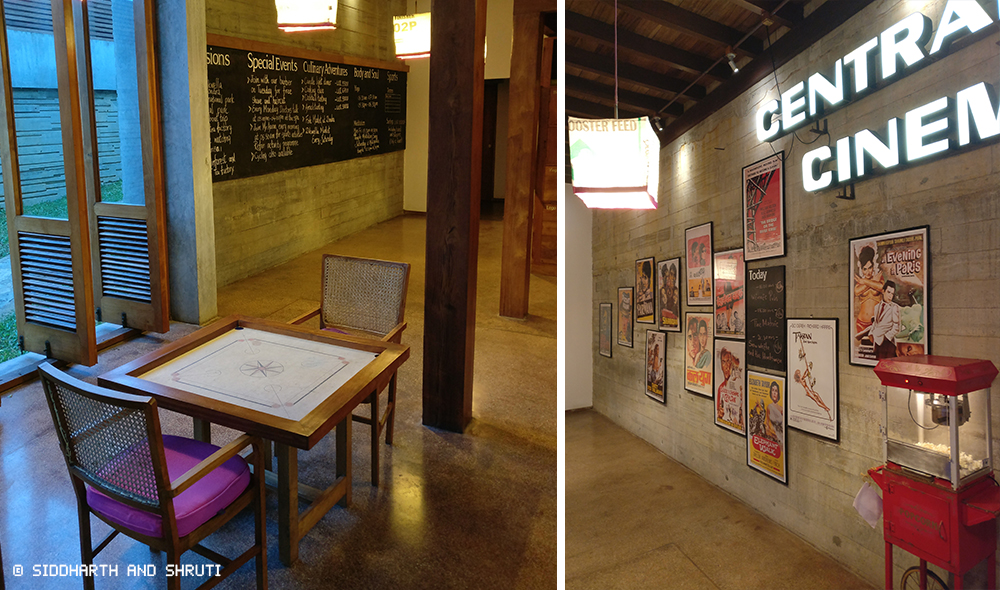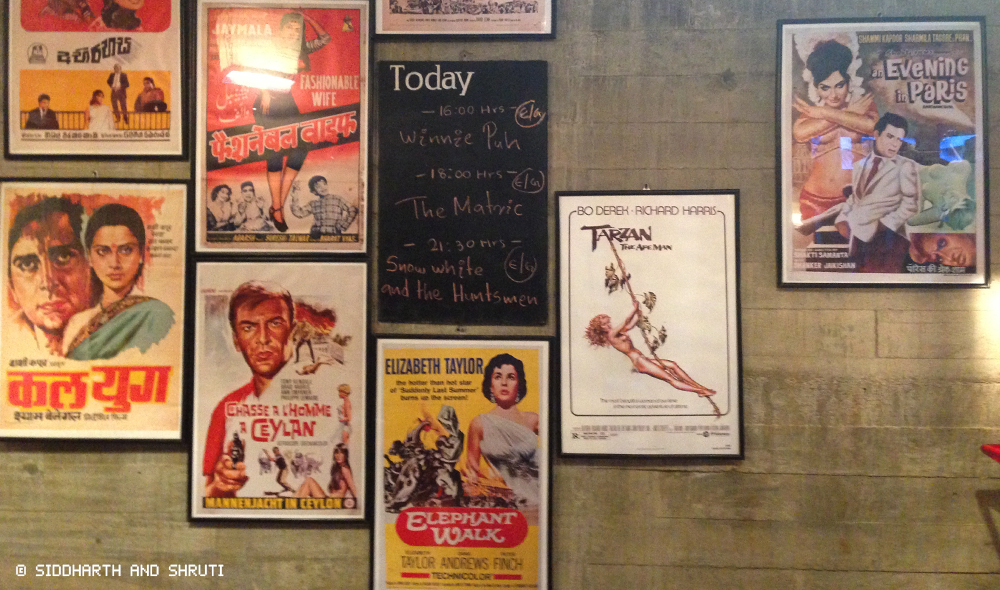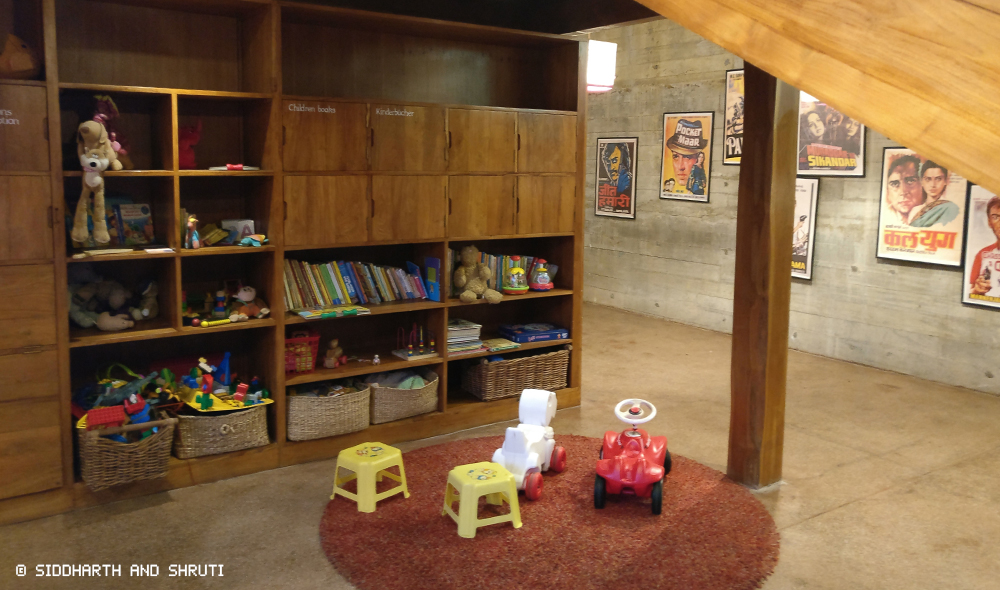 Living arrangements:
We stayed in one of the hotel's Double Rooms. Our names were written on the blackboard next to the door which was a very nice personal touch. Guests are encouraged to use the blackboard to provide instructions to the hotel staff (clean the room, do not disturb etc.) which we thought was quite neat. Also, the room key is an actual key, not a key card that most modern hotels use.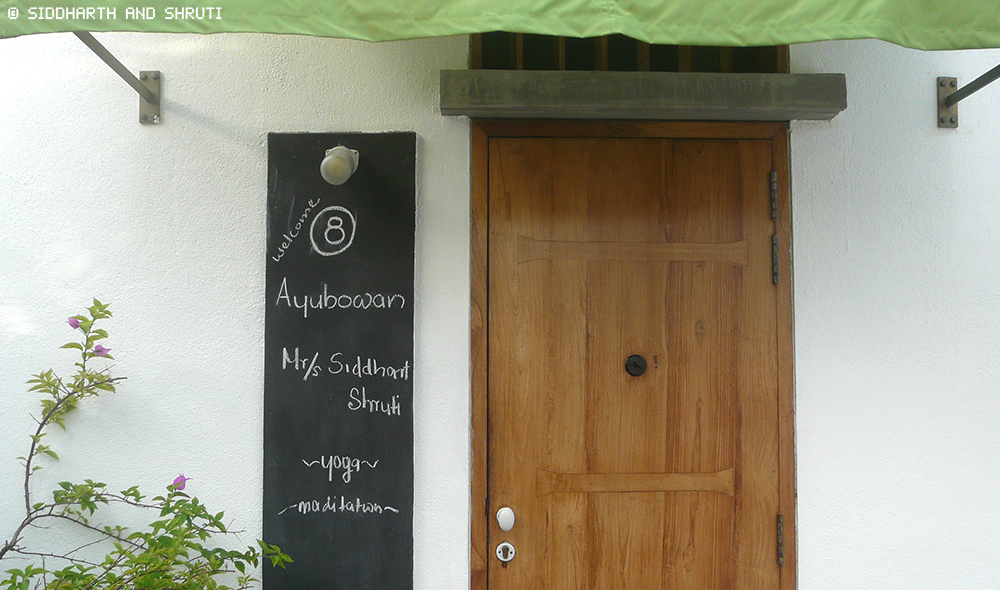 From the moment we walked in, we were impressed by the eclectic décor of the room. The teakwood panels, wall-mounted telephones and locally stitched lampshades are decidedly old-world. At the same time, the room is equipped with modern amenities including Wi-Fi and an iPhone dock with Internet radio. UTMT also allows guests to borrow iPads during their stay for their own use.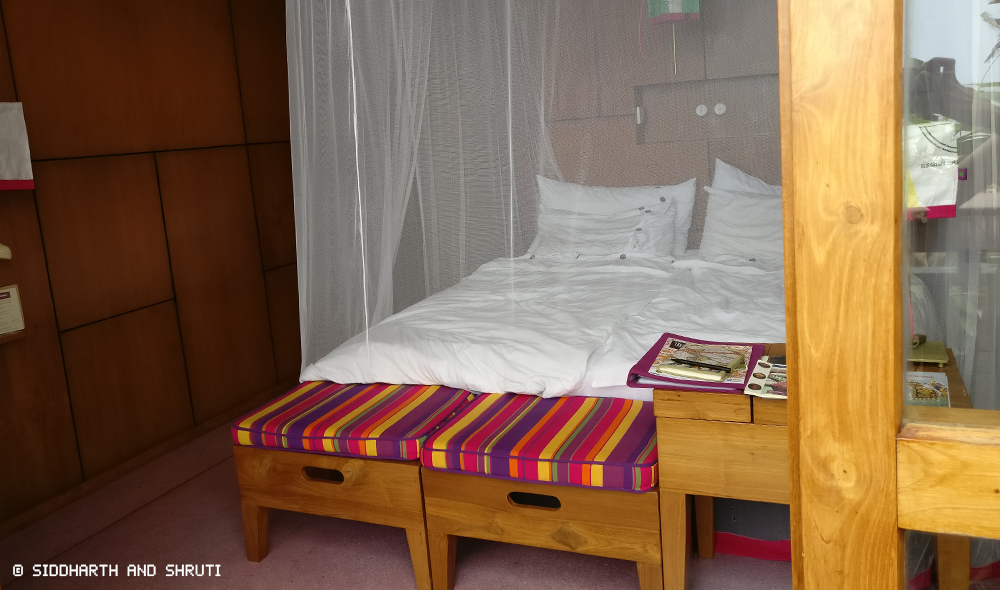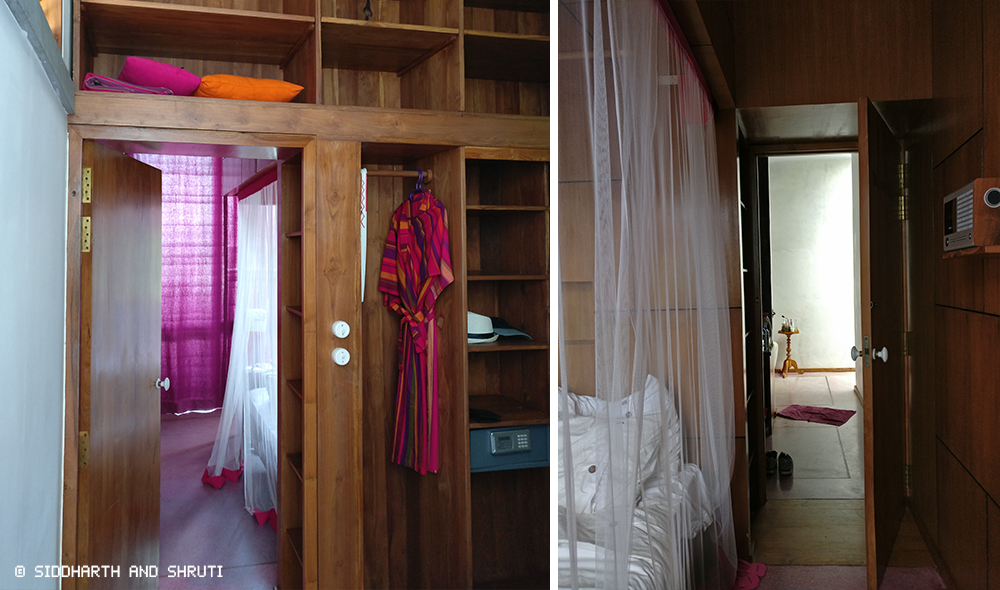 With 375 sq. feet of living space, there is lots of room devoted to storage. During our conversations with Tina and Alex we found out that most guests typically spend a week or more at UTMT. Consequently, the rooms are designed to feel more like a home than a hotel.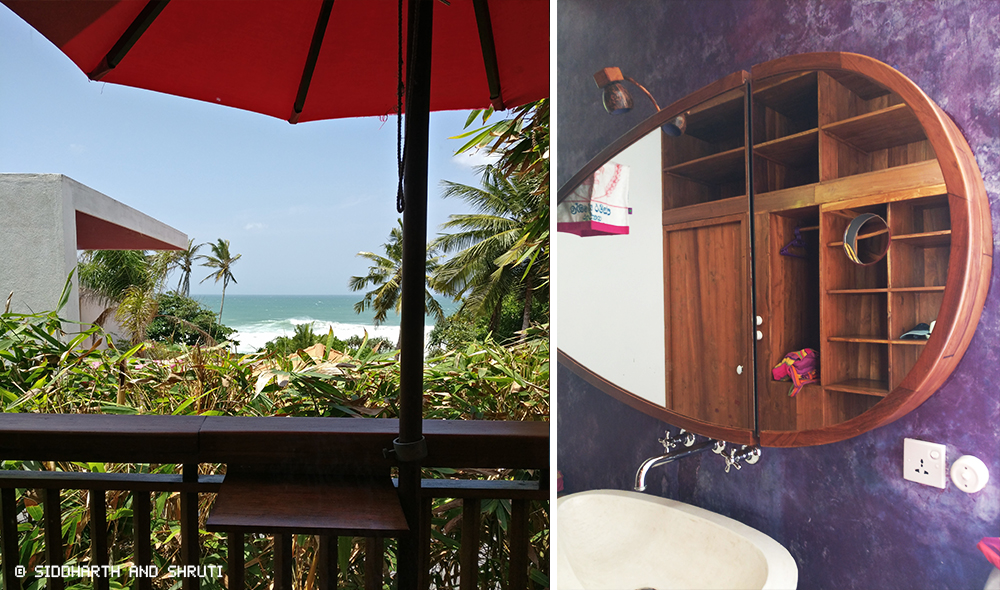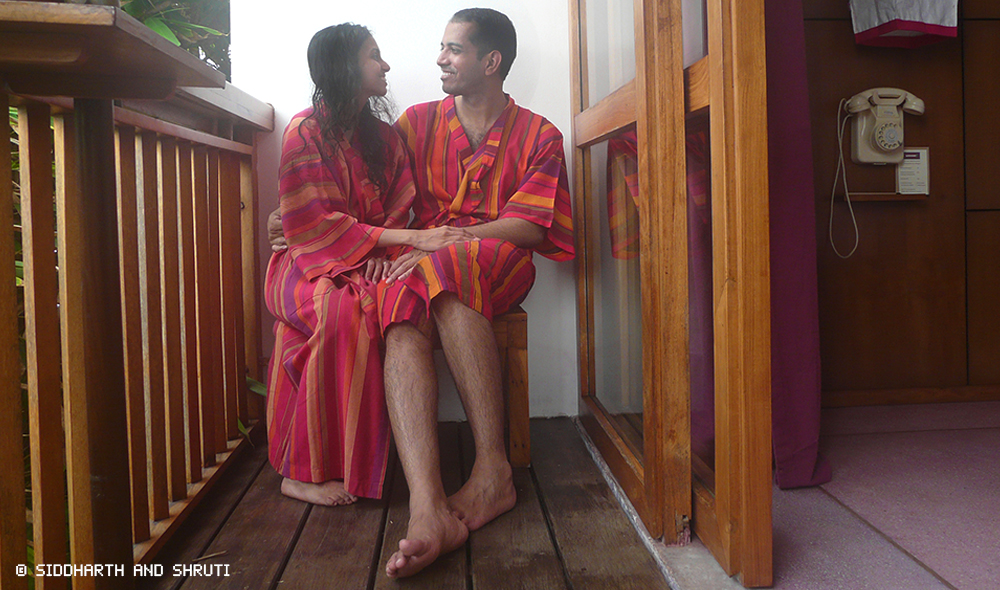 The bedroom opens out onto a wooden balcony which overlooks the ocean. It's small but cozy enough to sit and curl up with a book or sip a cup of tea. One of the more unusual things about the room was the open air shower. It was quite an odd experience to have a hot bath with a cool breeze blowing from the sea. The room also comes with a tub and luxurious toiletries including bath salts and body lotion. We appreciated UTMT's commitment to eco-friendliness by using recycled milk bottles instead of plastic for the toiletries.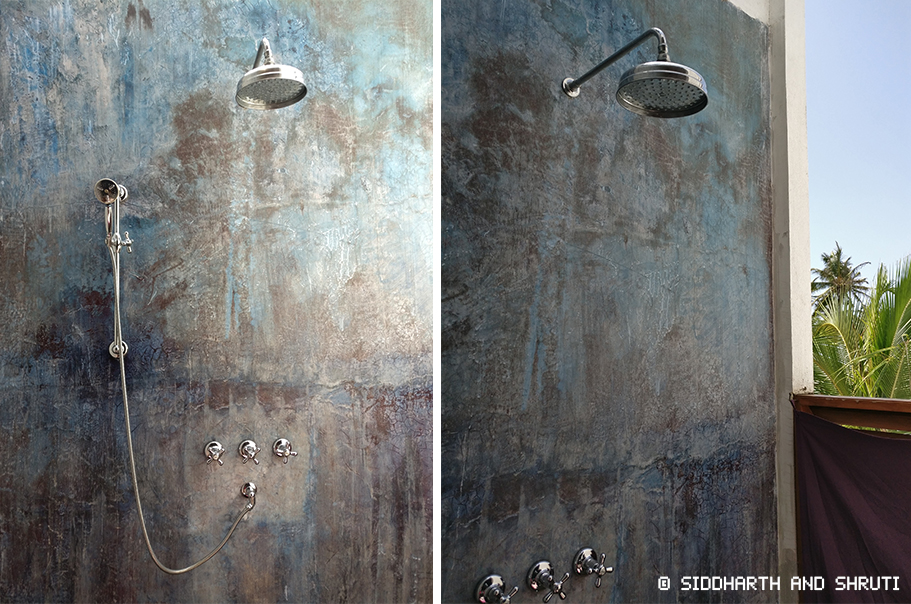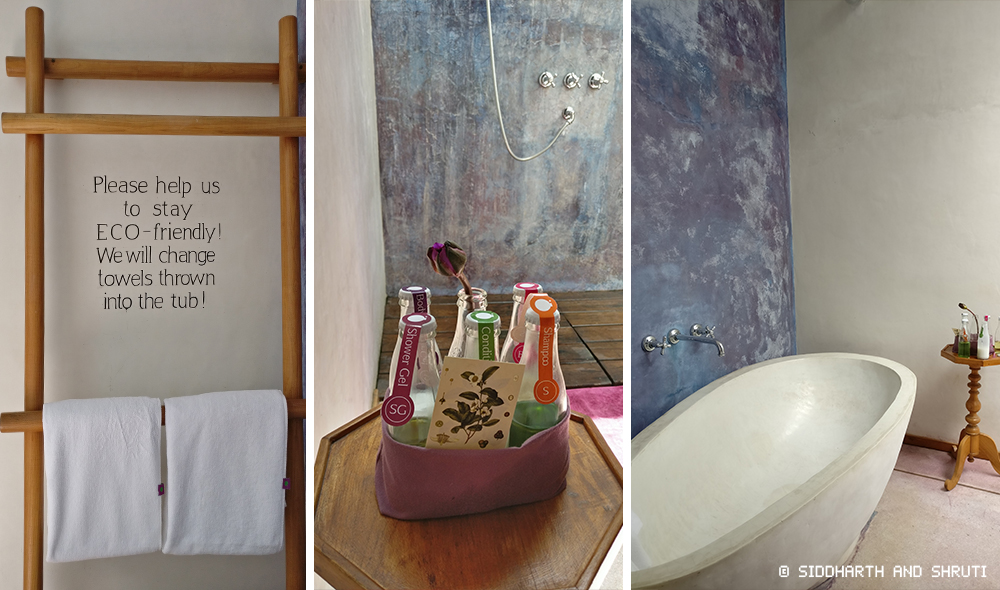 Activities:
There are so many things to do at UTMT that we barely felt like stepping out of the resort. Between the tea tasting, the 1,500 book library and the infinity pool (open 24/7), there is something for everyone. You can also book a cooking class, a bartending class or yoga lessons to pass the time.
We participated in the afternoon tea tasting which happens every day between 4 and 5 PM. The hotel serves a new cake daily. We were lucky enough to sample their delicious orange cake along with lemongrass and yogi tea.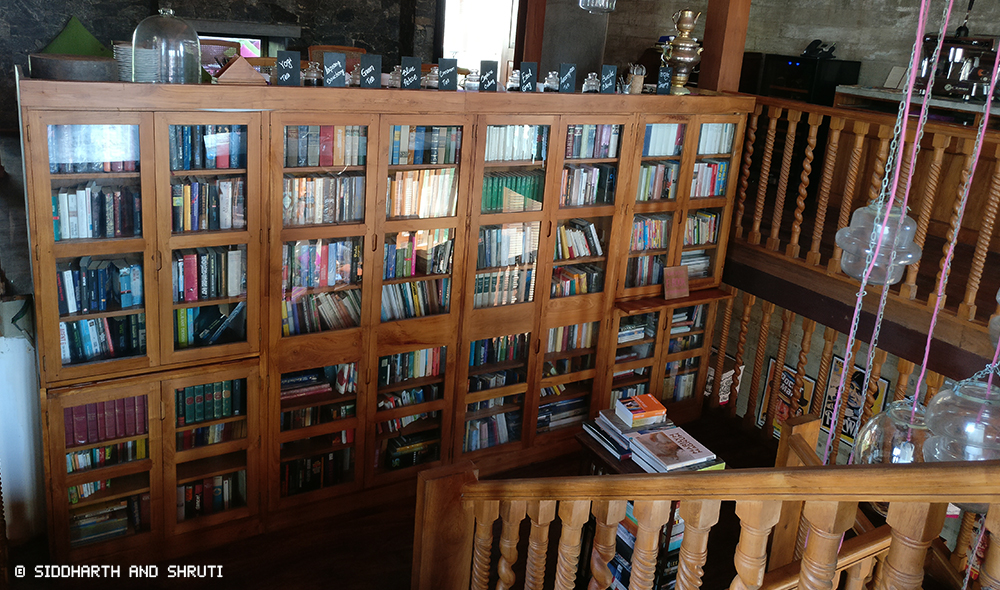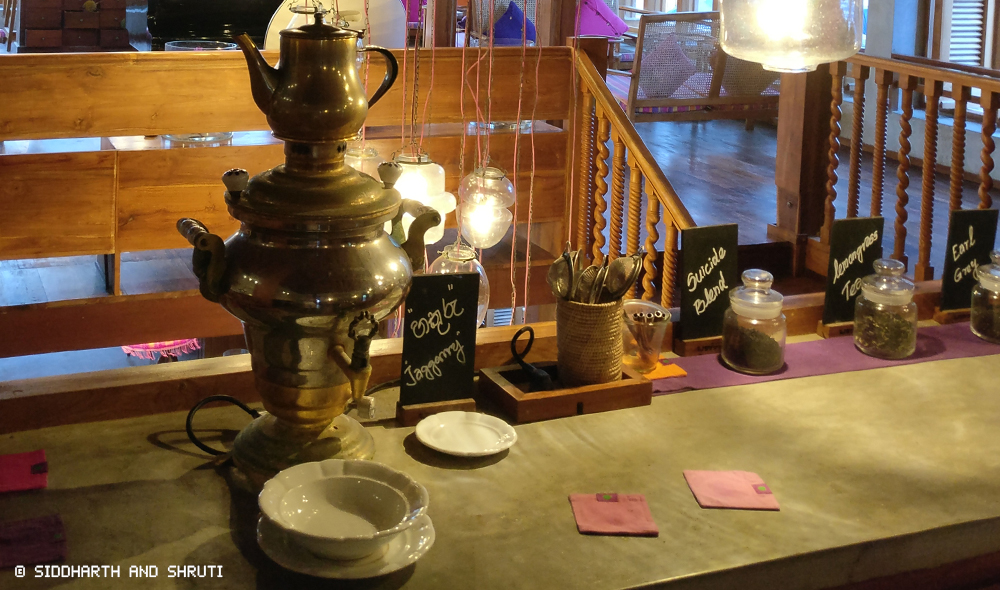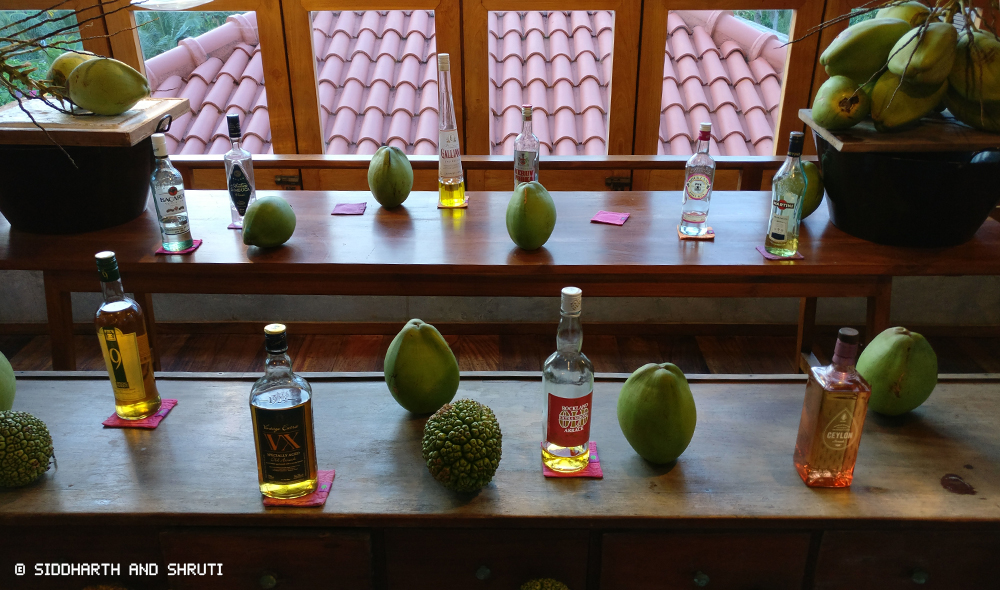 In the evenings, the beautifully decorated club/lounge area (complete with a grand piano) is a perfect place to have a drink or two (or five). We were also the lucky winners (actually, we were the only entrants) of the daily UTMT quiz (how many kilos of seafood are served each month at UTMT?) and were awarded free cocktails for our answer.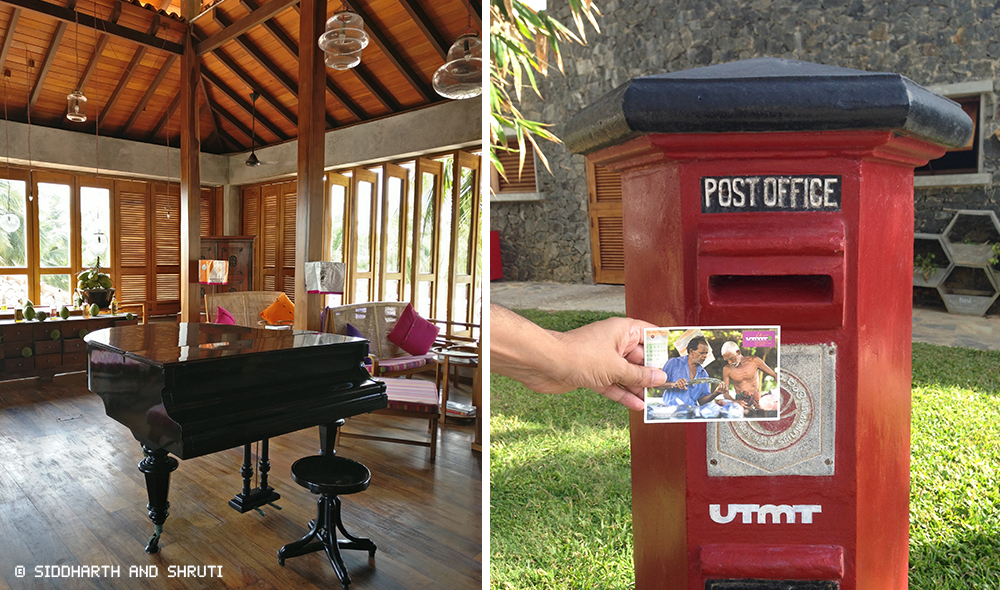 Missing your loved ones? Send them a postcard right from within the resort or give them a surprise call from the retro telephone booth which allows guests to dial internationally at no charge (see what we mean by not needing to step out?).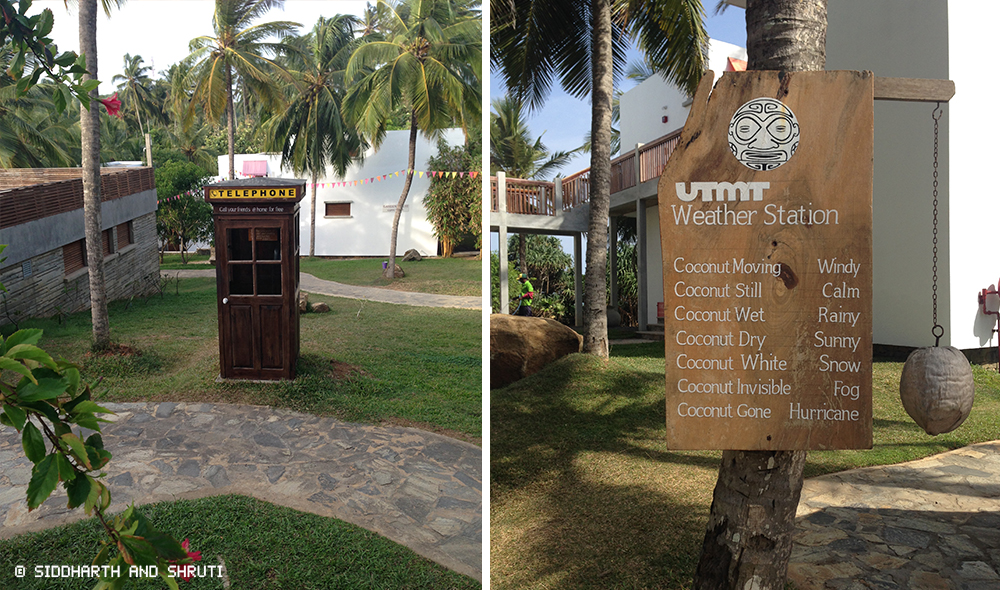 Fortunately, UTMT's weather coconut was steady during our entire stay and we experienced nothing but gorgeous weather.
Beach:
UTMT's private beach is just a short walk downhill from the resort. You can rent body boards, play boules, sit at the bar or if you're not feeling adventurous simply lie in a hammock and watch the waves. The beach is extremely clean and well-maintained.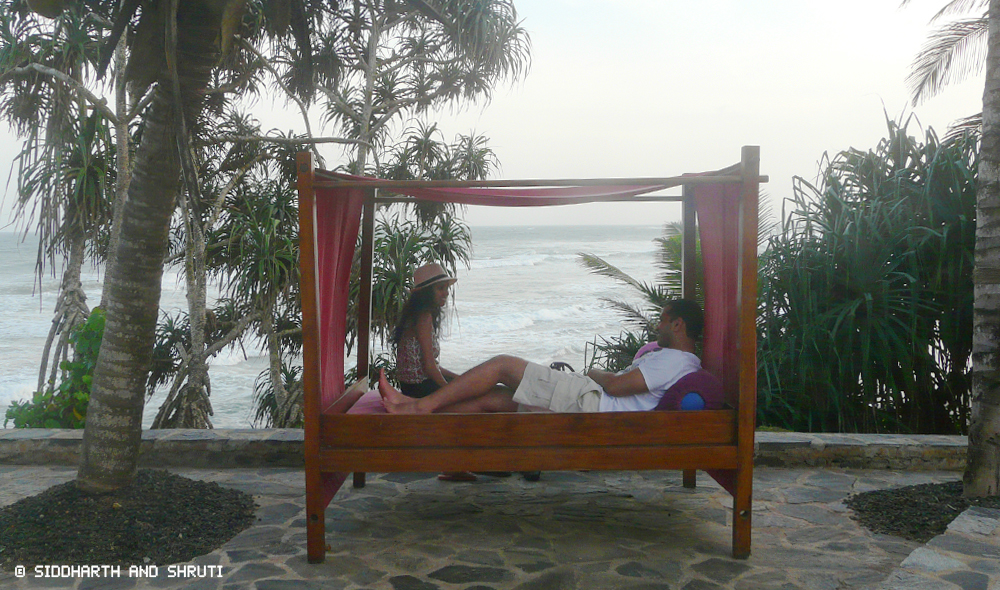 [bctt tweet="Underneath the Mango Tree – not your usual resort" username="SiddharthShruti"]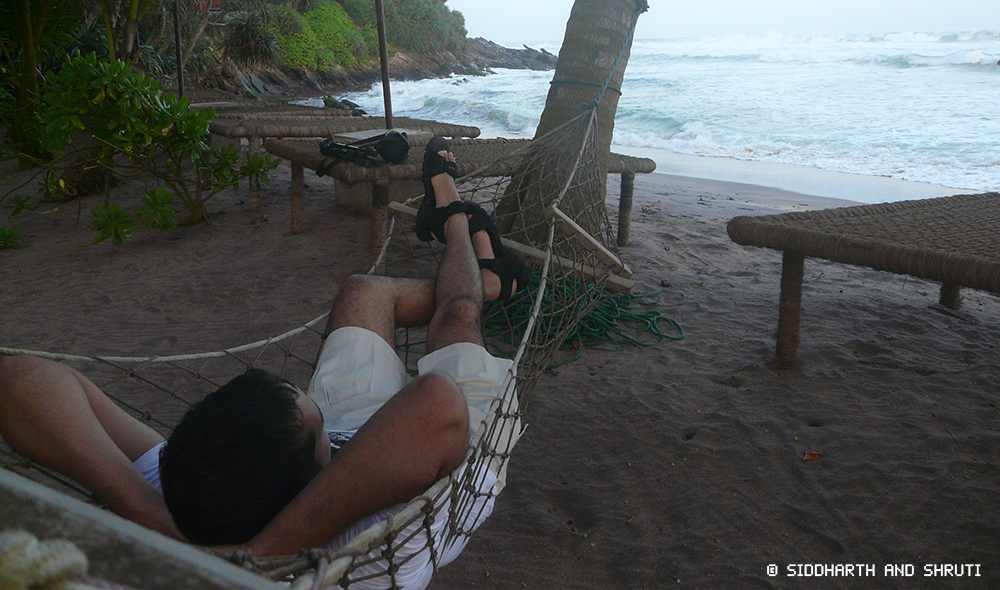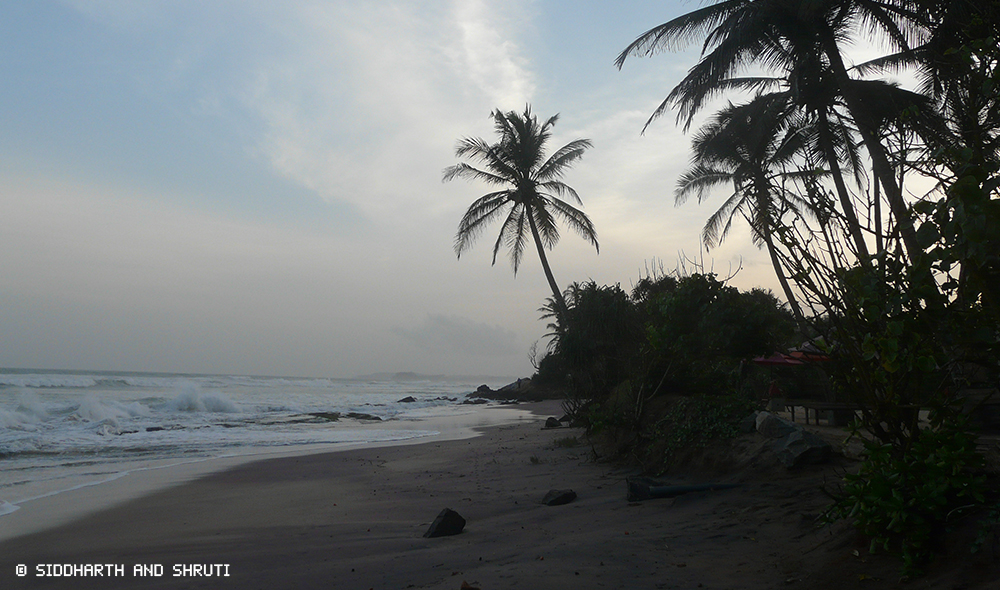 Food:
The UTMT food was one of our favorite things; especially the breakfast. Having fried eggs, fresh fruits and coffee with the strong ocean breeze blowing was a delightful experience. On our first day, we enjoyed talking to Alex who joined us at breakfast. Both Tina and Alex really go out of their way to interact with their guests to make them feel more at home.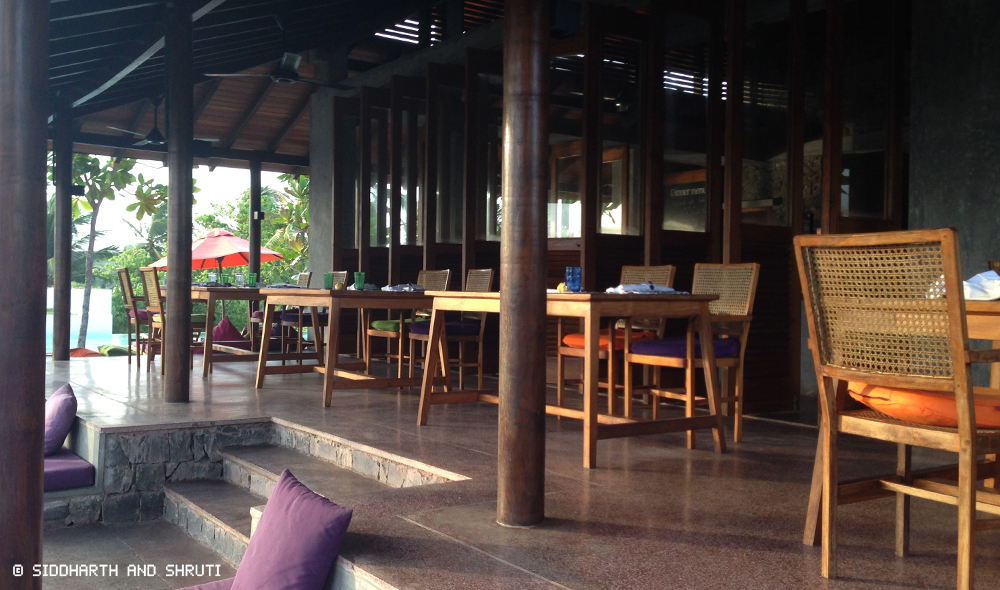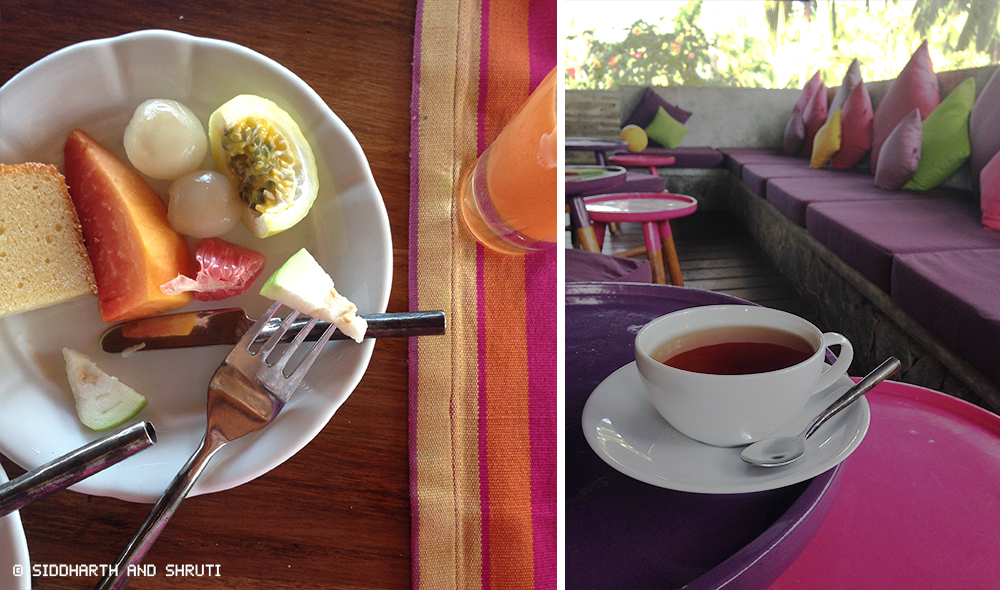 One of the best dishes we had during our entire Sri Lanka trip was the prawn salad with raw mango. We definitely recommend it to any seafood lover!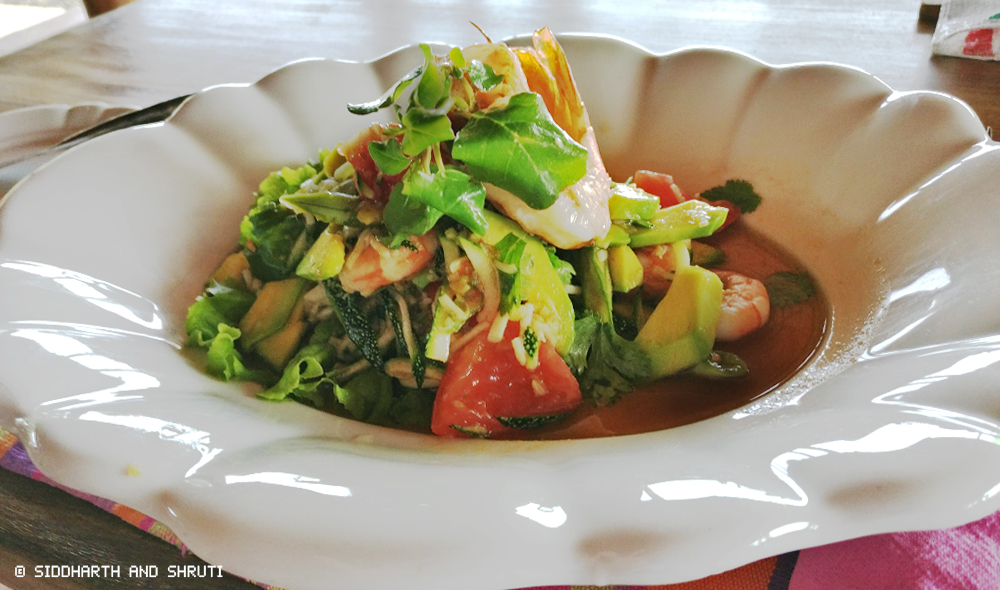 Don't miss out on a chance to try the local fruits (depending on the season) which are offered to guests every evening in the courtyard. We tried freshly cut rambutans (a relative of the lychee), pomelo (similar to grapefruit) and pineapples.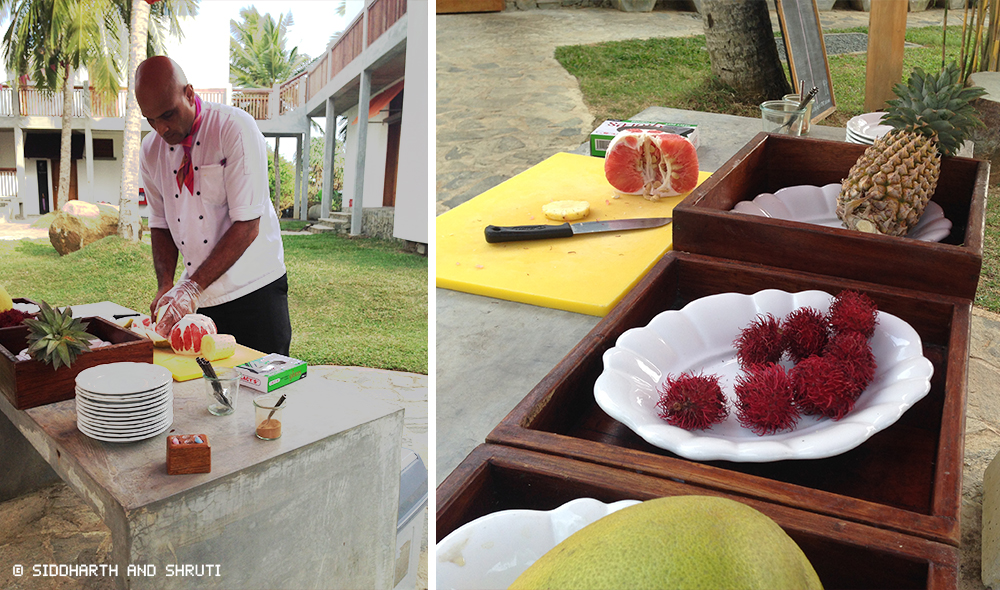 The lawn in front of the main restaurant is a great place to enjoy the sunset and drinks into the late evening. Tina and Alex were kind enough to join us for drinks and spoke to us about their life in Sri Lanka which was the perfect end to the day.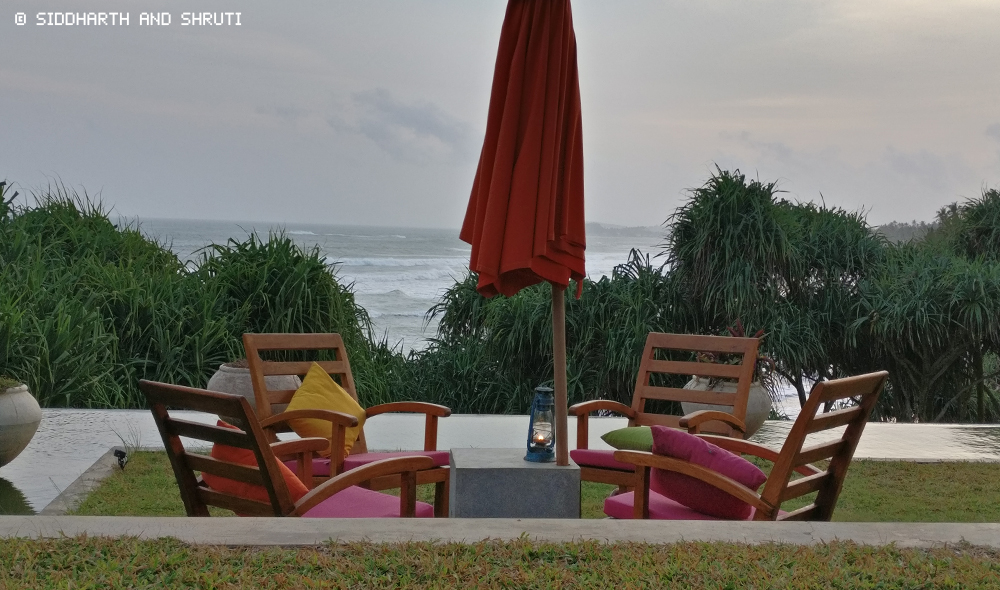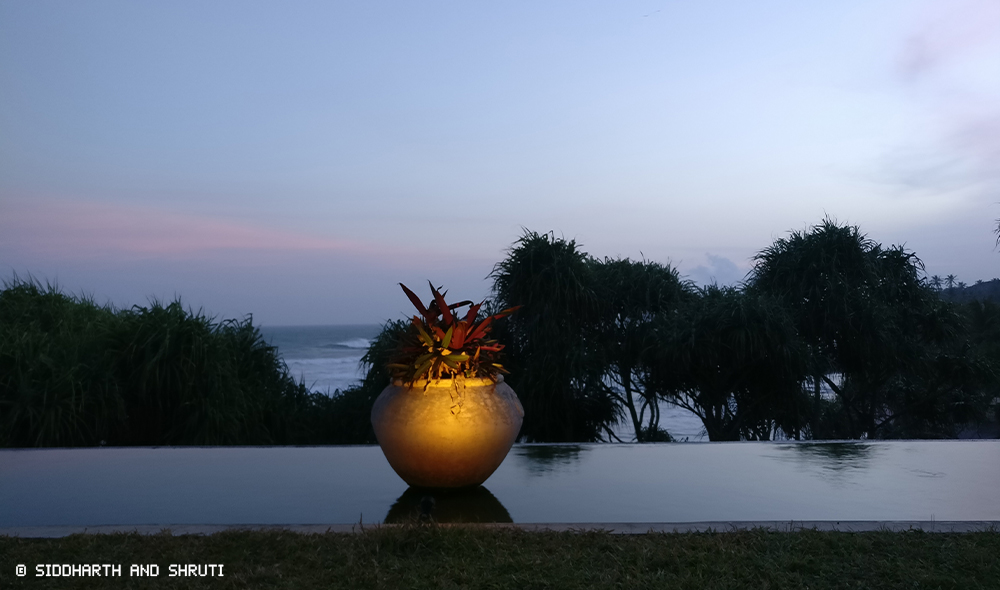 Fitness at UTMT:
On our final day at Underneath the Mango Tree, we got a chance to participate in a workout session with fitness and health coach Aaron Wickramasekara (@aaron_wik). Before getting to the workouts themselves, Aaron sat us down for an hour and gave us an overview of health basics like eating right, the correct ways to gain/lose weight and why crash diets are harmful.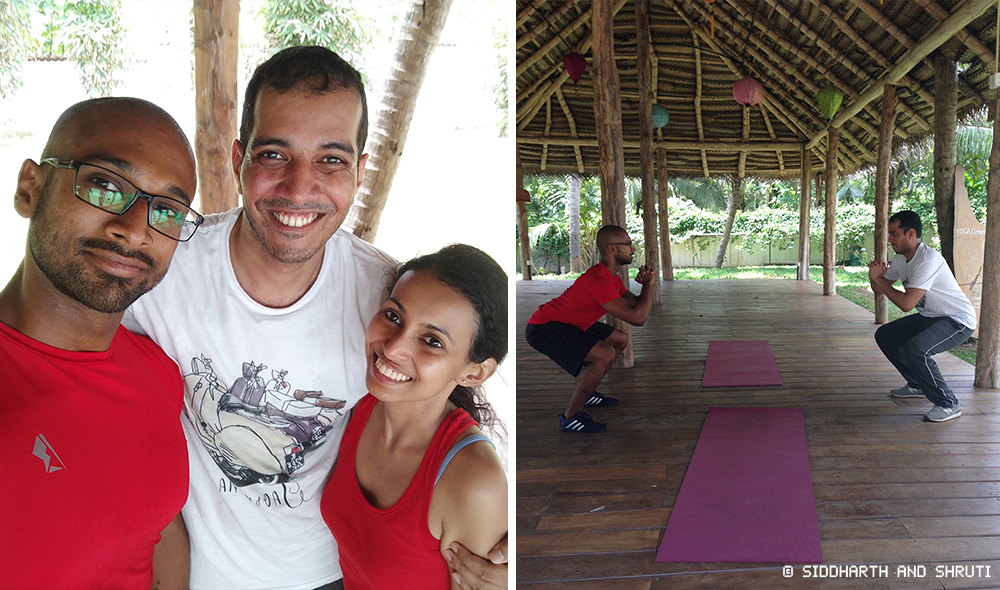 He's extremely passionate about fitness and recommends the following tips to people who want to stay fit while traveling:
Do some research on caloric intake/expenditure. The idea is that if you want to maintain your body weight your daily calorie intake should equal the amount your body burns. There are many mobile apps available which can help you calculate and track this.
Try to eat as healthy as you can during your travel.
Stay as physically active as possible. You can go for power walks, do yoga or hit the resort's gym for an hour.
Finally, and most importantly, don't let fear of going out of shape ruin your holiday. You are on holiday after all!
With the objective of allowing guests to stay healthy during their visit, UTMT offers Activity Boot Camp; a 7-day retreat to improve fitness and performance and increasing your energy. Under Aaron's expert eye, you can shed extra pounds with fitness sessions, yoga, individualized diets and relaxing massages.
A word of caution; Aaron is extremely demanding when it comes to his students. The 20-exercise routine he put us through was challenging and left our muscles quite sore. Thankfully, we had a foot massage scheduled an hour later which helped. But this got us ready for another adventure a week later when we climbed the 1,200 steps to Sigiriya fortress. We like to believe that the workout got us into better shape than we would have been otherwise (thanks Aaron!).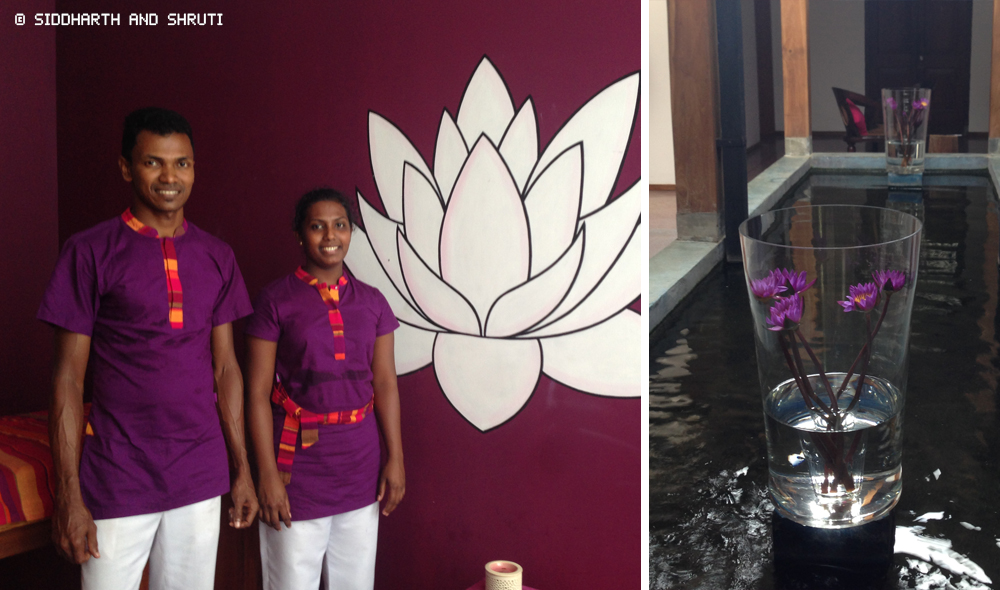 If you're looking for more than just a foot massage, UTMT offers the full range of ayurveda services including the shirodhara and panchakarma. The staff at the spa were extremely sweet and helpful.
Overall, we absolutely loved our stay at Underneath the Mango Tree. By the last day of our stay, it felt like a home away from home and we really did not want to leave. We recommend at least a week's stay to experience all the activities in the resort.
Book your stay at Underneath the mango tree resort via Agoda
Like it, Pin it for later!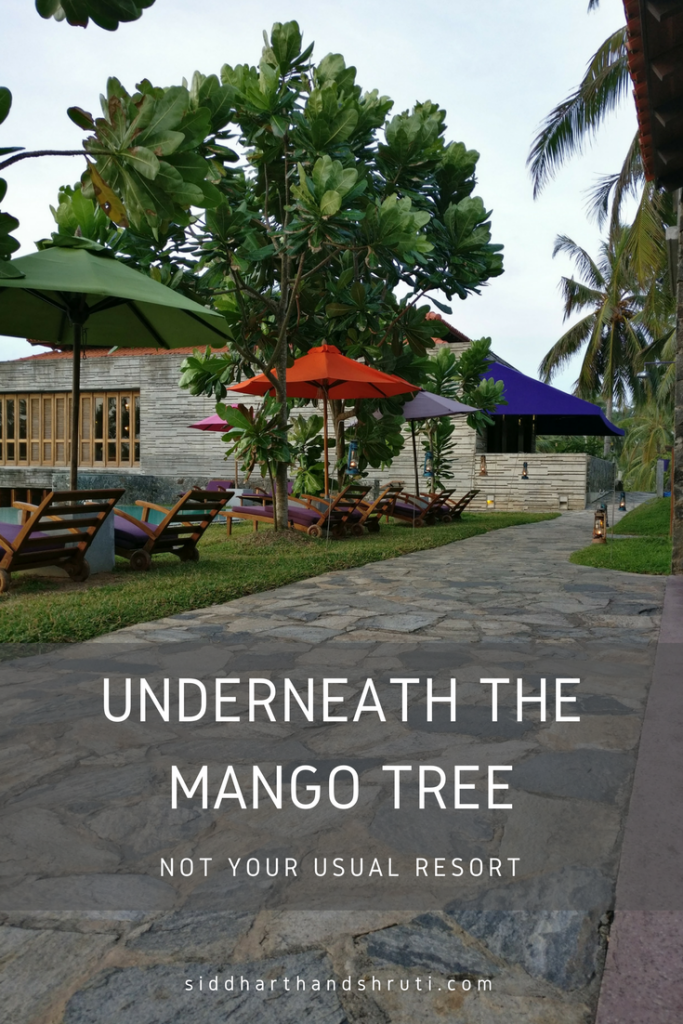 We were guests of Underneath the Mango Tree but our opinion as always is our own.