Porto is the second biggest city in Portugal. With its mild climate and endless offer of entertainment, art, and culture, it is a great place to visit all year long. You can be sure that you won't be bored, whether you come here in the winter or during the hot summer days. This article is a subjective pick of 7 things worth doing in Porto.
Look at Facades covered with Azulejos
Spain and Portugal are famous for azulejos – tiles that cover the walls of buildings, outside and inside. The tradition came from the Moors that lived on the Iberian Peninsula between the 8th and 14th century and was changed over the centuries to fit more to Catholic and local culture.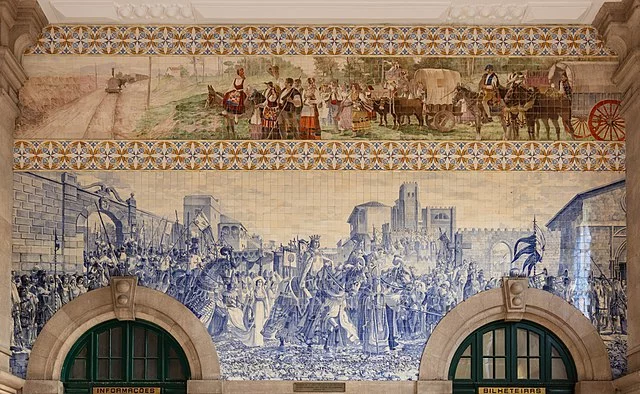 Azulejos at São Bento | Credit: Diego Delso | Wikipedia
Nowadays, azulejos can be admired in almost any city in Portugal. Porto is full of exquisite examples of this art. Have a stroll around the town and find the most popular places, as well as hidden gems.
The best spots to see spectacular azulejos in Porto:
São Bento station (inside)
Pérola do Bolhão
Santo Ildefonso church
Capela das Almas
Banco de Materiais (a shop with azulejo samples)
Admire Peacocks in Jardim do Palácio de Cristal
Porto has many wonderful parks, but Jardim do Palácio de Cristal is definitely a treasure. Designed in the second half of the 19th century, it is a wonderful example of a romantic garden. Alleys with big trees, rose gardens, and terraces that overlook the Douro river create a perfect place to rest from the city hustle where you can enjoy the beauty of nature.
In the park, you can meet geese, chickens, and peacocks, wandering freely around the visitors. Give yourself time for this spot, as it has a lot of places worth discovering, such as a cave with a waterfall, garden sculptures, or the Chapel of Carlos Alberto da Sardenha.
Here you will also find a few viewpoints of Porto and the Arrábida bridge.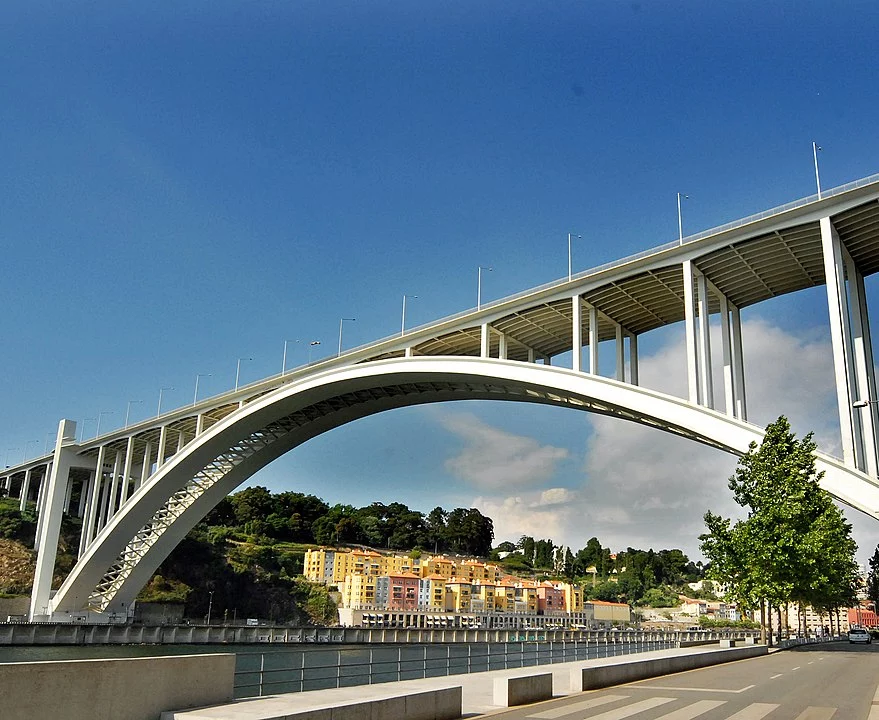 Ponte da Arrábida | Credit: António Amen, via Wikimedia Commons
Feel the Magic in Livraria Lello
Called the prettiest bookstore in the world, and a source of inspiration for the Harry Potter series, Livraria Lello is one of the most touristy places in Porto, but even crowds shouldn't prevent you from visiting it. Opened in 1906, this bookstore transfers visitors to a different, magical world that every Potterhead and bookworm will love.
Books are stacked on shelves that resemble wooden structures, but they are made of plaster. While walking around, pay attention to the old rail that was used to push the cart with books between shelves.
The center of the bookstore is decorated by spectacular forked stairs that lead to the second floor of the shop. During the day, the whole interior is illuminated by the dimmed sunlight that passes through the huge stained-glass window in the ceiling.
Marvel at Sunset from Jardim do Morro
Jardim do Morro is one of the best viewpoints in Porto. Created in 1927, this little park overlooks the Douro river and Luís I Bridge. As it's located in Gaia, it gives you a perfect view of the old quarter, Ribeira, with its colorful houses and boats slowly swaying on the water. It is a perfect spot to have a drink, enjoy live music, meet with friends, or simply marvel at the sky painted red by the sunset.
A view from Jardim do Morro | Credit: Anna Z
Stroll Through the beautiful Pérgola da Foz
Foz do Douro is a beautiful district located next to the ocean that is worth visiting. It is mostly known as an area inhabited by the upper classes. You can admire many buildings there in the Art Nouveau style, wander through the parks, and enjoy the promenade that runs from the Douro estuary to the Matosinhos district.
During the walk, you will see many terraces on which you can rest while admiring the ocean. Pérgola da Foz, built in 1930, is one of the most-known places and a perfect spot for a little photo shoot for your travel album or Instagram.
You can get to this place by taking the historic tram number 1, which leaves from the Saint Francis Church and stops for a moment before Jardim do Passeio Alegre.
Immerse in Art and Nature in Serralves
Serralves is one of Porto's hidden gems. A modern art museum surrounded by a big farm ground is a perfect spot for those who love art or nature, or both. In the museum, you can see temporary exhibitions of world-famous artists. The park is filled with artworks, including land art and sculptures, and a recently opened tree-top walk. An art deco villa, available to the public, overlooks a spectacular, symmetrical fountain.
You can stop for a moment in a tea shop or walk further to discover a farmhouse with donkeys, cows, pigs, horses, and other animals. A herb garden and old glasshouse structures give a vintage vibe to the whole experience and transfer you from the modern art world to 19th-century cottage life.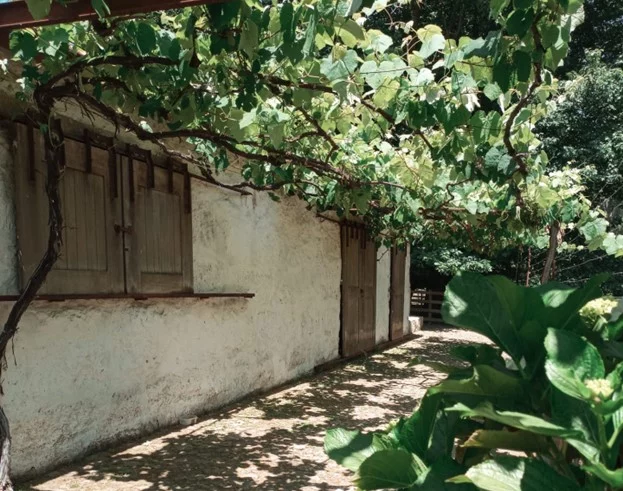 Farmhouse in Serralves | Credit: Anna Z
Try a Francesinha
If there is one dish that means Porto, it's the francesinha. Although some people compare it to a sandwich, don't be fooled: it's a full-blown meal. In the traditional version, a francesinha has sausage, ham, beef, or other types of meat hidden between two slices of bread that are covered with melted cheese. The most important part is the sauce, usually created with tomato, beer, and piri-piri. Francesinha is usually served with french fries and a fried egg.
In some places, you can find vegan versions prepared with vegan sausages and seitan. The only thing which you shouldn't do in Porto is to ask locals which restaurant serves the best francesinhas. It is material for an endless discussion.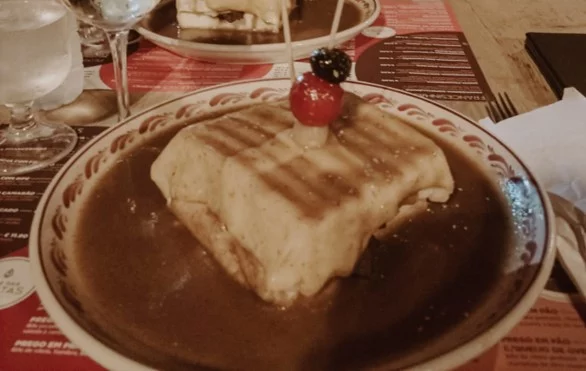 Francesinha | Credit: Anna Z
Summary
If you have a chance, give yourself time to discover this bustling city. Don't rush to see everything in one day. Instead, move slowly, to not miss the best spots. Whether you are just packing women's travel necessities for a trip with your girls, want to spend some time with family, or searching for a safe destination for a solo trip, Porto is your destination. From popular touristy spots, through marvelous hidden gems and unique cuisine, to the beautiful riverside and proximity to the ocean, this city offers everything one could imagine for a perfect getaway.
Guest Post by Anna Zielazny
Anna is a writer, translator and explorer with a love of nature, photography and new adventures. A regular contributor in FidisTravel. Published in AlgarvePlus magazine. Born and raised in Poland. Now based in sunny Algarve in Portugal.