After a long week at work, we chose to spend our Friday evening with a blissful spa date at Tattva Spa, Saki Naka in Mumbai.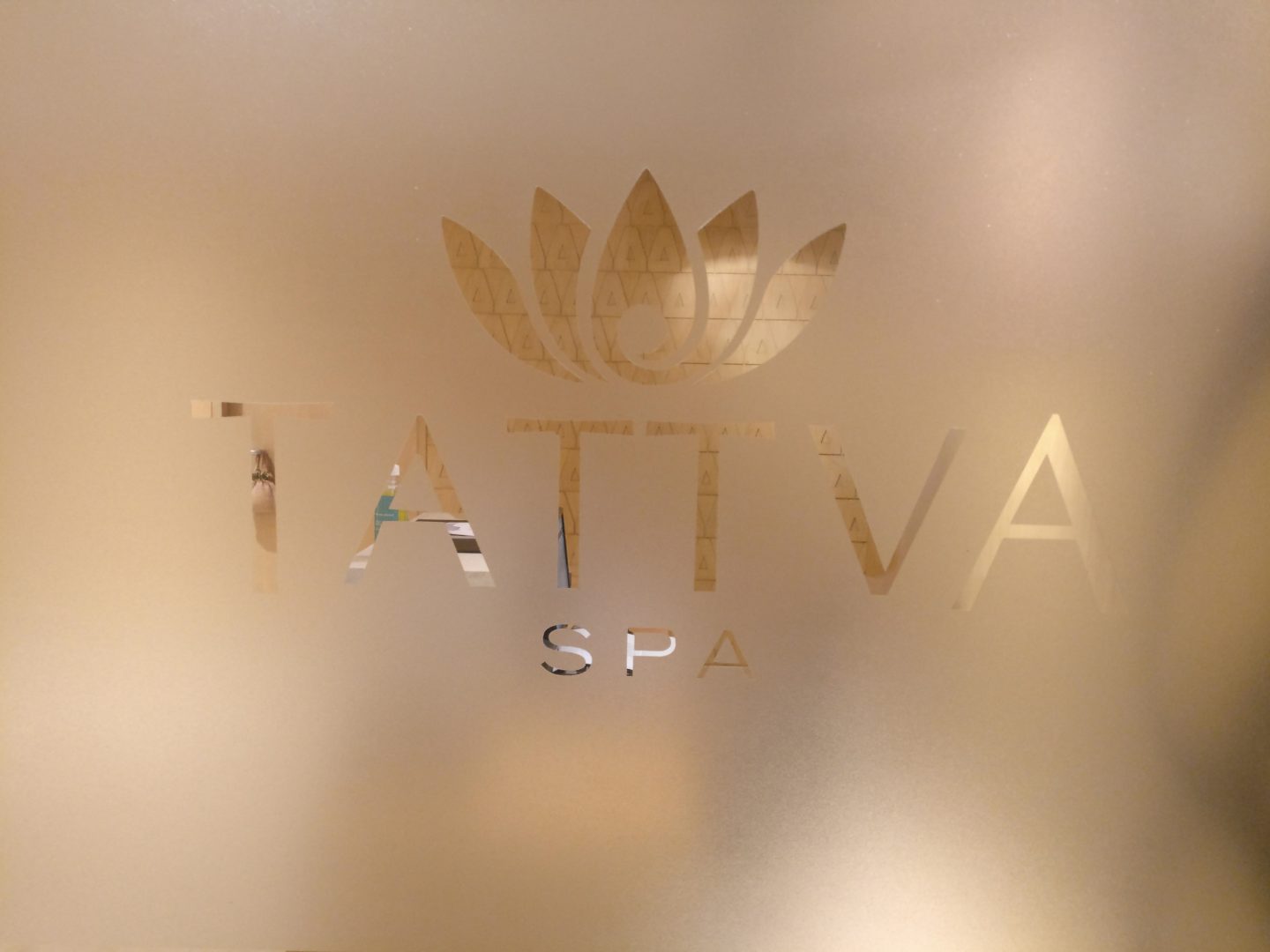 Ambiance:
Since we visited in the evening, Dimple, the spa manager, suggested that we check out the terrace to catch a glimpse of the sunset. We were pleasantly surprised to find that the rooftop terrace houses an infinity pool! Taking a quick dip there during the warmer months before heading to the spa sounds like a perfect recipe for an ultra-relaxing evening.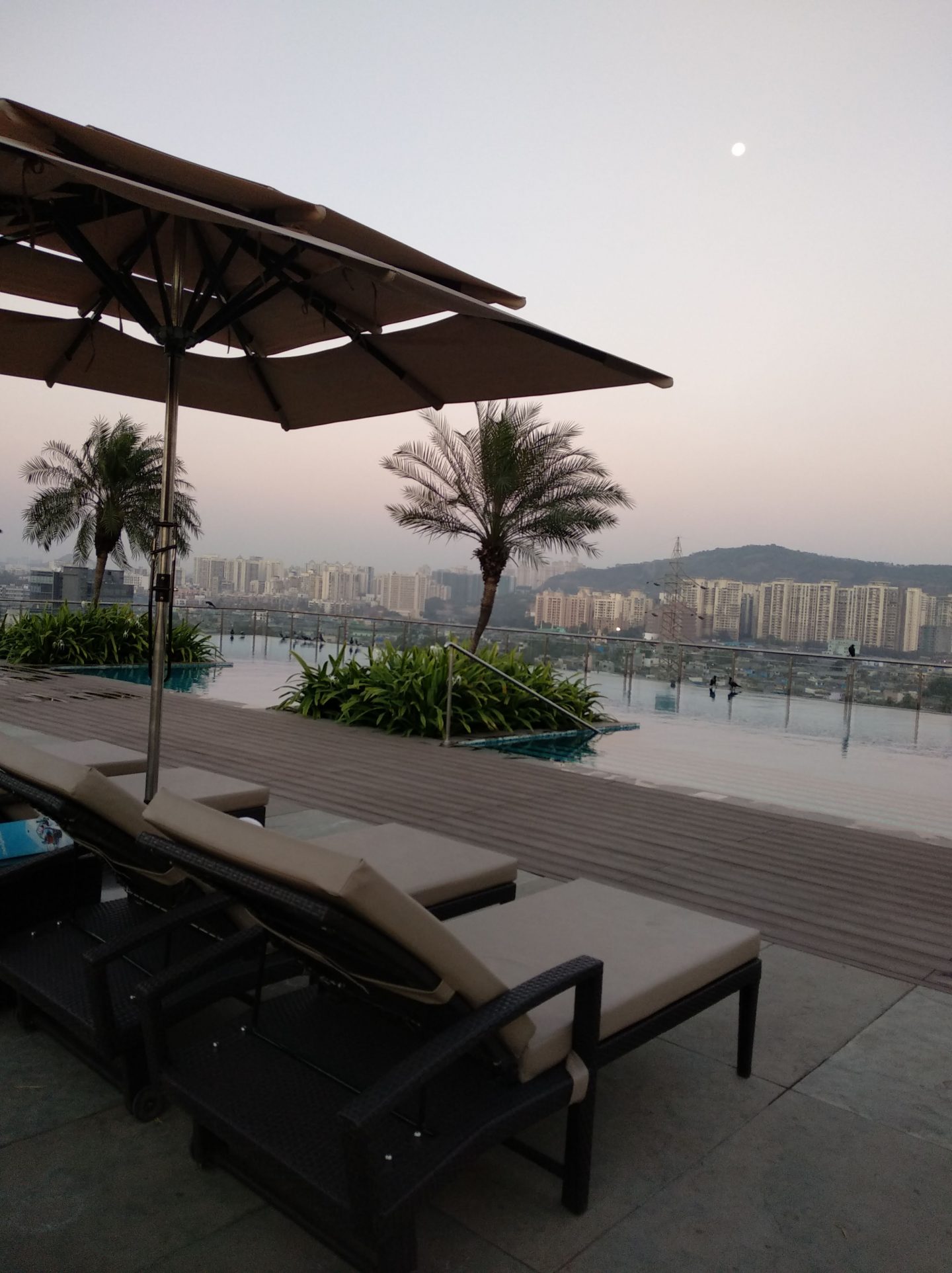 Although situated in a noisy neighborhood of Mumbai, the Tattva spa is ensconced away from the hustle and bustle outside. Once inside, you are instantly transported to a peaceful and soothing healing space. The spa's interiors are clean and plush, with muted colors, comfortable upholstery and soft lighting. As soon as we entered, we were warmly greeted by the spa staff, seated in the lobby and offered a refreshing welcome drink made from kokum (a local fruit), which has anti-oxidant and immunity-boosting properties.
The Tattva Spa concept is centered around the 5 fundamental elements of nature; Vayu (air), Prithvi (earth), Agni (fire), Akash (sky) and Jal (water). Each of the spa's rooms are named after one of these elements. We had our treatment in the Jal room, which is spacious enough to house two massage beds side-by-side.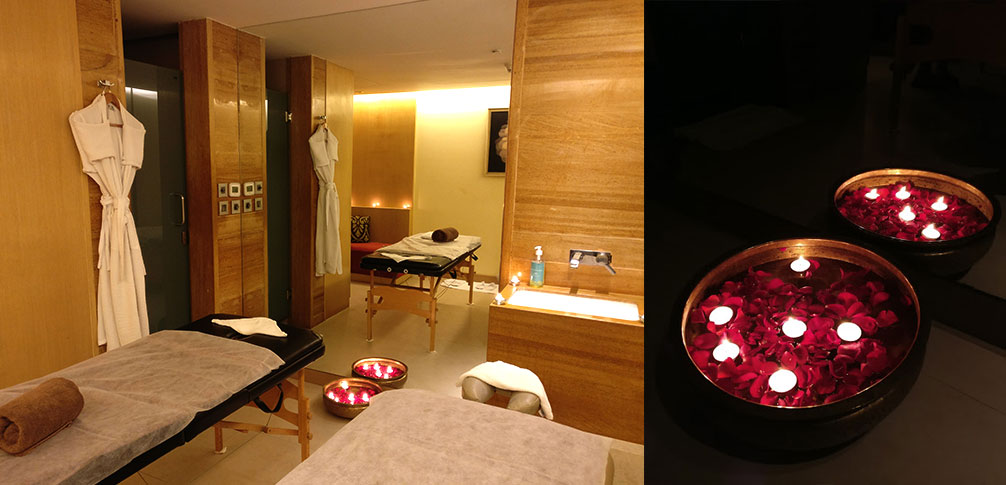 Amenities: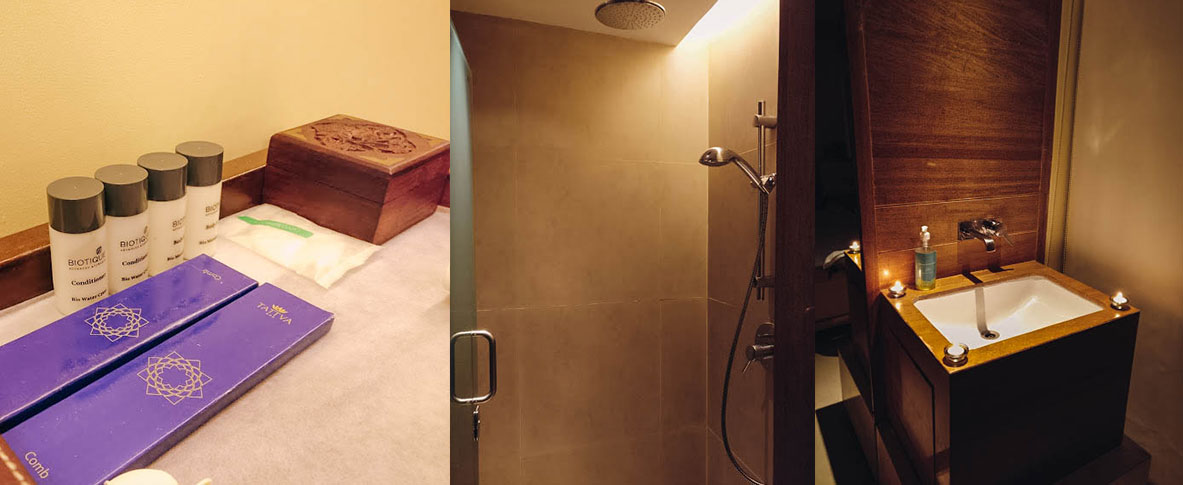 The spa rooms were well-stocked with bottled water, body lotions and hair products. There is an attached shower, which we used to rinse off after the treatment. We were provided with all essentials such as bathrobes, disposable underwear, fresh towels, shower caps and slippers. In addition, there is a steam room facility which you can avail with select treatments.
The treatment we chose: Vanilla and Nutmeg Smoothie Body Scrub
While we usually prefer Swedish massages or foot spas, we thought we would try something different this time. Since we were visiting in winter, the Vanilla and Nutmeg Smoothie Body Polisher seemed like a great remedy for dehydrated skin. This luxurious, creamy treatment left us feeling pampered and rejuvenated. The body polish itself is a mixture of exfoliating crystals and fragrant oil. The four oils that you can use for blending are Pavitra (Purification), Vishram (Rest), Pranati (Prayer) and Dhyana (Focus). While I chose Pranati, an energizing scent, Siddharth chose Vishram; a mild relaxing blend.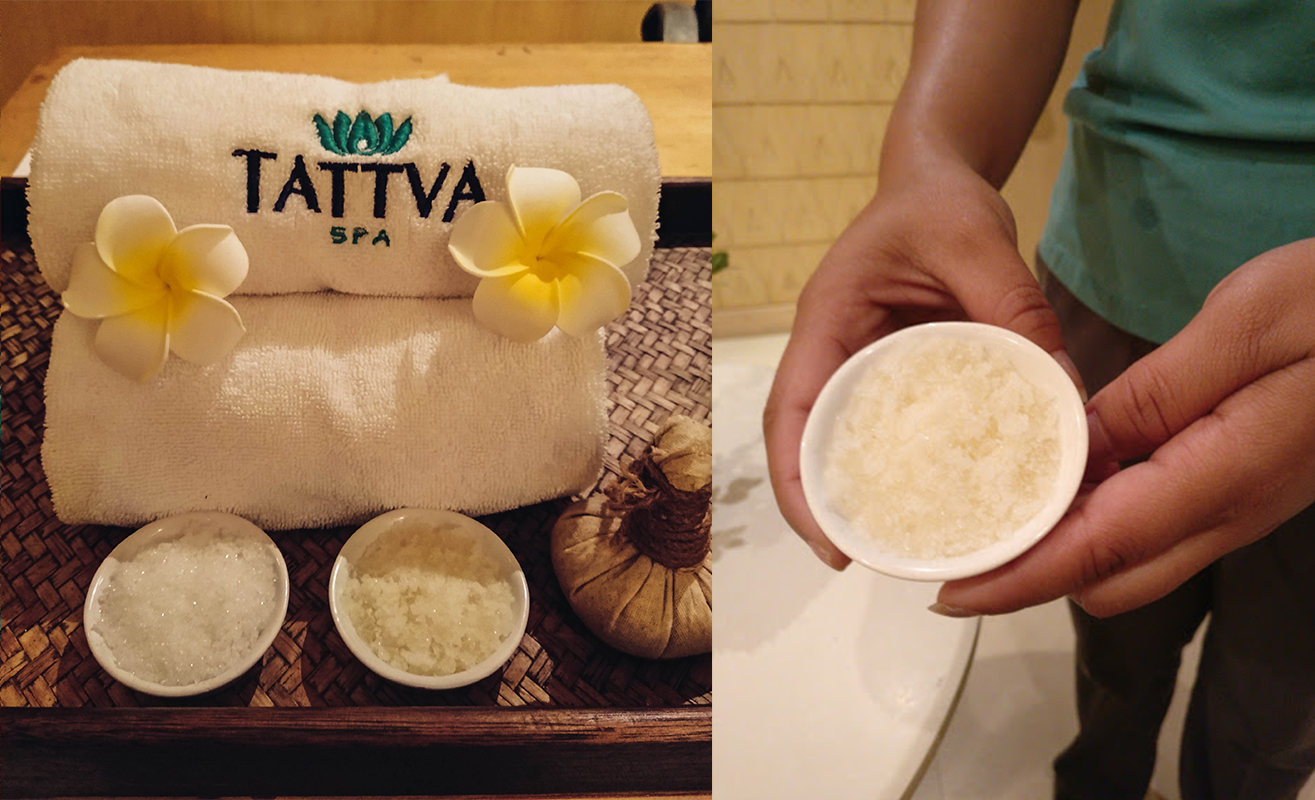 In case you're wondering, a body polishing therapy includes exfoliation and massage. It's a great option if you are not keen on a full-duration massage treatment, as you get the combined benefits of a massage as well as cleansing and hydration for the skin.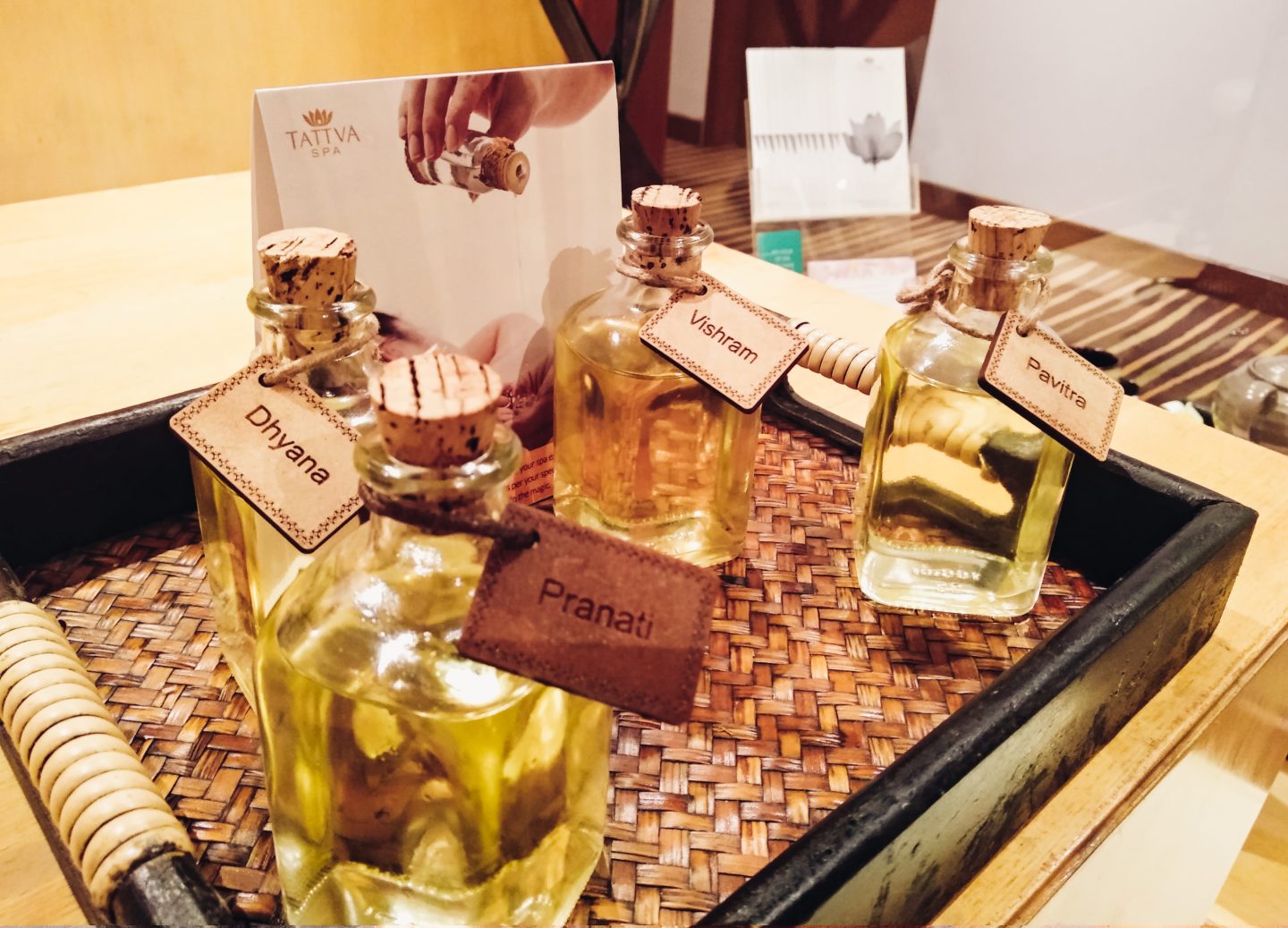 Our healers were very attentive and tended to our sore spots very well, especially our lower backs and shoulders, a common problem for people in desk jobs. The polisher was exfoliating but not abrasive and smelled heavenly. After the exfoliation and massage, we chose to take steam for 10 minutes, followed by a shower. Our skin felt soft and fragrant and our mind and bodies were completely relaxed. We ended our experience at Tattva with some delicious herbal tea served with honey.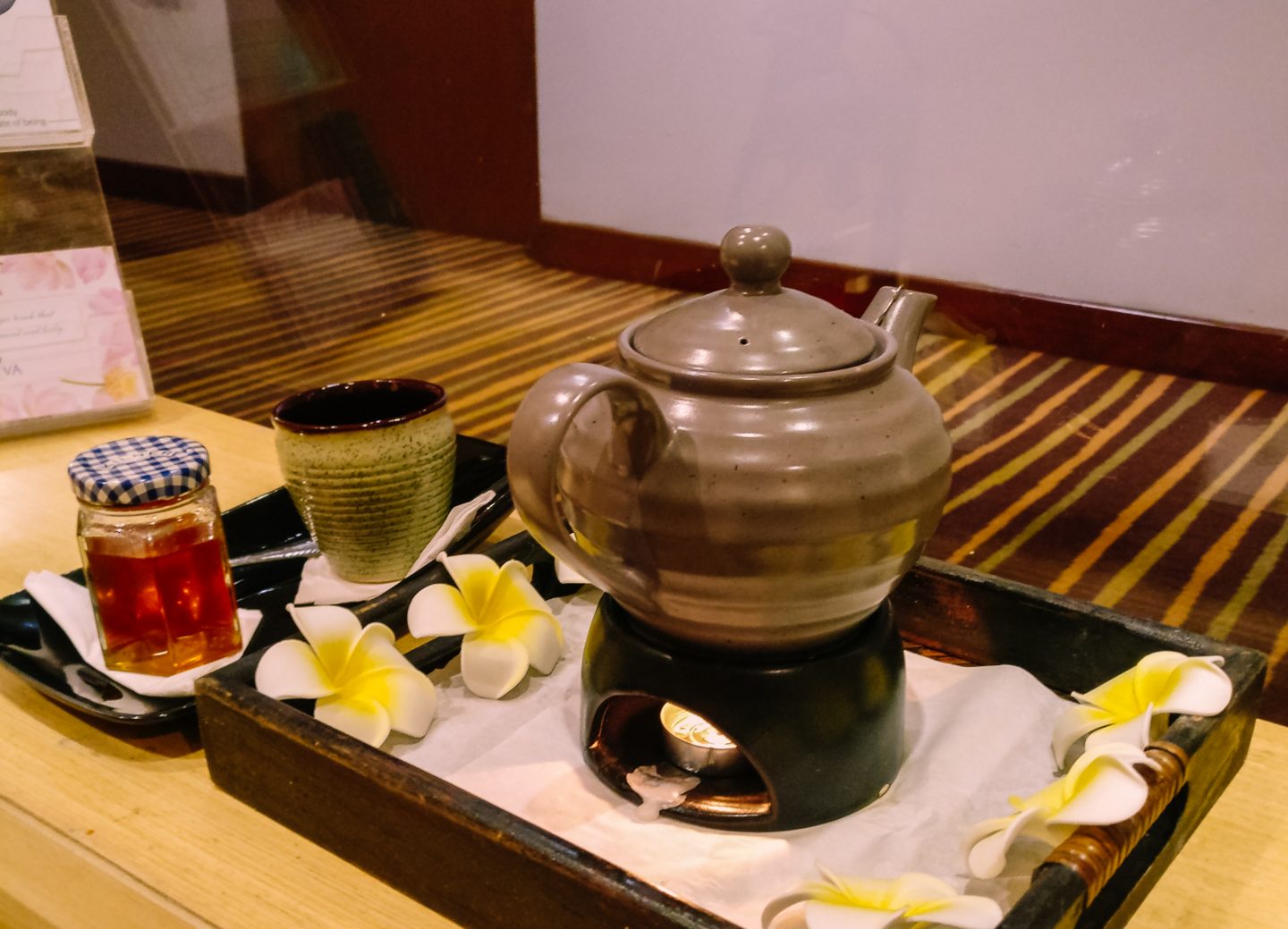 While a solo spa might feel great, a couple's spa date is definitely special. It is a wonderful way to relax with your partner and with Valentine's Day just around the corner, we would definitely recommend treating yourself and your loved one to this kind of unique experience! As a special treat, we have a coupon code for you:
Use the code SS20 to get a 20% discount on Tattva Spa treatments. Offer is valid till 29th Feb 2020.
Location:
Tattva Spa is located on the 7th floor of the Holiday Inn, which is right outside Saki Naka Metro station. It is convenient to reach and a perfect escape from the stresses of urban life. Leave your worries behind and indulge in a relaxing experience with your loved one.
Address:
Tattva Spa at Holiday Inn, Andheri Kurla Road, Andheri East Near Sakinaka Metro Station, Bandi Bazaar, Nair Wadi, Sakinaka, Mumbai
Timings: 8:00 AM – 11:00 PM
Visit the Tattva Spa website for more spa therapies and massages.
Like it? Pin it for later