Visiting a local market should be on everyone's itinerary, especially in a big city like London. It gives you an insight into what locals do, how they shop, what they eat, or if nothing else, just a great spot to people watch. London has so many amazing markets to choose from. Whether you want to buy a souvenir or grab a local brew, you can get it all. We asked a bunch of travel bloggers what their favourite market is, and this is what they shared.
Greenwich Market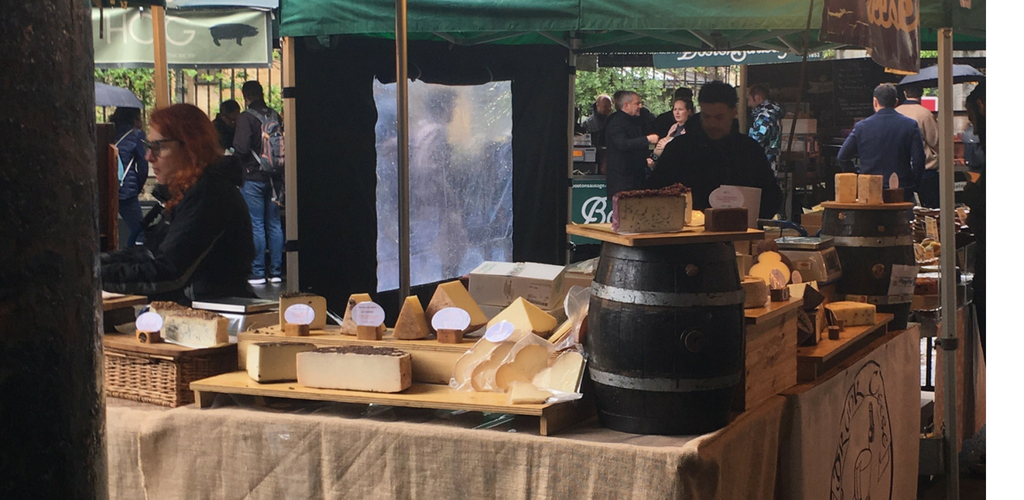 by Sarah Carter, ASocialNomad
There's been a market here at Greenwich since 1700 and today, Greenwich Market is London's only market to be situated in a World Heritage Site. It's easy to find – simply follow your nose from the Cutty Sark on the River Thames. There are antique stalls here, jewellery stalls and an incredible mix of international food stalls. Here you won't find the throng of tourists looking around and eating at the food stalls, but many locals, spending their lunch hour here feasting on food from Ethiopia, India, Cuba and South America. Come on Monday, Wednesday, Fridays and Saturday's for arts and crafts and you'll find more than 100 stalls. Antiques and Collectibles are to be found here on Tuesdays, Thursdays and Fridays. Come every day, because the best time to visit is lunchtime for the food, and you'll have a great pick, there are 44 food stalls here!
Get here by taking the Thames River Services to Greenwich Pier, or hop on the DLR to Cutty Sark for Maritime Greenwich. If you take the Jubilee Line to North Greenwich then you'll need to pick up a bus from there to Greenwich town centre.
Borough Market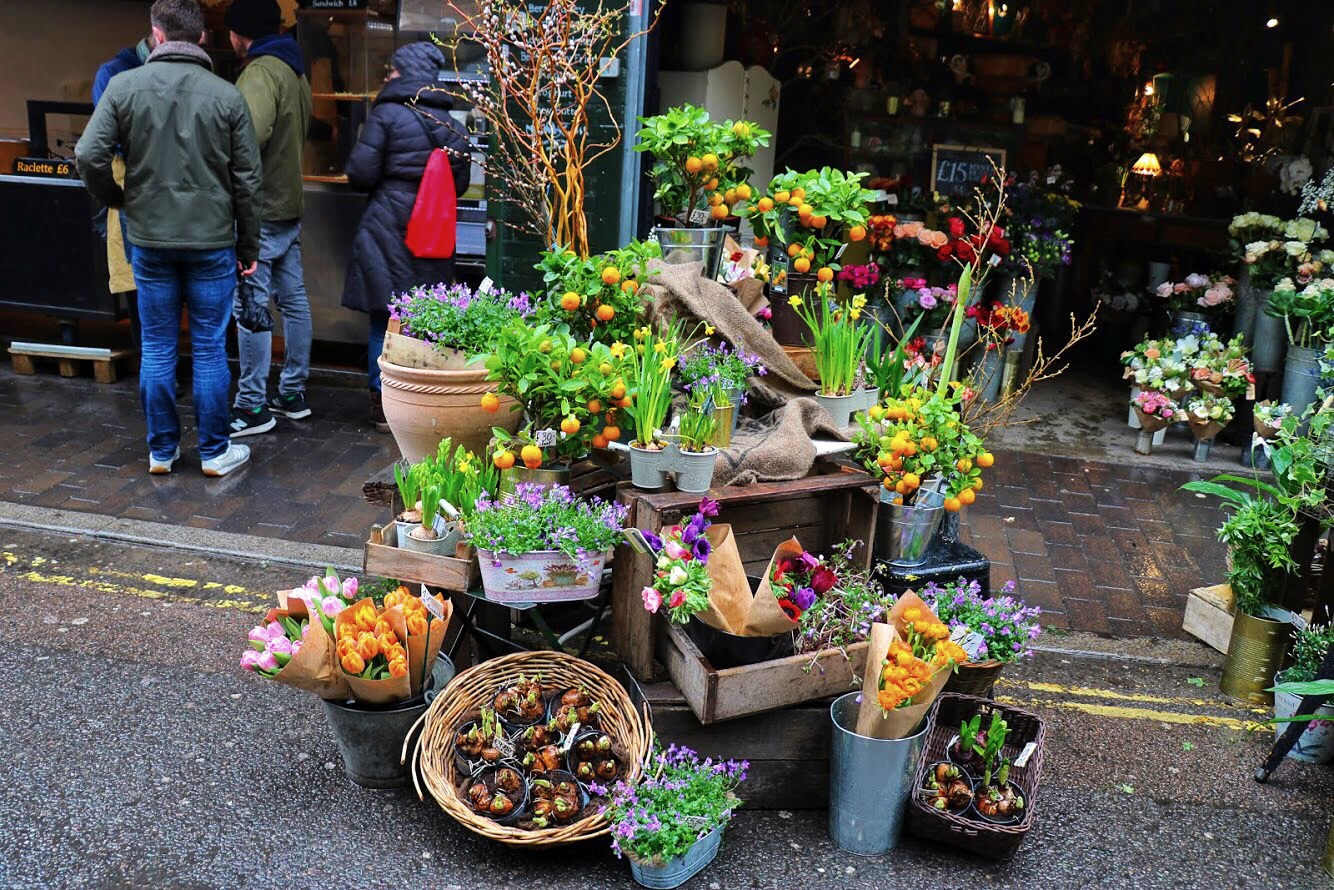 by Emma, Emma Jane Explores
Borough Market is my absolute favourite market in London (and there are many!). A foodie paradise, this market specialises in all things food and drink with lots of samples to be tasted as you make your way around. Open from 10am Wednesday to Friday and 8am on Saturdays, this market has operated in some form since at least 1014 which makes it one of London's oldest. It's definitely still one of the biggest, too. Located down near London Bridge and walking distance from London Bridge or Borough stations, this market serves up cheese, artisan bread, brightly coloured paella, burgers, pastas and all sorts of condiments to name a few things. Basically, if you can eat it – it's here. Picking something to eat here is hard, so I recommend sampling as much as possible with a mulled wine in hand in the colder months.
Camden Market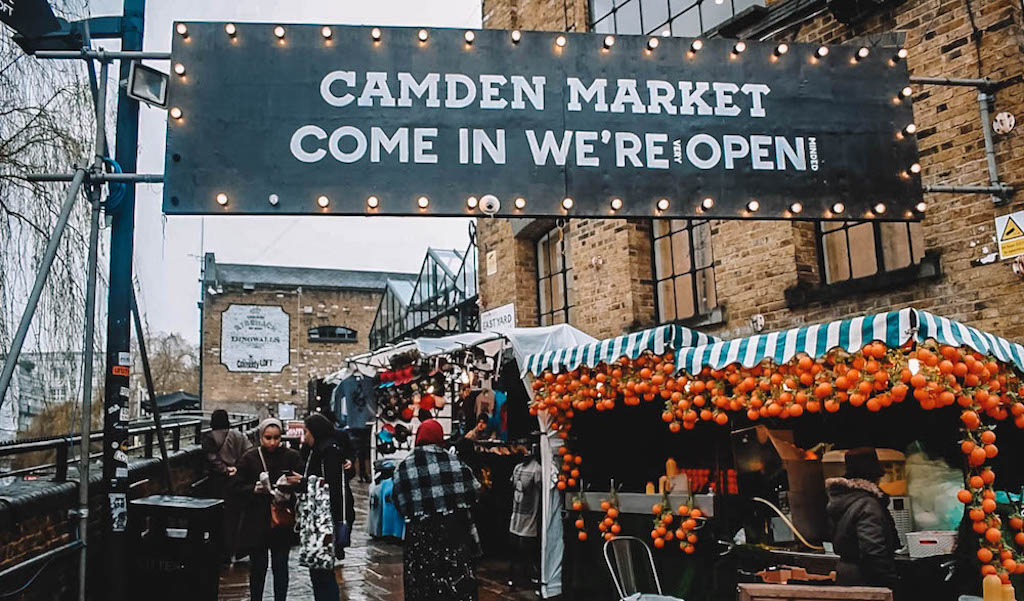 by Greta, Greta's Travels
Camden Market is by far my favourite market in London. Located a short 5-minute walk away from Camden Town tube station it's a vibrant hub of tasty street food, hipster vintage shops, tattoo and piercing parlous and cool outfits stalls. The best time to visit in my opinion is around lunch during the week, as it's considerably less busy than on weekends. However on weekends there are more stalls so it's up to you to decide if you'd rather have more people or more stalls around. It's a cool place to buy relatively cheap t-shirts, tank tops and hoodies, but the best thing to buy in my opinion if the food. Camden Market has some of the best street food in London and if you're looking for something on the go, which you know will be tasty, the stalls at Camden Market cater to almost every cuisine.
Broadway Market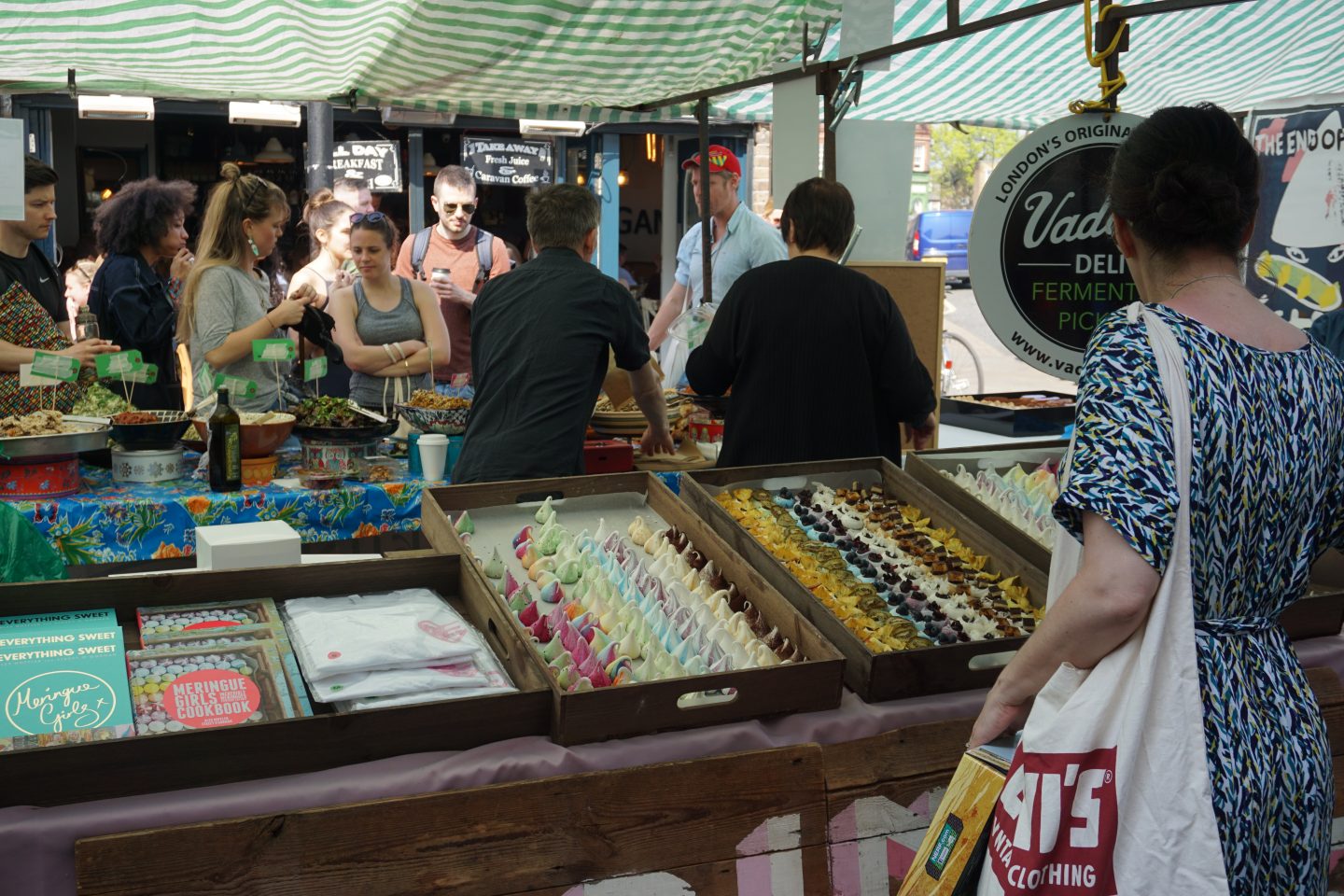 by Michael Rozenblit, The World Was Here First
Broadway Market has existed in one form or another since the 19th century in East London – one of the best areas to stay in the city! Running every Saturday from 9-5 pm, Broadway Market is a great place to pick up some fresh produce, unique gifts or sample some of the delicious street food on offer. You can take some of the amazing food that you buy from the market and then head to nearby London Fields or Regent's Canal for a lovely picnic. The closest stations are Haggerston or Cambridge Heath however there are also a number of buses around the area that make Broadway Market easily accessible.
Old Spitalfields Market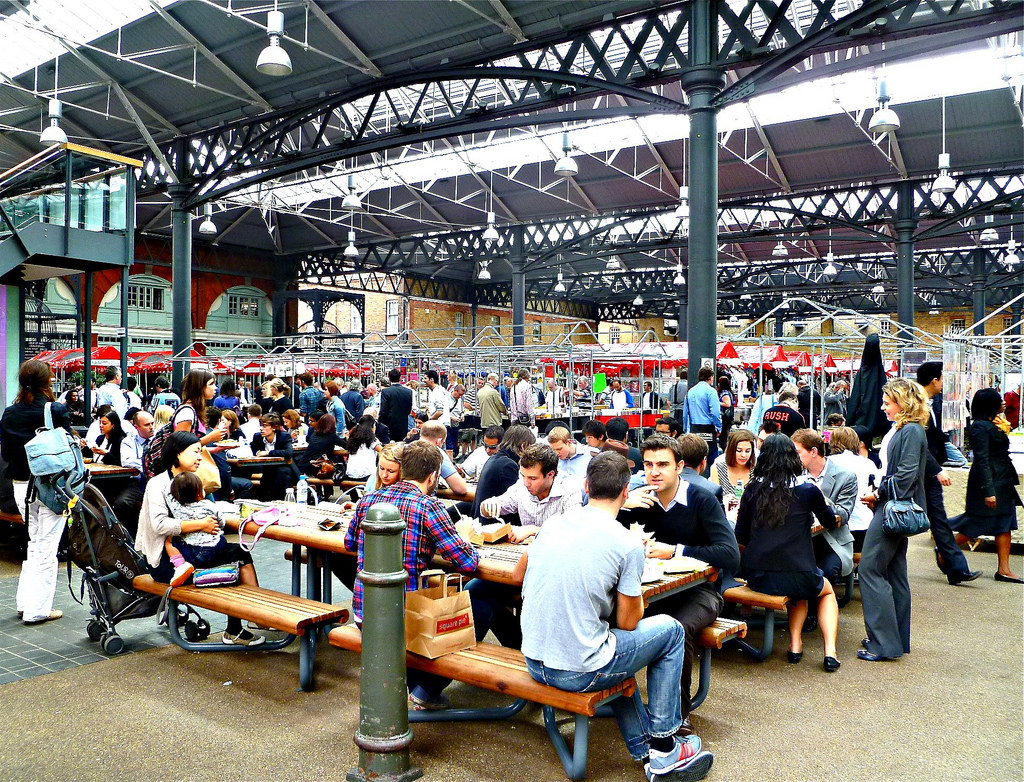 by Chris Young, EnglandExplore
Spitalfields, in the East End of London, has been home to a market since the 17th century – it was licensed by King Charles I (before he, well, lost his head) to sell flesh, fowl and roots, which has been doing ever since. It was recently refurbished and is now home to some fantastic cafes, restaurants and quirky shops. It's a great place to hang around, especially in the summer open air (it's a covered market so no worries about the rain). If you're into boutique shops and stalls this is one of the best places outside the West End to browse.
And if, like us, you're more into filling your stomach then there's food available to satisfy every taste (hot tip: watching the world go by whilst munching a crepe at crepeaffaire – heaven!). Anyway, whatever you're into, you'll love this part of the old East End, with a new modern twist.
Southbank Food Market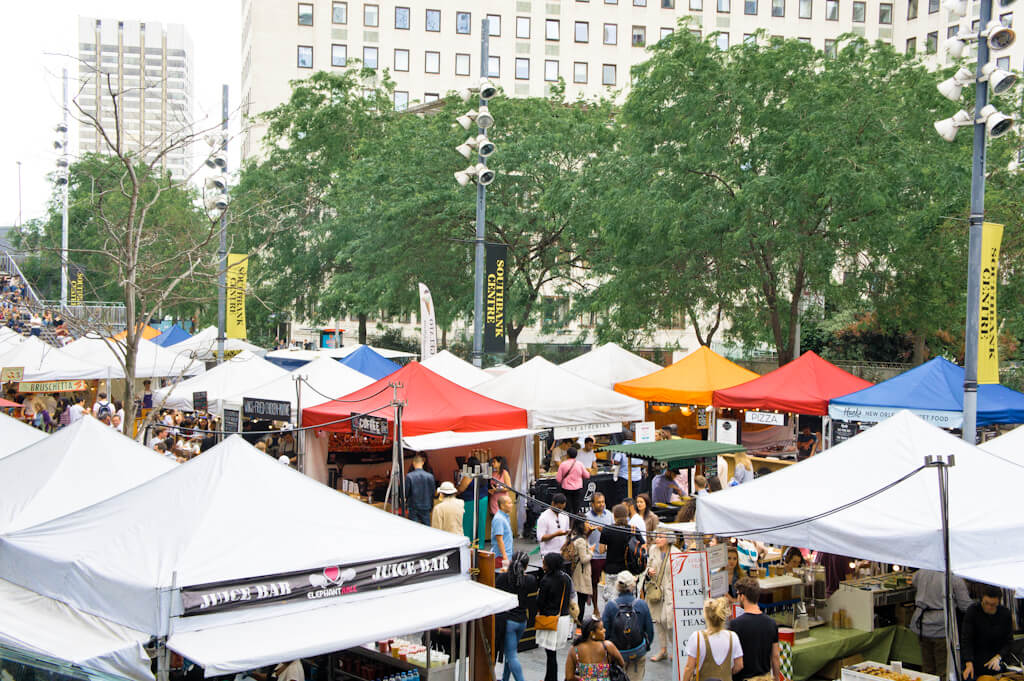 by Nienke Krook, The London Tester
Close to Waterloo underground station, behind the Royal Festival Hall on the Southbank of the river Thames, you will find the Southbank Centre Food Market. It runs every weekend, including Bank Holidays, and there are about 40 stalls selling food & drinks from around the world. Opening Hours vary from 12:00 – 20:00 on Fridays, 11:00 – 20:00 on Saturdays and 12:00 – 18:00 on Sundays.
Treat yourself to food from world kitchens featuring the best of Thailand, India, Poland, Korea, France, Ethiopia and of course Great-Britain. Support independent traders, as all stalls are run by small producers. Besides food, you can taste some great beers, wines, cocktails and indulge in the best coffee, tea and sweet treats. While Summer sees the biggest draw of people to this small market, make sure to not skip it in Winter, because there is a great atmosphere.. and of course the added bonus of Mulled Wine and Cider!
Neal's Yard at Covent Garden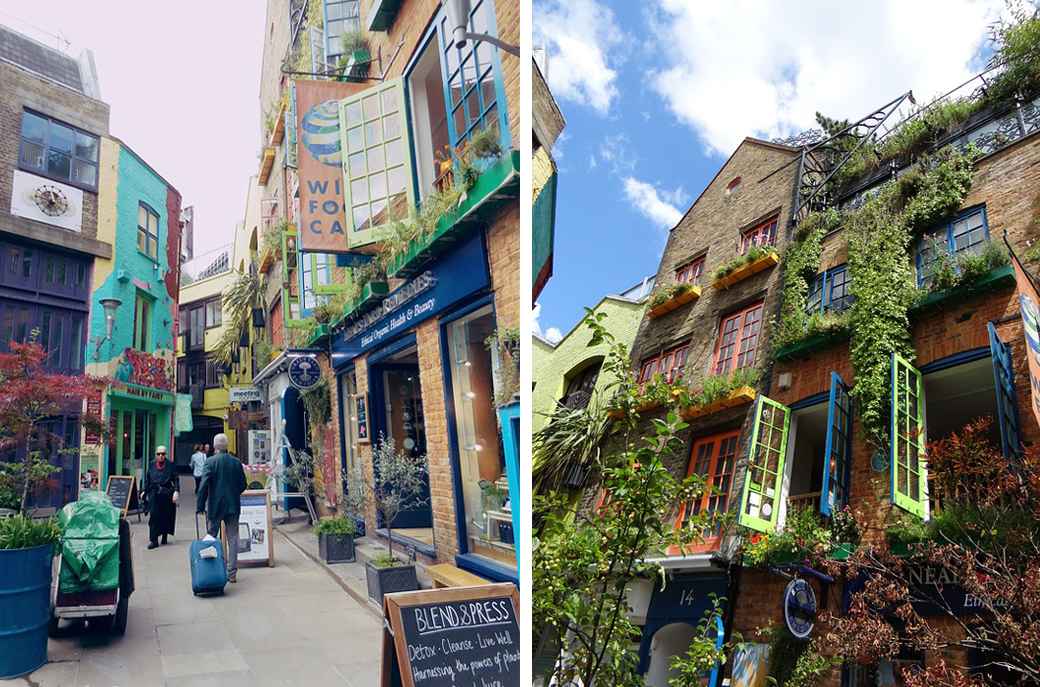 by Marie Gizelle, Our City Travels
One spot on every tourist's to-visit list in London is Covent Garden. It offers a mixed bag of restaurants, local and high-end shops, accommodation and more. The area is somewhat known for its accessibility to the Royal Opera House, hosting daily entertainment at its central piazza, and is a hub of many famous theatres. But the most instagrammable area I enjoy going about every visit is Neal's yard, a colourful neighborhood of many lovely things. For cheeseheads like me, the selection of artisanal cheese at Neil Yard's Dairy is worth drooling at and worth every penny. The alley has coffee, wine, baked goods, pizza, and other palatable a foodie would fancy. Neil's Yard can be found near London's Covent Garden tube station between Neal Street, Shorts Gardens and Monmouth Street, it's the best spot to relax and still enjoy the classic London vibe away from the busy streets.
Columbia Road Flower Market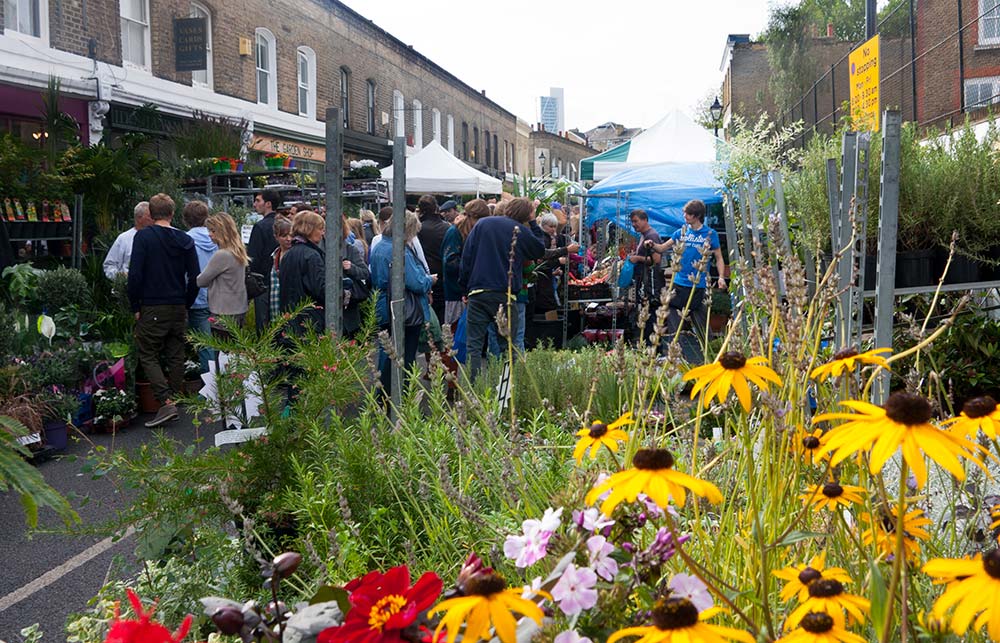 by David Angel, Delve into Europe
Columbia Road Flower Market is a great old London East End market held every Sunday morning between 8am and around 3pm. There's always fantastic selection of flowers form around 50 stalls, run by everyone from local barrow boys to botanical cognoscenti.There's a lot more to it than flowers – Columbia Road also has around sixty independent shops and businesses, from vintage clothes to jewellers to cafes. And it's only a ten-minute walk from the unofficial curry capital of the UK, Brick Lane.
Insider tip: a lot of the best flowers go early in the day, but if you're happy to pick up a bargain, the stallholders are looking to sell off what's left of their stock, so prices tend to tumble by about 1pm. The nearest Tube station to Columbia Road is Old Street, which is across the other side of Shoreditch, around twenty minutes away on foot. You can save time by catching the 55 bus from Old Street to Hackney Road (Columbia Road stop), from where the market is a few minutes' walk. Alternatively, you can catch the Overground to either Shoreditch High Street or Hoxton – from either, it's about a ten-minute walk to Columbia Road.
Brick Lance Vintage Market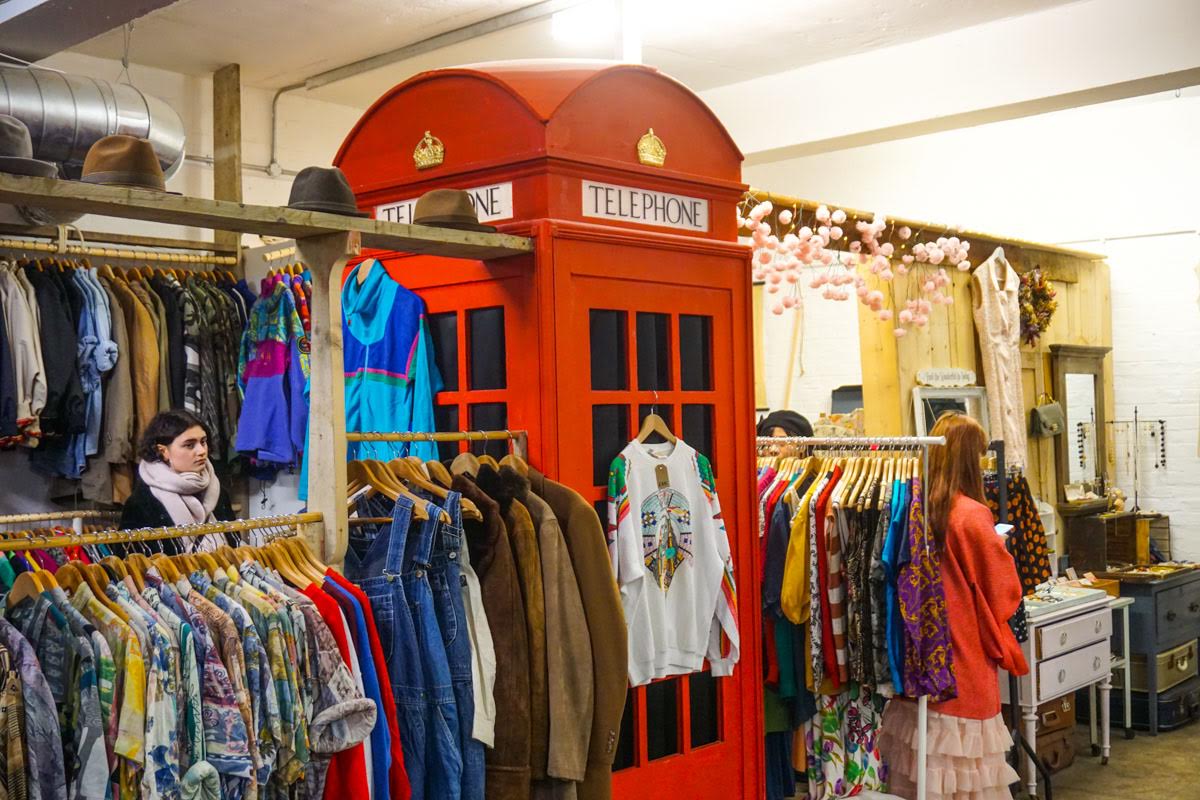 by Allison Green, Eternal Arrival
The Brick Lane Vintage Market is one of my favorite markets in all of London, mostly because it's in one of my favorite neighborhoods in the city: Shoreditch The Brick Lane Vintage Market is only open Thursday through Sunday but it's worth prioritizing a visit to the market at some point during your London trip if you're a fan of used clothes, vintage records, and funky accessories. The market is cute as can be with kitschy finds and things like a fake London phone booth perfect for taking photos with. I recommend buying some vintage dresses or sunglasses as they have awesome selection there. The nearest Tube Station is the Shoreditch station on the Overground line. An insider tip – make sure you check out the rest of Brick Lane, especially if it's a Sunday. You'll find tons of street food from all over the world as well as delicious salt beef bagels at Beigel Bake, plus street art for days!
Portobello Road Market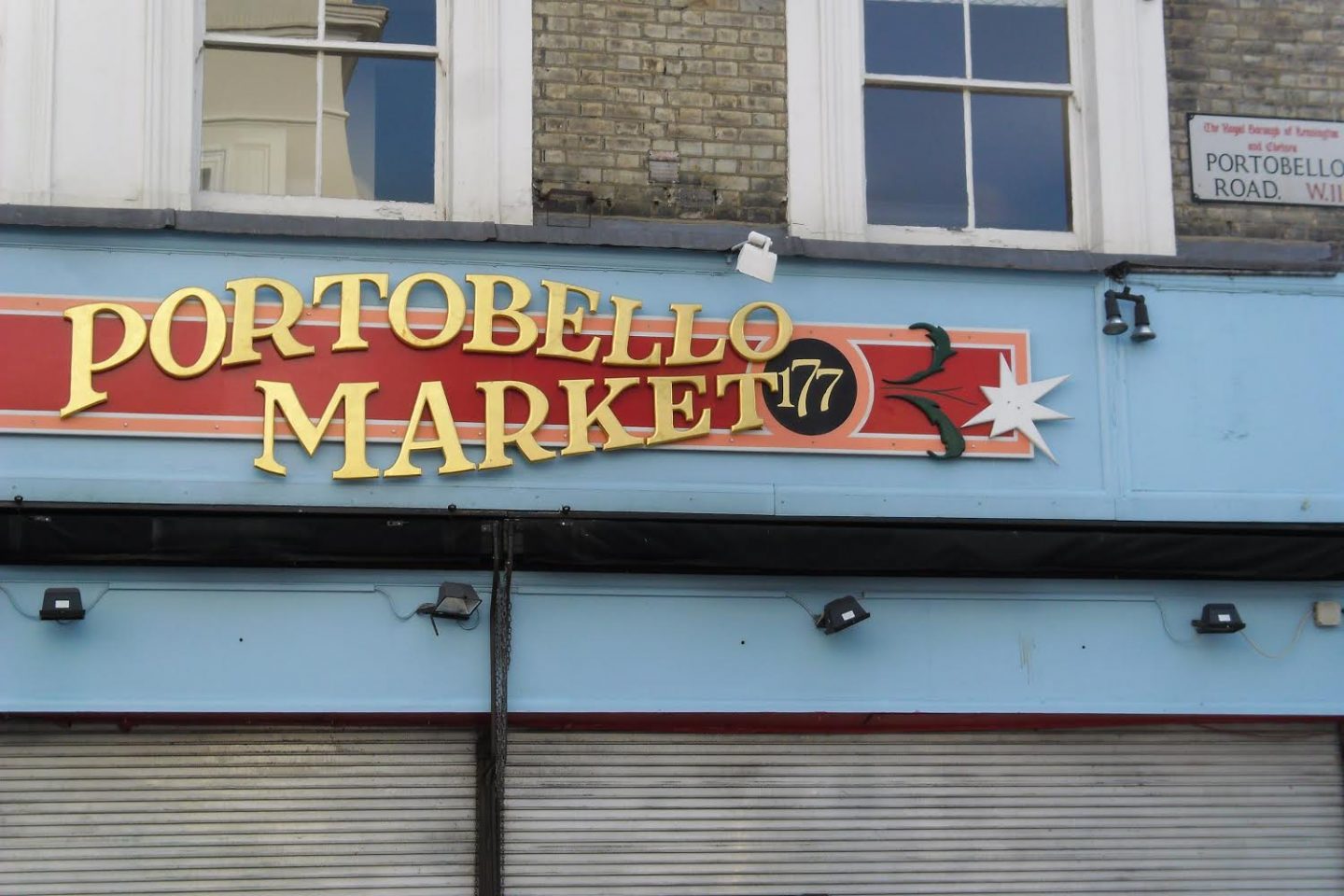 by Maria and Rui, Two find a way
The Portobello Road Market is the world's largest antiques market. This street market is located in one of London's most beautiful areas, Notting Hill, lined with colorful houses and memorable architecture. Most people go to the market for antiques, but it's also an amazing place if you love fashion. Both the market, and the stores nearby, offer a range of clothes and shoes – you'll certainly find something you love. If you are visiting London, but do not plan on actually shopping, the Portobello Road Market is an amazing place to people-watch and also to grab a bite of delicious street food.
The nearest tube station is Notting Hill Gate, but Ladbroke Grove is also a good option. The best day to visit is Saturday, but also the busiest! The market is open everyday except Sunday.
We know this is a collab post, but we couldn't resist adding our recommendation to this lovely list of markets!
Leadenhall Market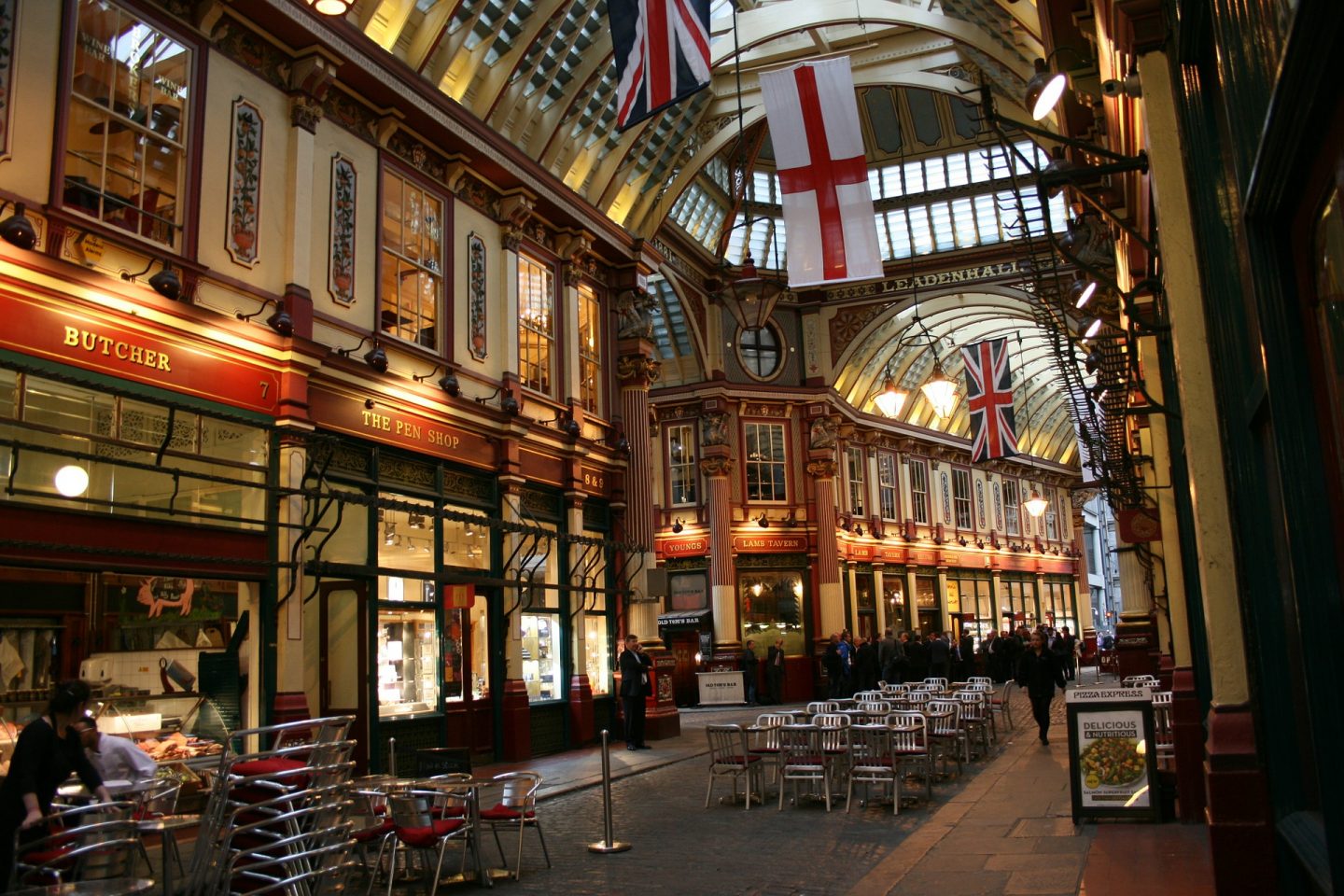 by Siddharth and Shruti | Photo Credit: Pixabay
Leadenhall market is one of the oldest markets in London and dates back to the 14th century. Once upon a time, it was a poultry and meat market. Today it houses a number of retailers, dining and fresh food establishments. It was designed in 1881 by Sir Horace Jones and it is gorgeous! Cobbled streets and red brick architecture with a touch of gold really transports you to another era. Although the beautiful architecture is worth gawking at, that's not why we love it. We are obsessed with Harry Potter and this market was used to shoot Diagon Alley! Oooh! It was used as as the entrance to the Leaky Cauldron.
Which of these is your favourite? Like it? Pin it for later!