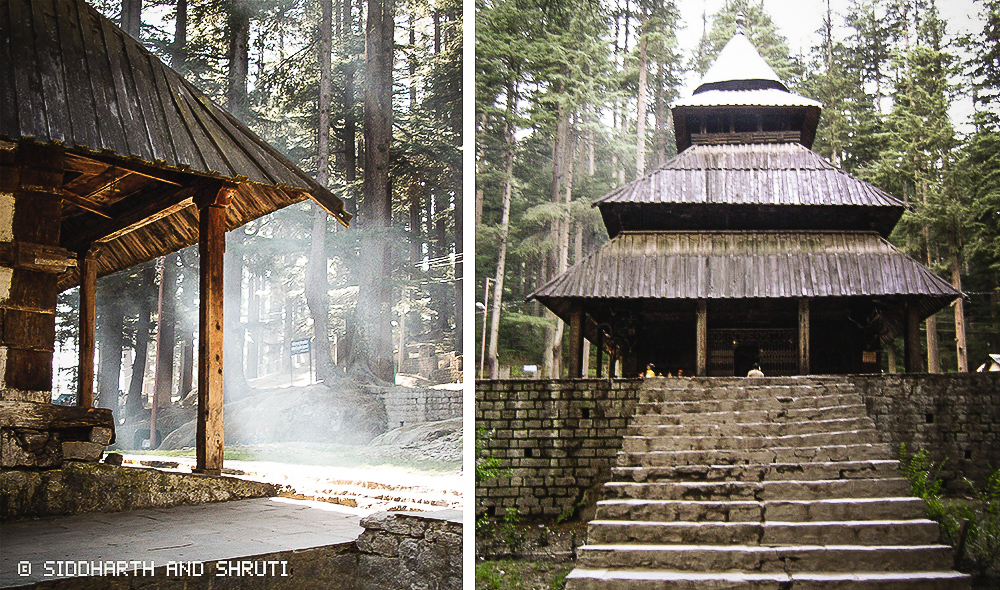 The Hidimba (or Hadimba) temple is an ancient one of a kind temple in Manali. Unlike other Hindu temples which are dedicated to the different gods and goddesses, this one is a shrine to a demon.
The story of Hidimba
How did this demon get her own temple? Who is Hidimba? The answers to these questions lie in Mahabharata; one of the major Indian epics. Hidimba was the sister of the mountain demon Hadimb; who terrorized the inhabitants of nearby villages. He instructed his sister to kill Bhima, one of the Pandavas. When Hidimba saw Bhima, she fell in love with him and refused to kill him. Instead she assumed the form of a beautiful woman and approached Bhima.
Angry and betrayed, Hadimb tried to kill Bhima himself. After a fierce fight, Hadimb was killed. Hidimba married Bhima and they had a half-human, half-demon son called Ghatotkacha. Ghatotkacha inherited mystical powers like flying and the use of magic from his mother and enormous strength from his mighty father. He fought valiantly in the Kurukshetra war but was eventually killed by Karna. Once Ghatotkacha came of age, it is said that Hidimba observed penance in Dhungri. She was kind and thoughtful and used her mystical powers for good. After she passed away, her disciples along with the king of the region erected a temple in her honour.
The Temple
The temple is rumored to be constructed in 1553. When you enter you cannot ignore the yak skulls hanging in front. Flanked by giant deodars (cedars), this temple has a pagoda-styled roof with wooden fringes. The wooden frame has carvings of many gods including Ganesha, Shiva and Parvati. Along with gods and goddesses, you can also spot characters from Buddhist mythology, decorative objects like leaves, scrolls and pots. The doors are made of wood and the roof is metal.
Although the interesting history and distinct architecture makes an impact, this temple also has some sketchy past. It is said that a buffalo was sacrificed every year by the kings as an offering to this demon goddess every year. Whether this still prevails we don't really know, but we hope not.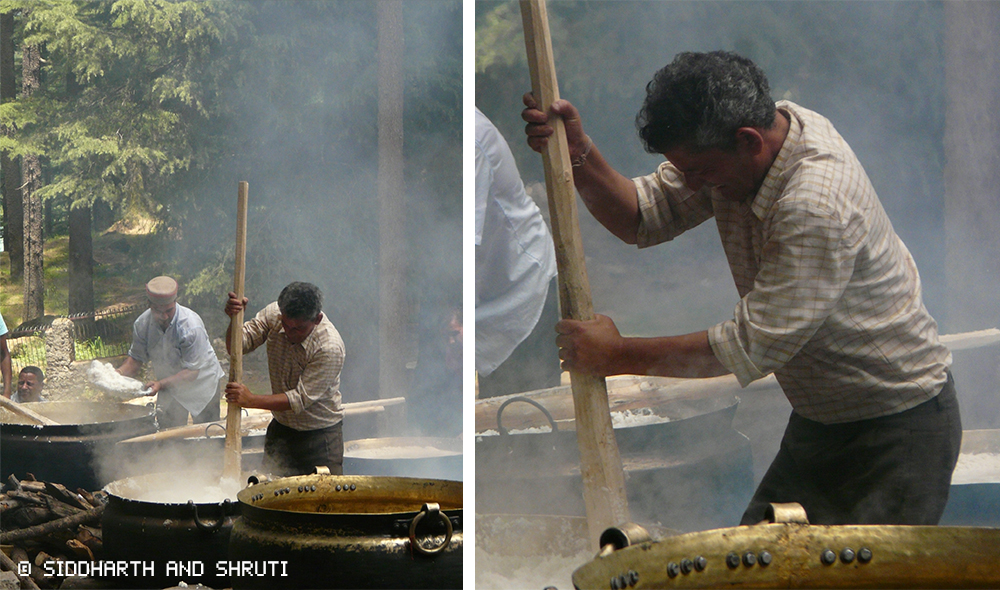 We were lucky enough to visit during a wedding prep at the temple. Although we did not get a chance to see the ceremony or the bride and groom, we witnessed the cooking. The massive meal being made looked like it could feed the entire village!
Tips for visiting the Hidimba temple
This gorgeous temple looks like stunning once the snow starts falling in winter. However winter attracts a lot of tourists. If that's something you want to avoid, we recommend visiting from September to April. It is open from 8 AM to 6 PM.
In honour of Raja Bahadur Singh, a mela (festival) called the Dhungri Fair is organized on the first day of Savan (the 5th month of the Hindu calendar; approximately August/September) which is an amazing opportunity to experience this temple with the locals. It is also known as the 'Saroohni' which marks the completion of paddy transplantation.
Another cultural experience associated with the Hidimba temple is the Dusshera pooja called Ghor Pooja. It takes place in Dhalpur Maidan and Hidimba's chariot leads the procession.
Hidimba temple is around 2 km from Manali town and 100m from the famous Mall road. You can either take a cab or walk/trek from Joginder Nagar Railway Station.
This temple and its surroundings are a bit of a tourist trap. Vendors selling trinkets and cheese along with yak rides are constantly in your face. Although none of these interested us, we did indulge in trying out the local costumes and enjoyed playing dress up.