Barcelona is one of the hottest tourist destinations in Europe; famous for its beaches, cultural identity, architecture and nightlife. With so many things to explore, it can be difficult to plan sightseeing; especially if you have limited time. Having visited the city a few times over the years, here are our suggestions for first time visitors to Barcelona.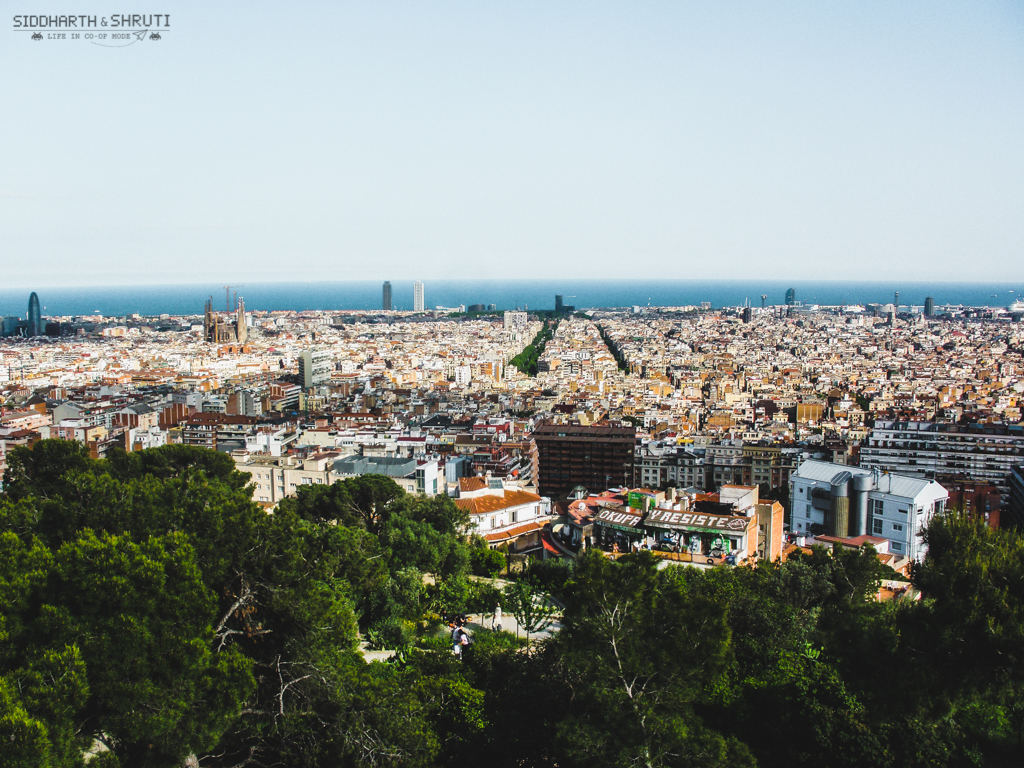 Getting there
There are three major airports in the Catalonia region; El Prat (BCN), Girona-Costa Brava (GRO) and Reus (REU). However, of these only BCN is close to Barcelona; situated about 10 km outside the city. The other 2 airports at located close to the towns of Girona and Reus; each about 100 km away. Despite the distance, some airlines advertise cheap tickets to Barcelona via REU or GRO. If you have only a few days in Barcelona, you should prefer flying into BCN.
However, you may sometimes find deals on air tickets via REU or GRO that are just too good to pass up. In such cases, we'd recommend exploring the towns of Reus and Girona. Reus is mainly known for its modernist architecture and as being the birthplace of Antoni Gaudí. Girona on the other hand has many more interesting sights. It is renowned for its cathedral, old Jewish quarter, city walls and picturesque houses along the river Onyar. Fans of Game of Thrones may recognize the Girona Cathedral as the site where Cersei Lannister's infamous walk of shame was shot. If you can find the time in your Barcelona trip, we'd suggest visiting Girona.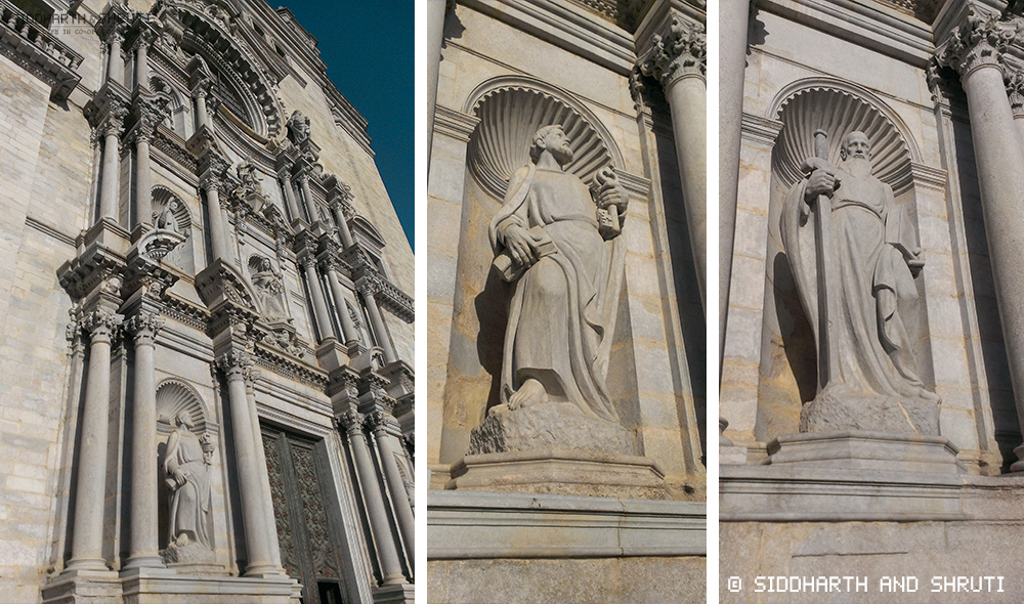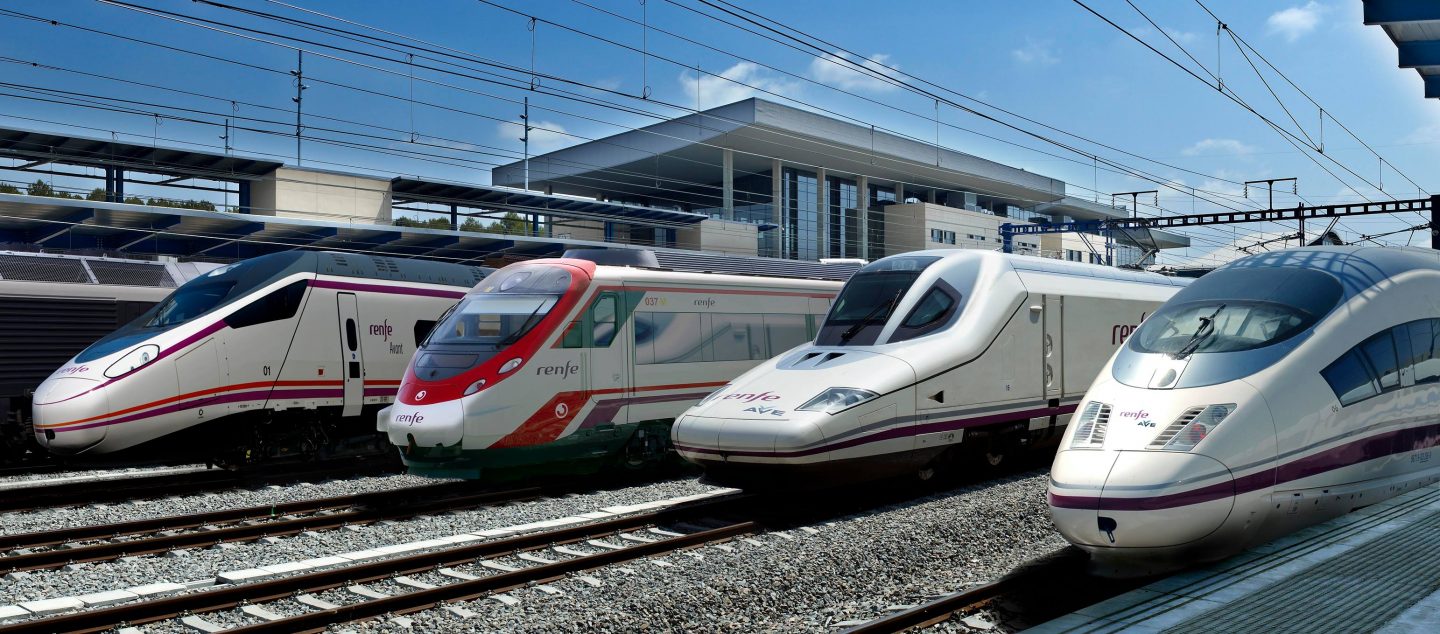 To get to Barcelona from Reus or Girona, you can take either the train or the bus. Spain's national railway company Renfe operates a high speed service (AVE) between Barcelona and Girona. It takes just 40 minutes to cover the distance and is the most convenient albeit slightly expensive option. For those on a budget, buses are a good alternative although the journey will take twice as long.
Getting around town
Barcelona has an extensive public transport system. Metros and buses will usually get you anywhere you need to go. Additionally, Barcelona also has trams, funiculars and cable cars. Conveniently, Barcelona offers a Hola Barcelona travel card that works across all these networks. Plus, if you're flying in and out of BCN airport you can get free transfers to and from the city center. You can buy a pass according to the number of days you plan to spend in Barcelona. Cost-wise, the pass works out to approx. € 7-8 per person per day which is an incredibly sweet deal. We'd strongly recommend getting the pass for hassle-free travel around the city.
Things to see
Barcelona's Gothic Quarter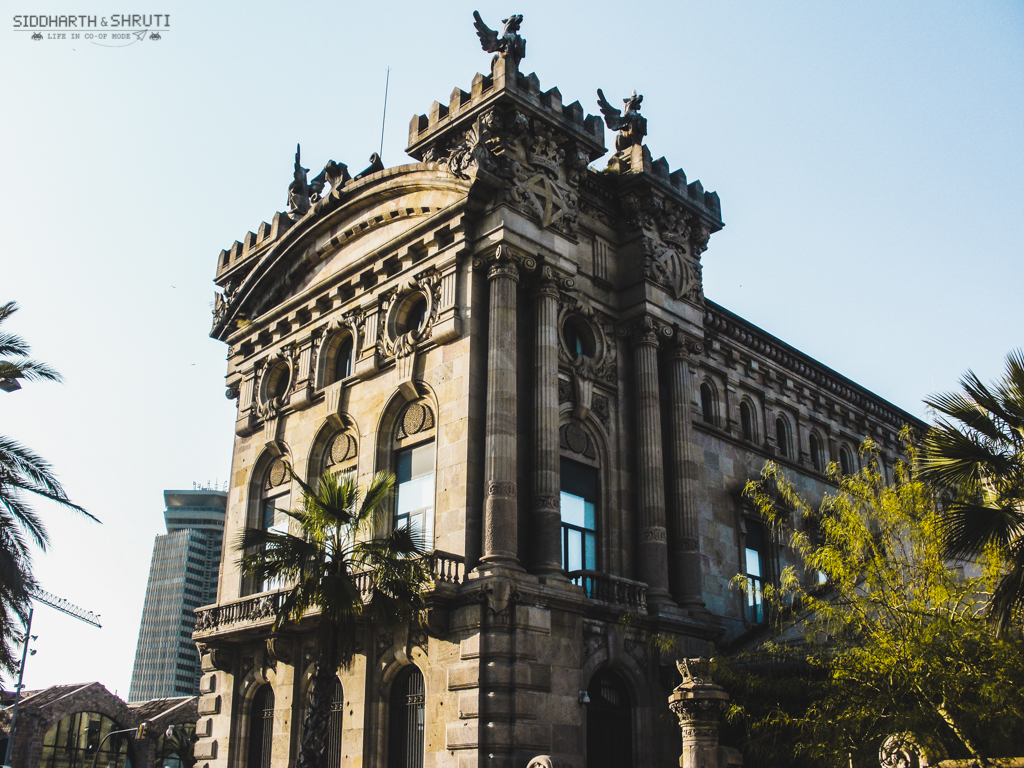 The Gothic Quarter comprises some of the oldest parts of Barcelona. However, most of the buildings that we see today do not date back to the Middle Ages. Most of them were constructed only in the late 19th and early 20th century as part of a neighborhood restoration project. Older structures that still exist today include walls from the Roman and Medieval periods as well as some columns from the Roman temple.
Among the buildings in the Quarter, we'd recommend visiting the Barcelona Cathedral. Although the cathedral was built from the 13th to 15th century, its prominent neo-Gothic façade is a modern construction. Walking through the area, you will undoubtedly come across the Pont del Bisbe; a neo-Gothic style bridge crossing Carrer del Bisbe (Bishop's Street). The Barcelona City History Museum is also located in this area and is a great place to see archaeological remains from the Roman period.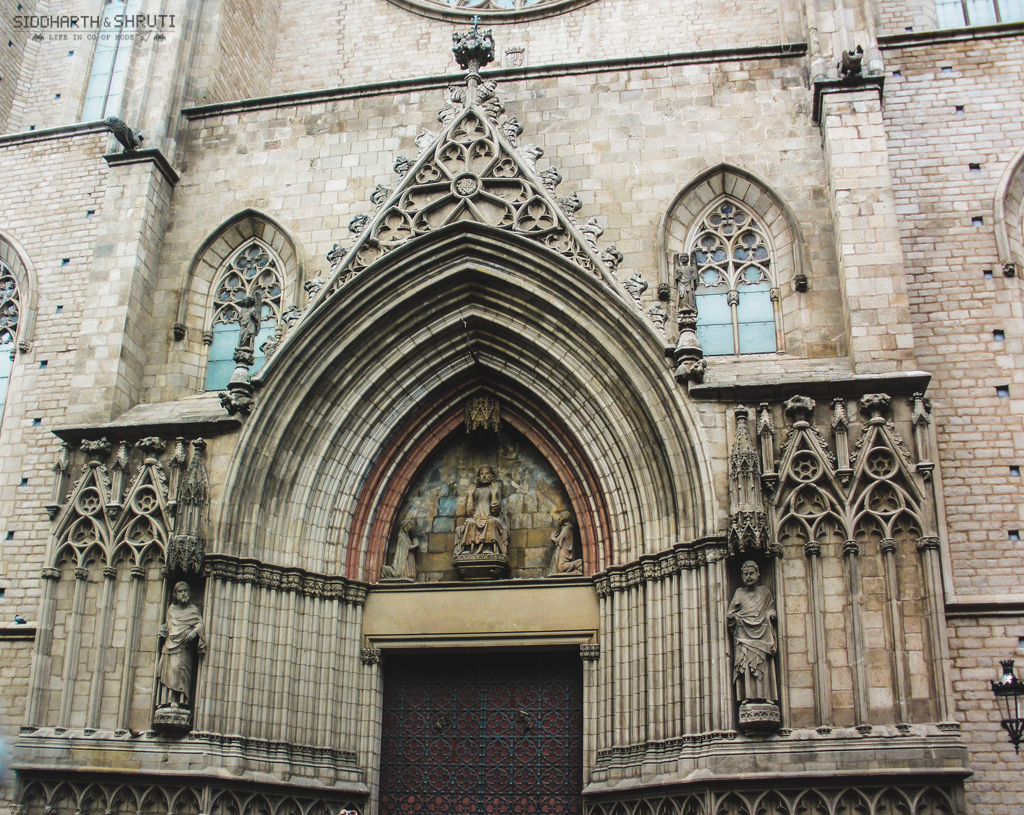 Keep an eye out for cultural events. Many of the old buildings in the Quarter host flamenco performances at various times during the day. Try and shop around a bit though since some of the more prominently advertised events are a bit touristy. You might need to hunt a bit to find an authentic performance.
Plaça Reial & La Rambla
If you crave hustle and bustle, you wouldn't want to miss the famous Plaça Reial (Royal Plaza), a large square situated within the Gothic Quarter. It's an extremely popular hangout place; especially in the evenings. The square hosts a number of restaurants and cafés which makes it a great spot for lunch. During the evenings, Plaça Reial dons its party hat. Some of the city's most famous nightclubs like Jamboree and Ocaña are located on the square. However, there are a number of other smaller (and less expensive) clubs to explore. Our advice is to keep an eye out for event flyers and explore ones that look interesting.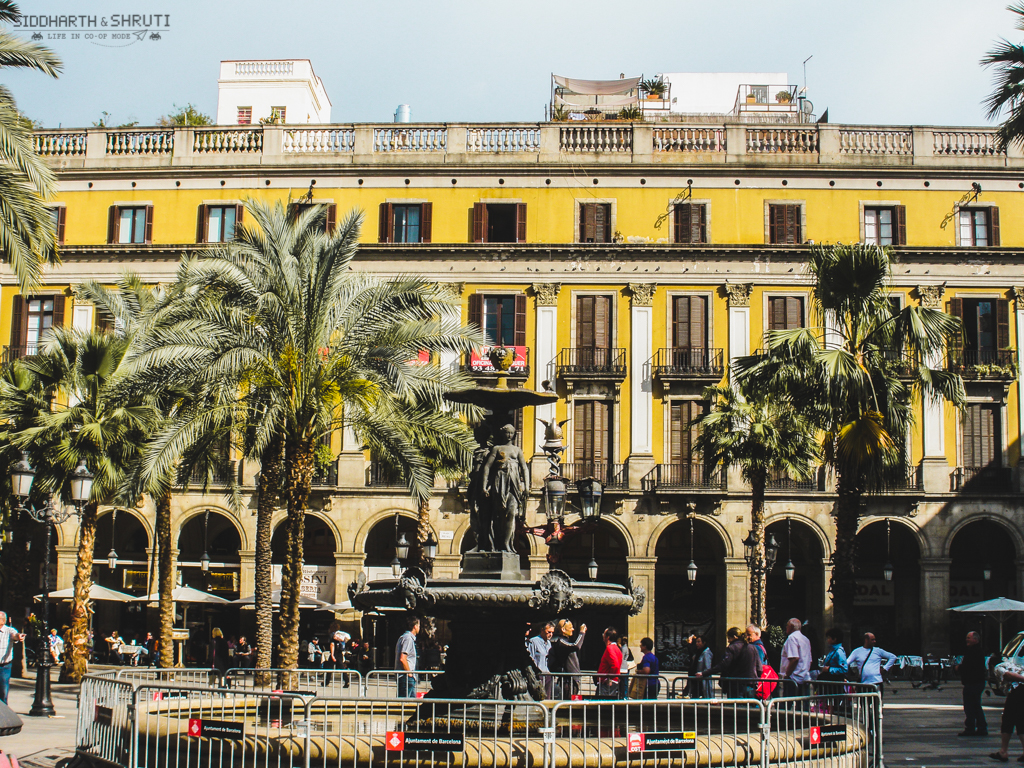 Hidden gem: If you prefer smaller, more intimate settings, you could try the Pipa Club. We got the chance to catch a gypsy jazz performance there which was really fantastic!
La Rambla is a kilometer-long pedestrian-only street adjacent to the Gothic Quarter. It stretches from Plaça de Catalunya to the Christopher Columbus Monument on the waterfront. The waterfront is also home to Port Vell; the old customs house of Barcelona. The street is lined with pavement cafés, bars, performers, street vendors and shops of all kinds. It's crowded throughout the day and until late in the night so you need to be wary of pickpockets. Be sure to take take extra care of your personal belongings.
Park Güell
Park Güell is a World Heritage Site that is a must-see for fans of Gaudí's unique style. The park is located atop Carmel Hill and its main entrance can be easily reached by bus. At the entrance to the park are two houses designed by Gaudí and the mosaic-tiled Main Terrace. This area is known as the Monumental Zone and requires a ticket to enter. The rest of the park is free to visit. In the free area, you can find the Gaudí House Museum where Antoni Gaudí himself lived and worked for 20 years.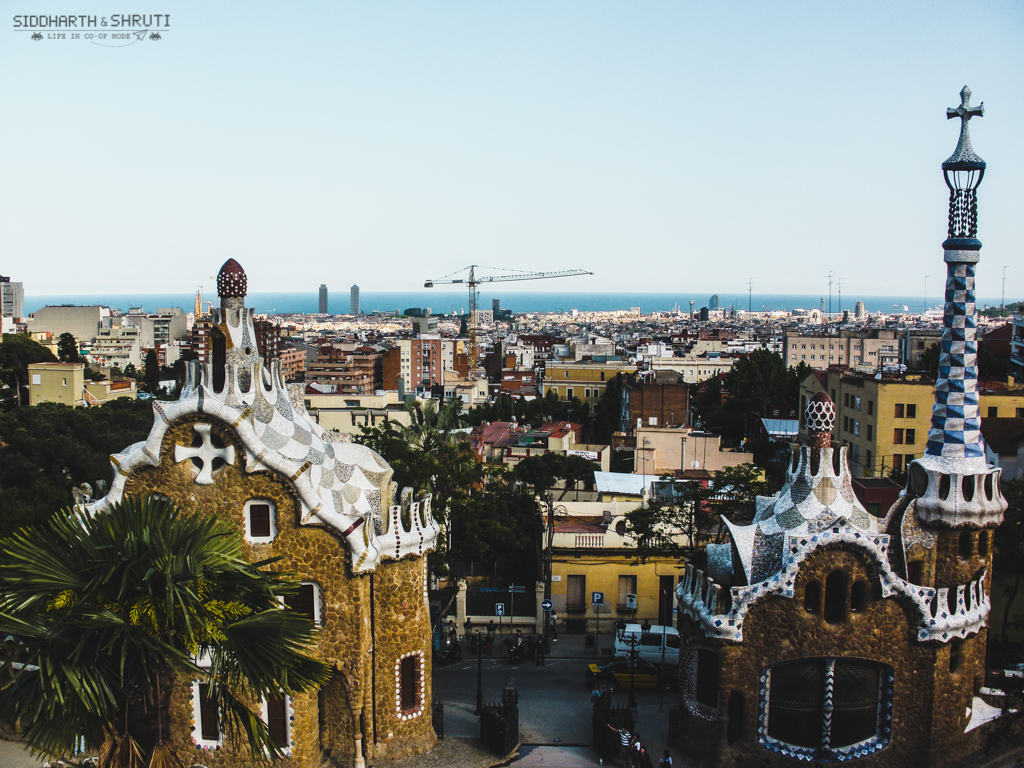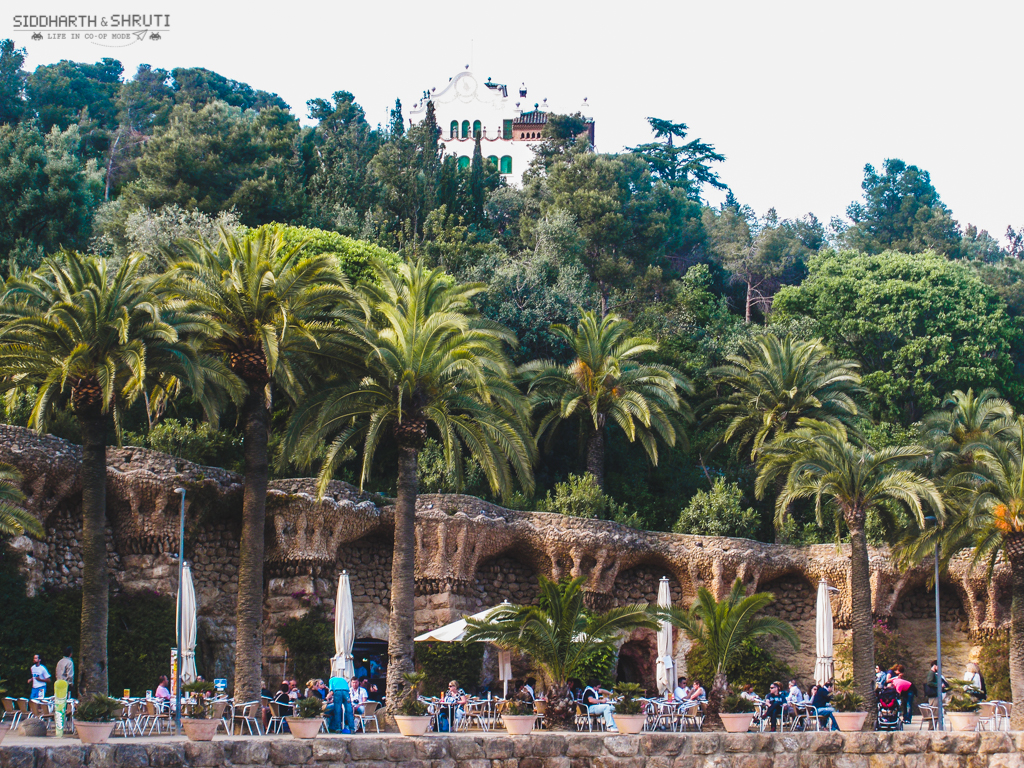 An alternate way to enter the park is via the rear entrance. Get down at Vallcarca metro station and you'll find a sequence of street escalators that lead up the hill. This is a fun way to reach the park if you don't mind the 20-minute walk. It's a good option when the weather is pleasant.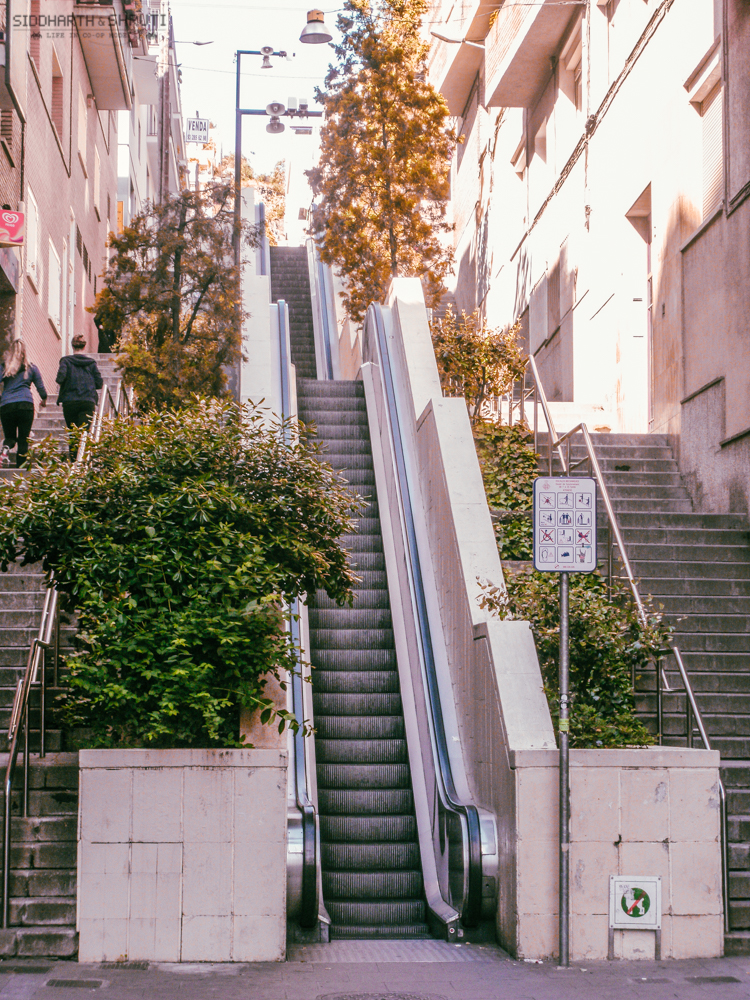 La Sagrada Familia
The other famous Gaudí project is of course the Sagrada Familia; a massive church that has been under construction for over a hundred years. The building's completion has sped up in recent years thanks to computer-aided design and modern construction methods. It is now expected to be completed in 2026 which will coincide with the hundredth anniversary of Gaudí's death. Whatever else you see during your trip, you should not miss this one-of-a-kind church. Of particular note are the Nativity and Passion facades adorning the East and West faces of the Church.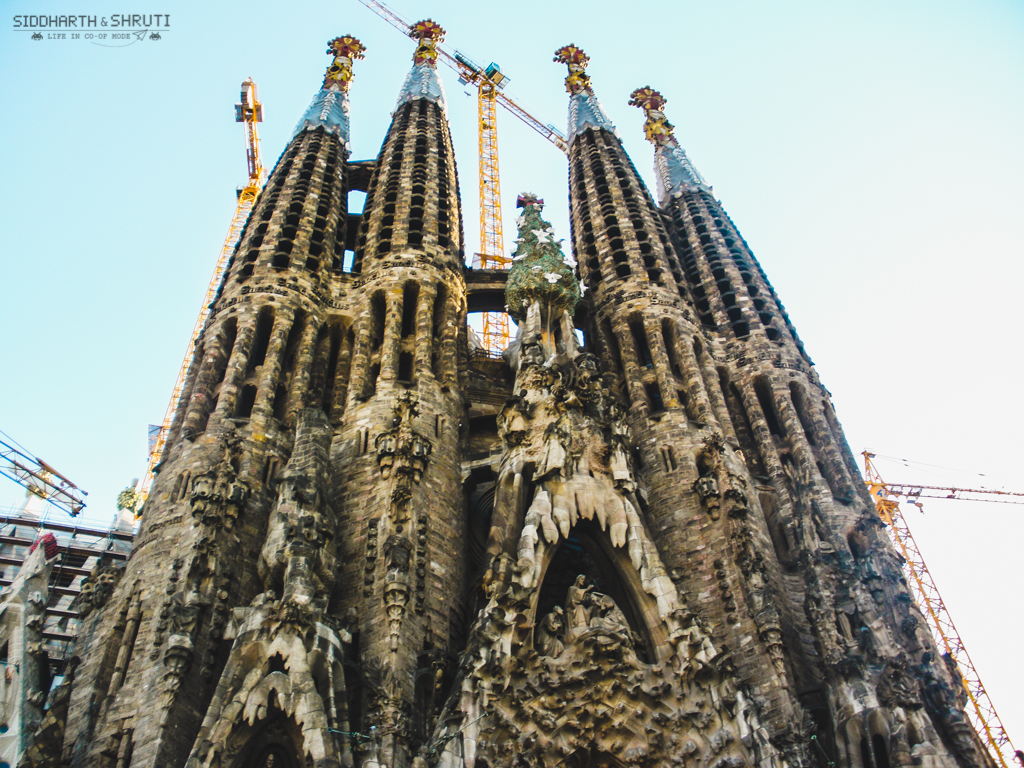 The interior of the church was designed so as to resemble a forest with its tall columns inclined like branches. The church's primarily white interior is also unusual compared to the softer yellowish tones seen in most cathedrals and basilicas. It's impossible to put all its weird and wonderful design into words. Go see for yourself!
It's also possible to climb the steeples of the Sagrada Familia but you need to purchase a separate ticket. The climb up is by a lift and a few stairs. However, the descent must be done entirely on foot; a narrow spiral staircase with about 300 steps. There can also be a long wait since only a limited number of visitors are allowed in at a time to prevent overcrowding. If you plan on climbing the steeple, build in an extra 2-3 hours into your visit.
Booking tickets
If you plan to visit both Park Güell and the Sagrada Familia, you can get a discount by purchasing a combined ticket. While we're on the subject of discounts, we should mention that a number of companies offer bundles (The Barcelona Pass, Barcelona Card) that allow access to multiple attractions and queue skipping privileges. We'd suggest that you choose the places you plan on visiting and see whether the bundles make economical sense.
Even if you're purchasing tickets individually, you should definitely book them in advance. Most venues have separate queues for picking up online tickets which are usually much shorter than the queues for spot tickets.
Casa Batlló
Another building in Gaudí's famously weird style, Casa Batlló is an attraction that you should not miss. Designed in 1904, this World Heritage Site is called Casa dels Ossos or 'House of Bones' by the locals due to its skeleton-like outer structure. The façade is decorated with colourful mosaic tiles and the asymmetric roof is supposed to resemble a dragon.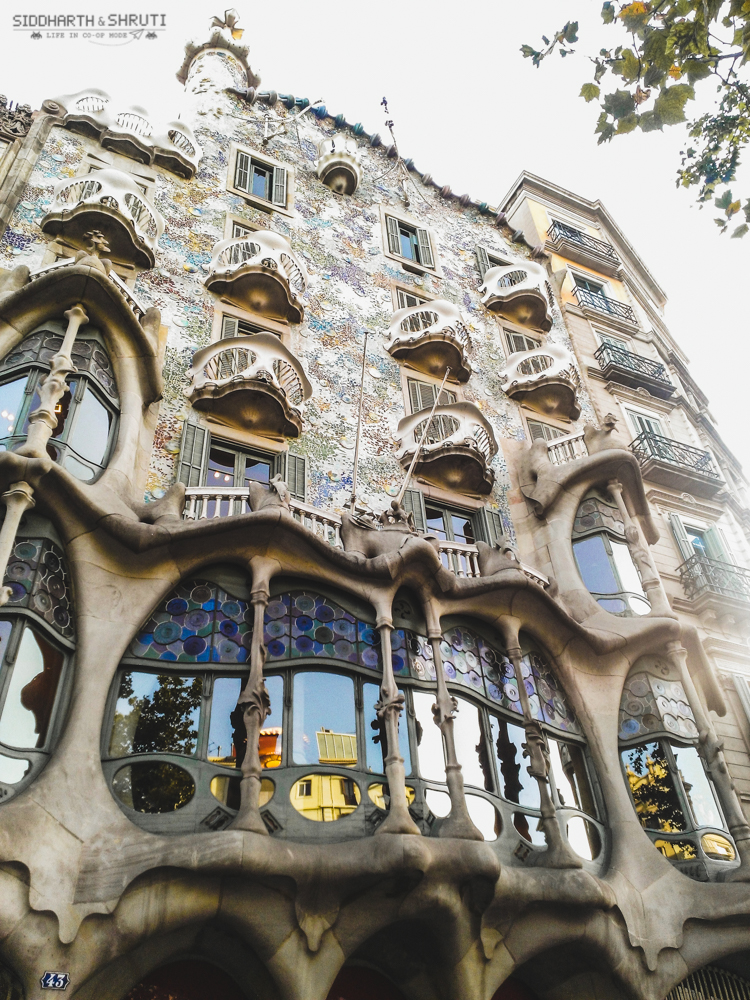 Montjuïc
Montjuïc is a hill situated within the city limits of Barcelona. Atop it is a 17th century castle and the sporting complex that hosted the 1992 Summer Olympics. There are regular buses that take you up the hill from Plaça de Catalunya. You could also walk but it would be extremely tiring. If you're very keen on the hike, plan to walk downhill rather than uphill.
Instead, we'd recommend taking the Barcelona Cable Car to enjoy the spectacular view of the surroundings. You can transfer from the Paral.lel Metro station to the Montjuïc Funicular. The upper station of the funicular (Parc de Montjuïc) is adjacent to the lower terminus of the cable car service.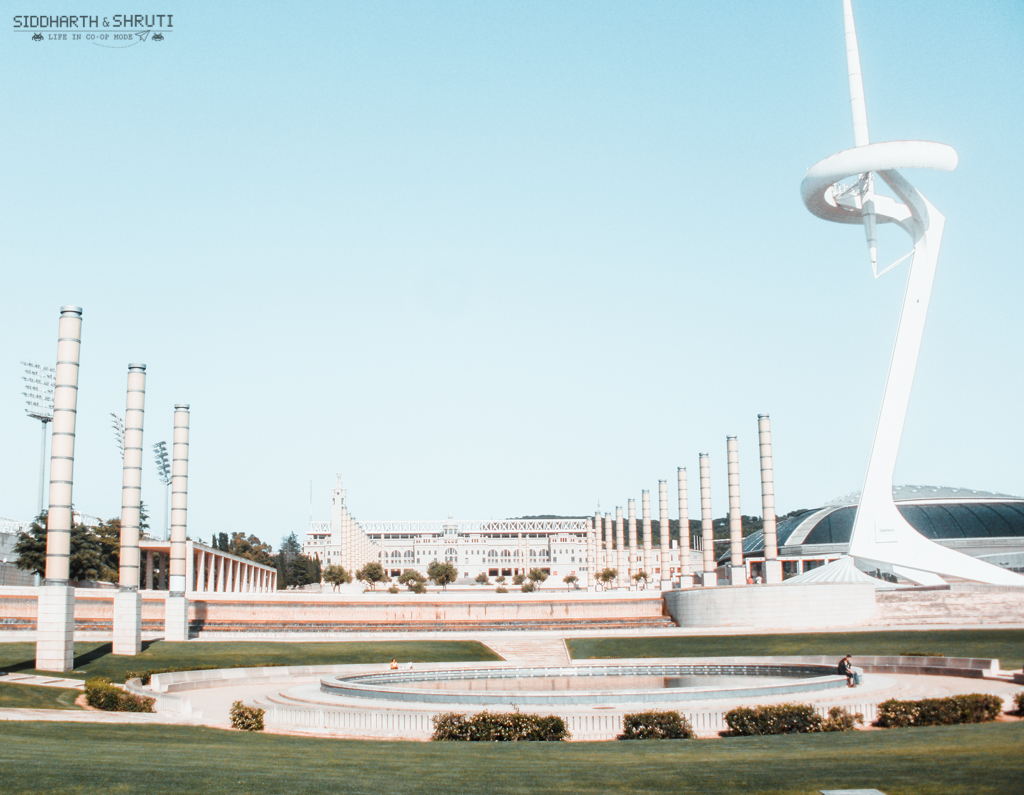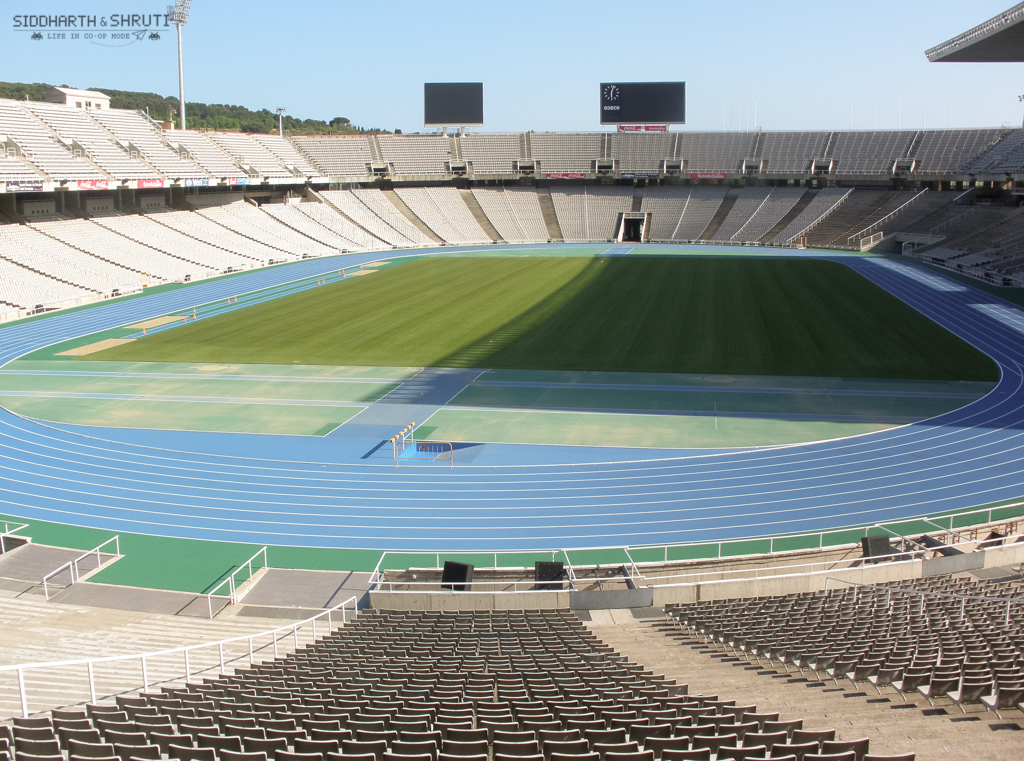 So those are our tips for first time visitors to Barcelona. How did we do? Have you been to Barcelona and discovered a must-see attraction that we missed? Let us know in the comments below.
Like it? Pin it for later?