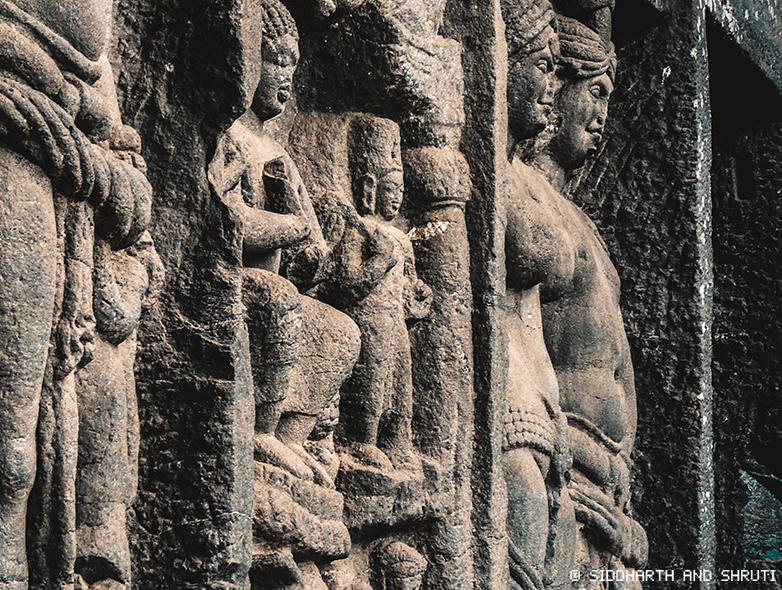 Visiting the Karla and Bhaja caves had been on our bucket list for a long time and we are glad to report that we successfully ticked it off. If you don't know what we are talking about; Karla, Bhaja and Bedse are ancient Buddhist caves near Malavali, a small village near Lonavala. These historic sites can also be done as day trips from Mumbai or Pune without staying in Lonavala. We did not manage to visit Bedse caves, but here is our account of our visit to the other two sites.
Karla caves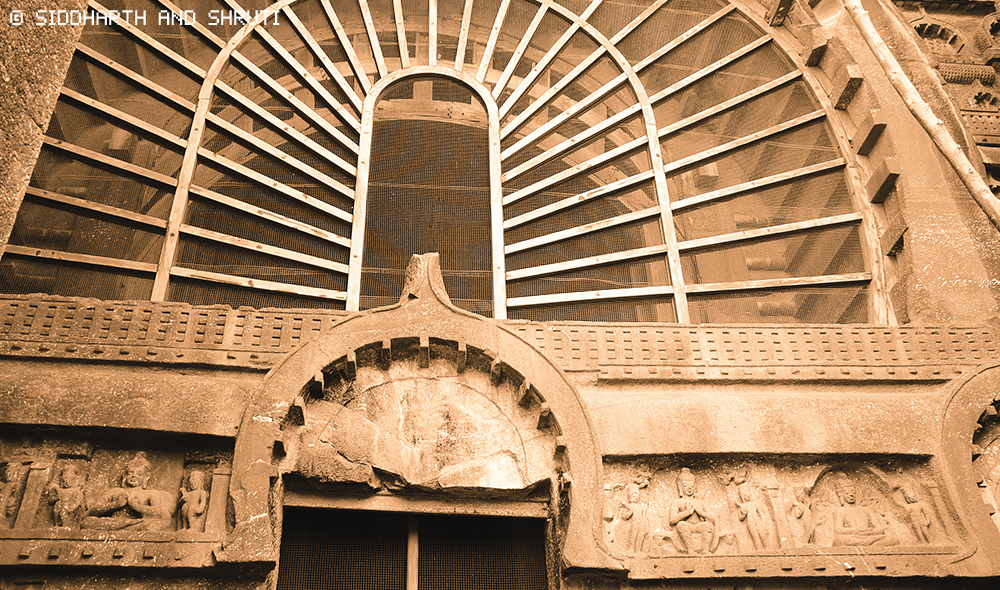 The rock-cut cave shrines in Karla, associated with the Mahasamghika sect of Buddhism are popular among tourists who are looking for things to do near Lonavala. These shrines were developed over the period ranging from the 2nd century BC to the 5th century AD and are protected under the Archaeological Survey of India.
The Grand Chaitya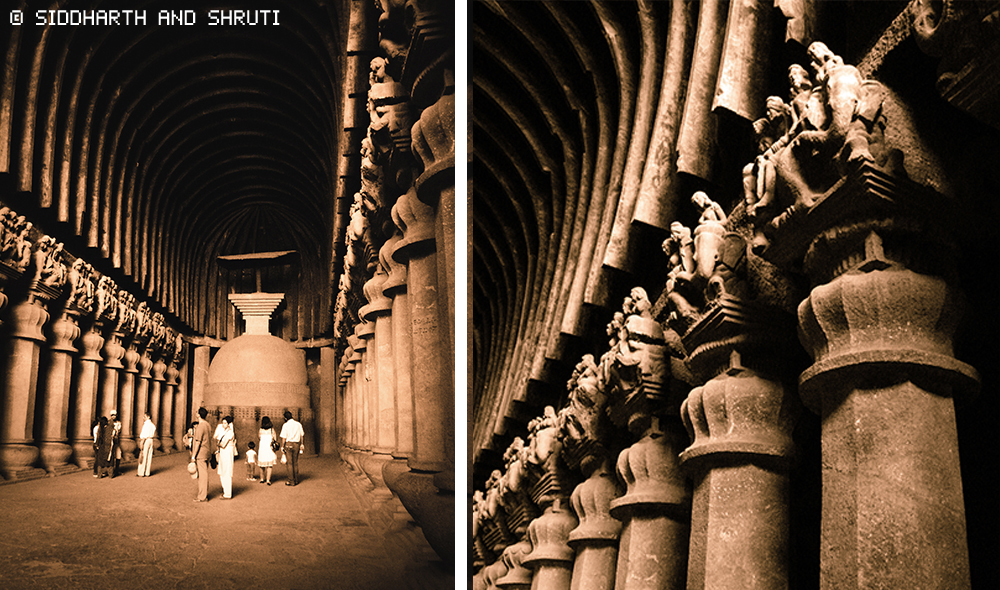 The Karla caves consist of Chaityas (prayer halls) and Viharas (monasteries). Cave 8 (the Grand Chaitya) is the largest of these caves. Pillars adorn both sides of the Grand Chaitya with sculptures of people and animals. Outside the chaitya, there were two 15 meter high pillars. Only one of them survives to the present day. Four lions adorn the top of the pillar.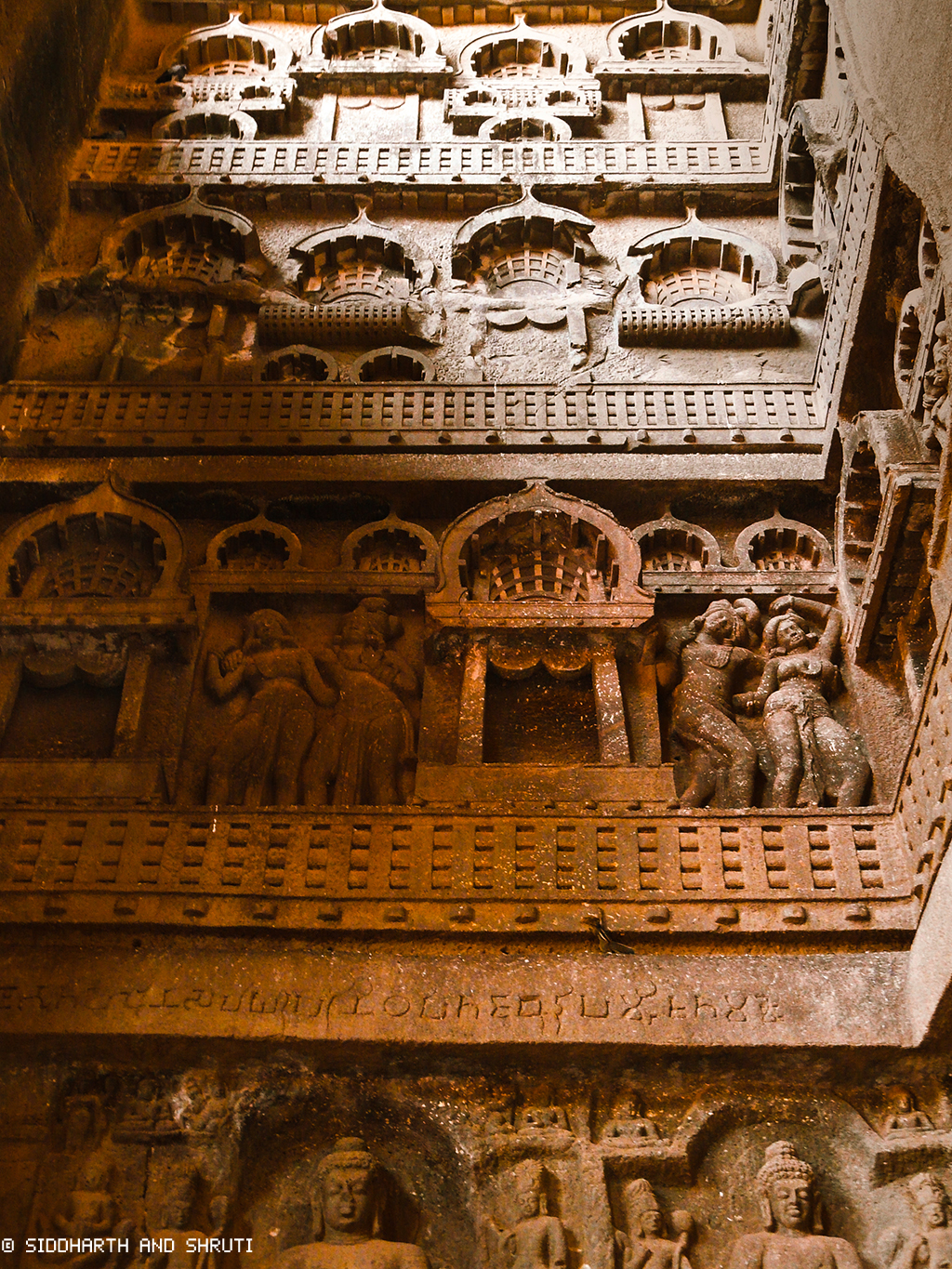 Most of these caves belong to the early Hinayana phase of Buddhism apart from the three which were constructed later during the Mahayana phase. Despite its beauty, the sheer number of tourists do not allow you to imagine how peaceful these cave monasteries were. Sundays are an absolute no-no for visiting these caves. Another thing that bothered us was poor maintenance.
How to reach Karla Caves
Closest railway station:
Malavali: 4 km | Lonavala: 11 km
Auto rickshaws are available from both railway station
Closest Airport:
Mumbai: 94 km | Pune: 58 km
Bhaja Caves
While the caves at Karla are a bigger tourist attraction, we enjoyed our morning at Bhaja caves a lot more. We started the climb at 9 AM and we were at the entrance within an hour. We were among the first few there which was surprising after visiting Karla along with a throng of tourists clicking selfies. These smaller and quieter caves also belong to the Hinayana sect of Buddhism.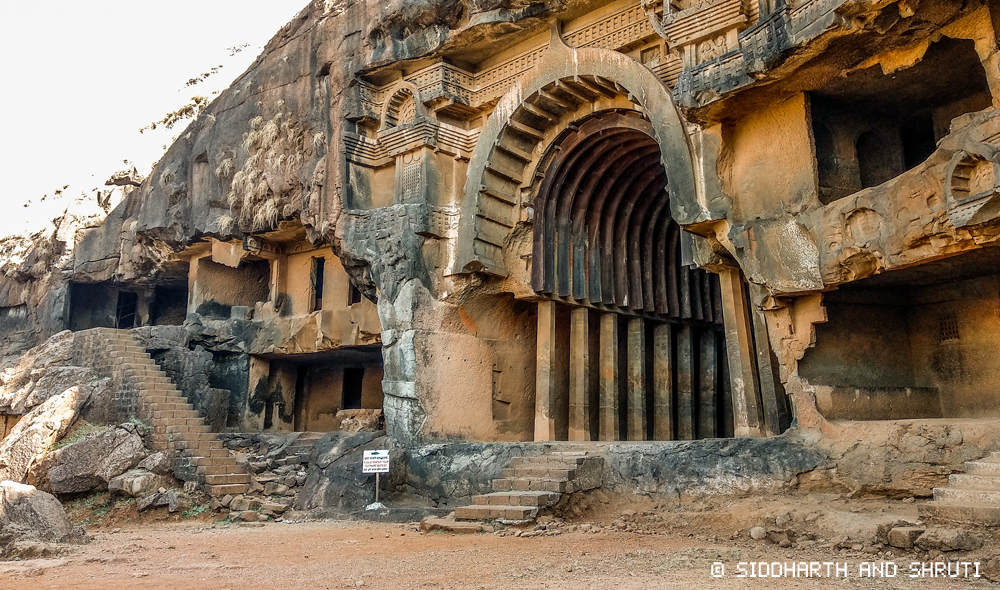 The largest chaitya here has a horseshoe-vaulted ceiling with wooden beams and a stupa. Walking further away from the chaitya, we came across a group of stupas. These 14 stupas are relics of resident monks, who died there. The inscriptions have their names and titles. Apart from these, the rest of the caves are viharas (monasteries). For those visiting Bhaje in monsoon, there is a waterfall at the base where you can have a quick dip. Unfortunately we visited in winter and the waterfall had dried up.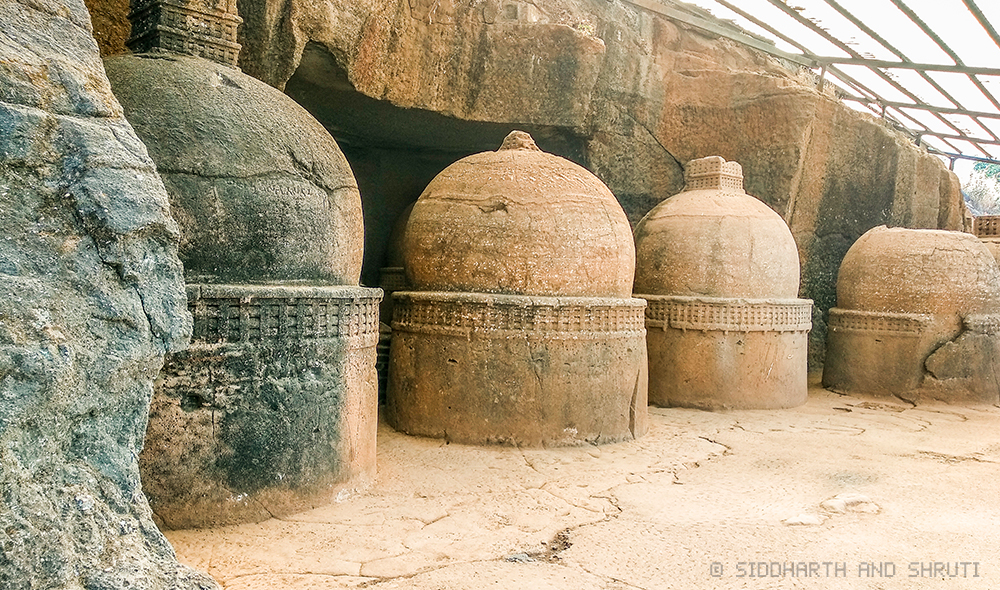 Although Bhaja caves share their design with Karla caves, they house an interesting historical proof. Along with carvings of animals, inscriptions and symbols of Buddha, they feature a carving of a woman playing tabla; a two headed barrel shaped drum. There are also carvings of figures dancing with garlands, jewelry and elaborate headdresses.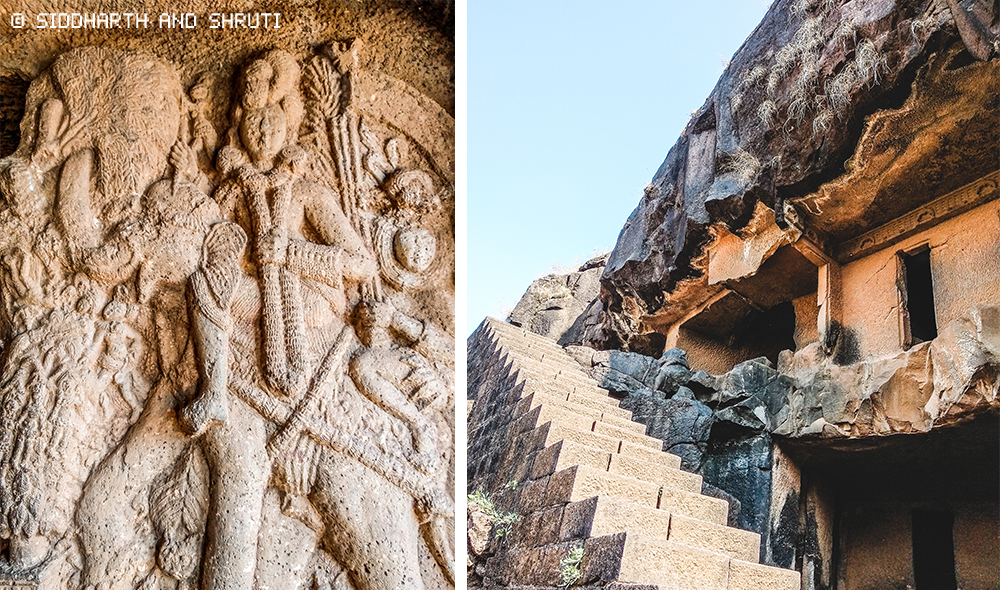 By the time we started climbing down, we spotted a few groups of people making their way up. Visit the caves on a weekday morning like us and you might get this historical site all to yourself.
How to reach Bhaja Caves
Closest railway station:
Malavali: 3 km | Lonavala: 15 km
Auto rickshaws are available from both railway station
Closest Airport:
Mumbai: 95 km | Pune: 79 km
Tips for visiting both caves
Although we did visited Karla and Bhaja caves on different days, you can do both in one day. The two sites are around only 10 km apart.
If you have limited time, we recommend you visit Bhaja caves instead of Karla. Bhaja caves are quieter and cleaner.
Do keep in mind that since Bhaja caves are less frequented than Karla, you will not get street food vendors lined up near the entrance. When we visited Bhaja caves, there was just one vendor selling fresh nimbu pani (lemonade) which is great on a warm day.
Food cannot be consumed within the cave premises, so make sure you have a hearty breakfast before you start the climb.
The rock cut staircase (200-400 steps) is not very steep, but can be a problem for people with knee problems.
The earlier you climb, the better. It gets pretty warm around noon even in winter.
There are different ticket prices for Indians and Foreigners. There is a small fee for still camera and video camera. Commercial video shooting is not allowed.
Like this post? Pin it for later