Grjótagjá, if you have never heard of it is an ancient lava cave that houses one of the many geothermal springs in Iceland. It came into the spotlight after the Jon Snow and Ygritte love scene in Season 3 of Game of Thrones. We being crazy GoT nerds, had to visit this epic cave on our honeymoon. Did we manage to enter this cave of love? Keep reading to find out.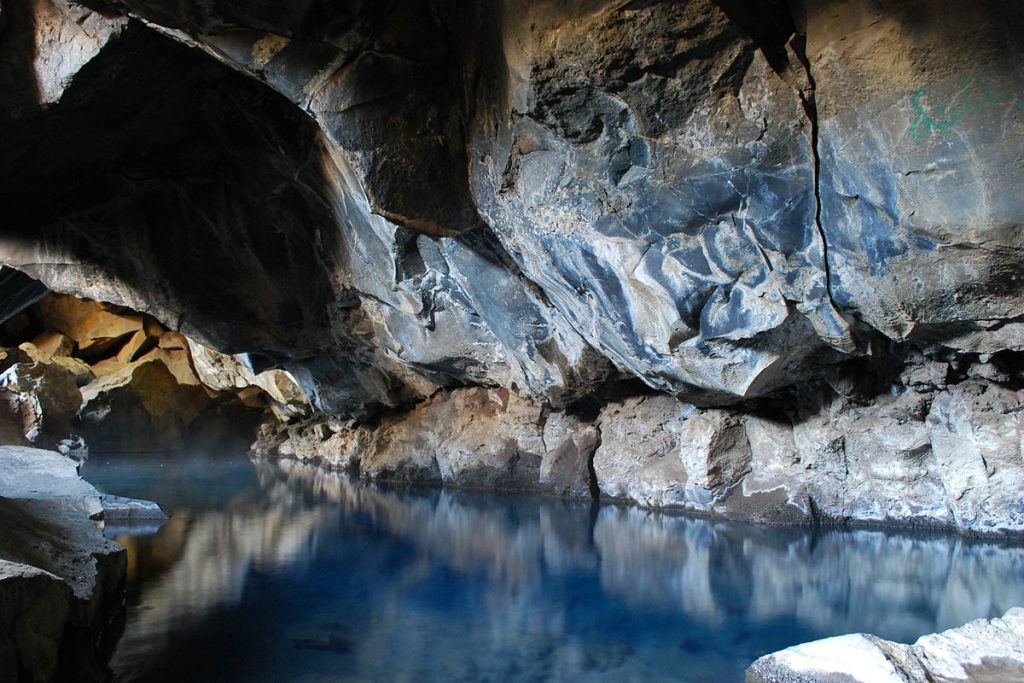 Photo Credit: Wikipedia
When we were writing our Game of Thrones locations on our bucket-list post last week, we strolled down memory lane and relived our Grjótagjá misadventures. Let's start at the beginning, when we were on our honeymoon in Iceland in winter. Although the Ring Road is paved and maintained in winter, many of the smaller roads that lead off it are not. We had rented a 4 wheel drive Mitsubishi Outlander equipped with snow tyres which made us think we could do it all. Dirt road…no problem, we have a 4WD, right? We did eventually get into trouble at one spot, though not on the way to Grjótagjá.
Reaching Grjótagjá:
After spending long hours researching how to reach this magical cave, we were sort of confident that we will find it. Well, to our credit we did find it. Thank you Google Maps, don't know what we would do without you.
Attempt No 1. Try to take a short cut (Hint: Bad idea)
When two adventurous people marry each other, sometimes they do enjoy taking the road less explored and it's not always the best choice, especially in the dead of winter with no one around for miles. There are two roads leading to Grjótagjá; one from Route 848 and the other from Route 1. Since we were coming from around Dimmuborgir, we thought the most logical thing to do is to take Route 848. As we mentioned above, the Ring Road is cleared regularly during winter but other roads aren't. Somewhere down 860, we parked and thought we could walk it. Wading through snow with the winter sun over our heads for 30 minutes didn't get us anywhere near Grjótagjá. It just managed to get us wet, tired and dehydrated.
Attempt No 2. Ask a local and take the Ring Road
We went back to our hotel and spoke to the lady at the reception who very politely told us to stick to the Ring Road which will take the car all the way to the cave. And so we went, with warm food in our belly confident that we had all the right information. We drove all the way to Reykjahlíð and came down Route 860. We did reach the cave and were the only ones there at the time, so we parked the car and reached the entrance of Grjótagjá. There was a board there with the name and information about the cave, so we knew we had reached the right place. When we reached the entrance, our heart stopped. It is a tiny hole in the ground!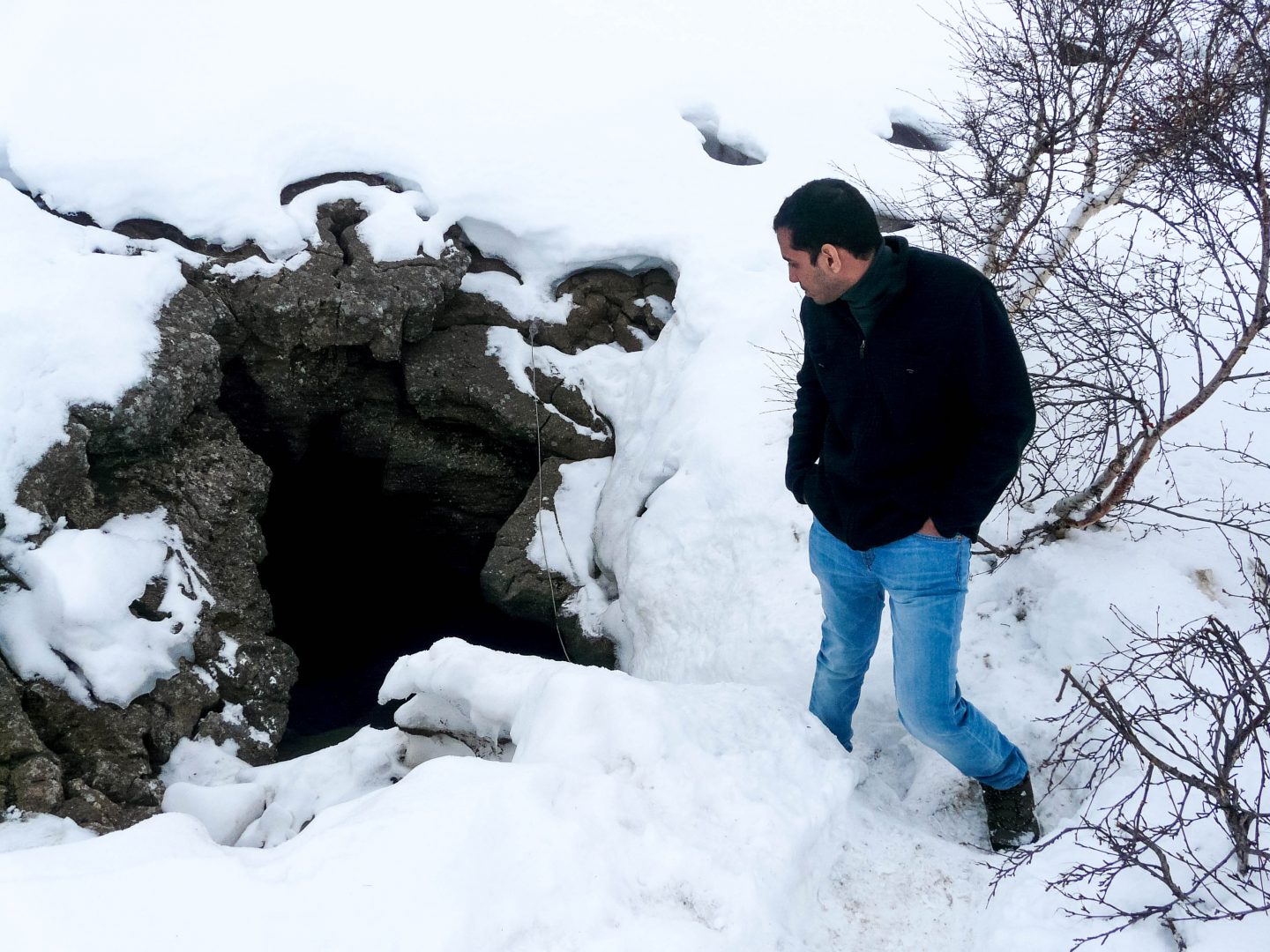 As you can see from the picture above, the entrance looked so treacherous that we dared not enter. The locals do step in easily and claim that the ceiling is stable and will not cave in. But without any local with us, we decided it was for our own good to not be overly adventurous this time. If we slipped and fell inside on our way down, there was a slim chance of getting out. While Grjótagjá is accessible and probably less daunting in summer, during winter we would advise you to visit ONLY with a guide!
Some interesting trivia and history about this ancient cave:
During the eruptions from 1975 to 1984, the temperature rose to more than 50°C making it impossible to enter the water. Water has returned to a suitable temperature post the 90s and bathing has been permitted in certain parts of the cave. (Another reason to go with a local, so that you don't break the law and injure yourself by stepping into scalding hot water).
In the early 18th century an outlaw named Jón Markússon lived in Grjótagjá and used it for bathing purposes. Given how remote this cave is, we believe it must have been a good place to hide.
There is another cave around Reykjahlíð called Stóragjá which is used as an alternate for bathing.
Although the exterior of this cave was used for the lovemaking scene, most of the scene was actually filmed inside a Belfast production studio.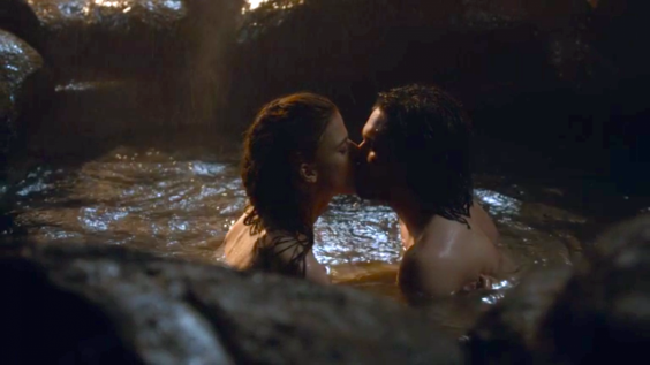 Photo Credit: HBO
We would love to revisit Iceland in the summer and finally attempt getting inside this cave someday. Have you been to Grjótagjá? Did you visit with a guide? Or are you braver than us? Let us know in the comments below!
Like it? Pin it for later