We have somewhat unusual priorities when it comes to choosing restaurants; one of them is to find places that aren't crowded. This can be difficult in Mumbai especially on weekends when it seems like the whole city is out and about. So when we came across Zomato's listing for Light House Café in Khar West, we were drawn to the fact that reviewers had found the place almost deserted for lunch.
Light House Café has two outlets in Mumbai; one in Khar West and the other at Worli. We had never heard of the place before but apparently the Khar outlet has been operational for nearly a year. It is located right beside Khar (West) railway station and is easily identifiable by its yellow door and faux industrial door handles.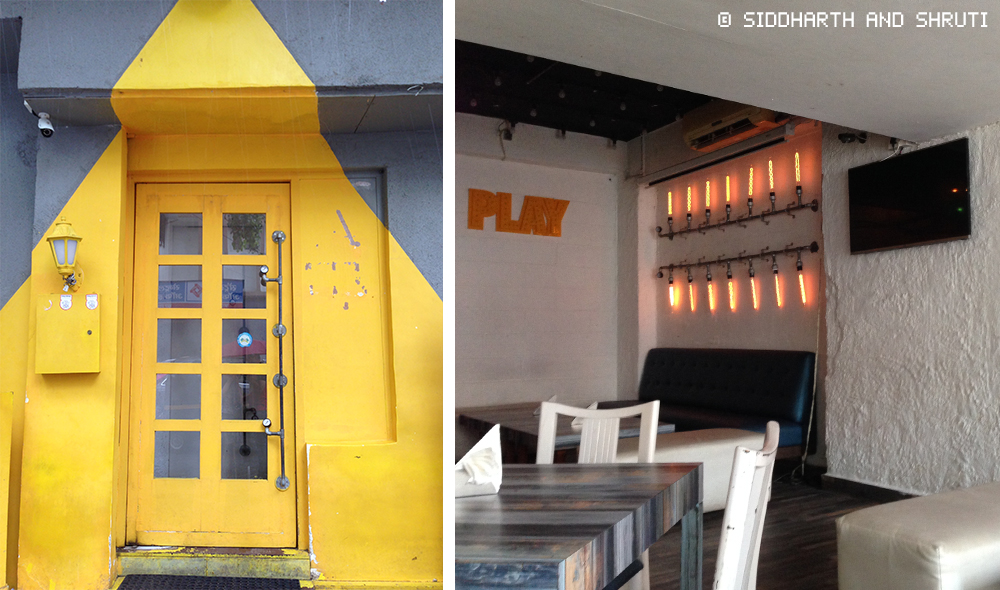 The same industrial theme continues inside the restaurant which is beautifully decorated. In particular, the LED filament lamps along the walls impart a vintage look and feel to the place.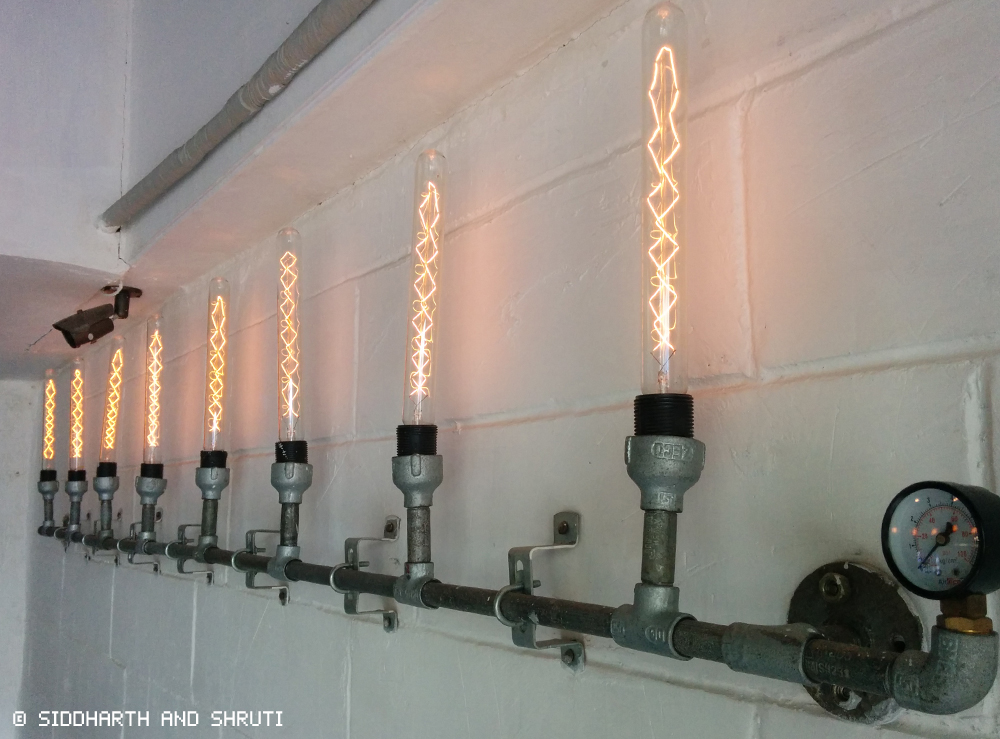 The centerpiece of the restaurant is the bar which is quite frankly a work of art. Needless to say, there is a large selection of drinks but the bar's decor with old lamps and pipes makes it stand out from your average sports bar. Empty alcohol bottles have been cleverly used as lamp shades along the walls.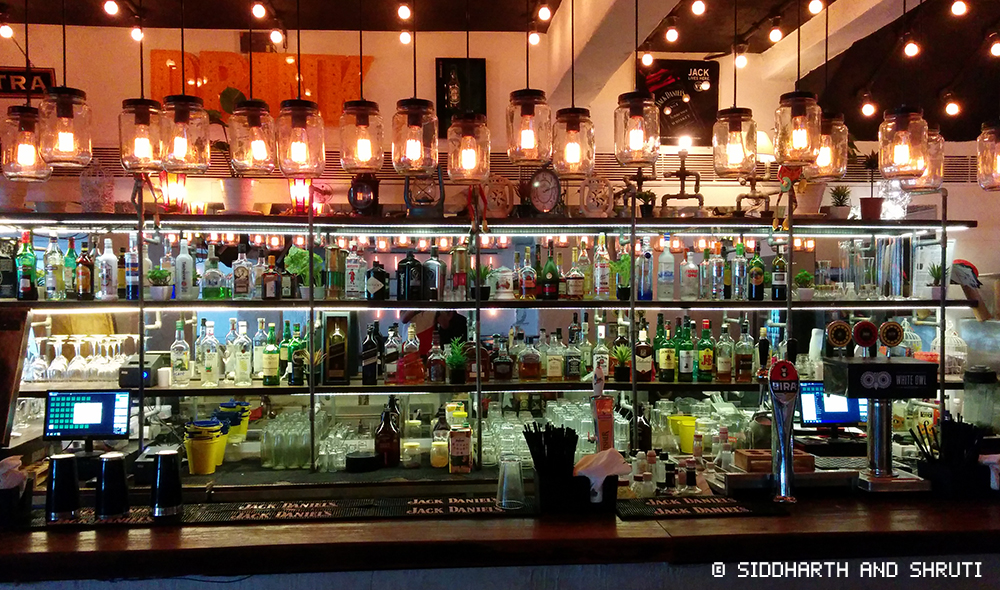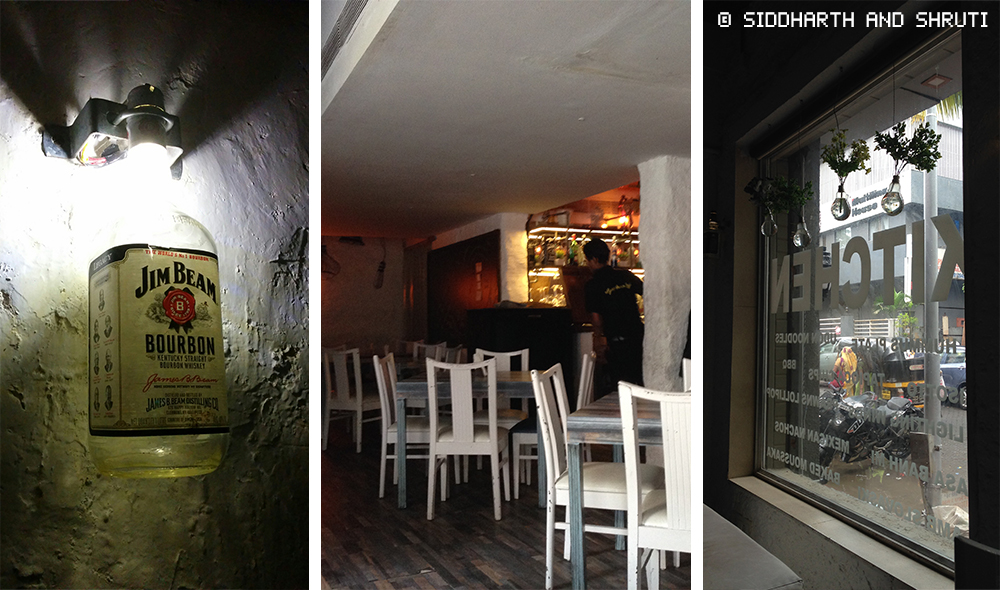 We sat down for lunch at one of the wooden tables near the window. The cafe's large windows allow plenty of light to stream through. However, it's best to avoid the tables at the very rear of the cafe.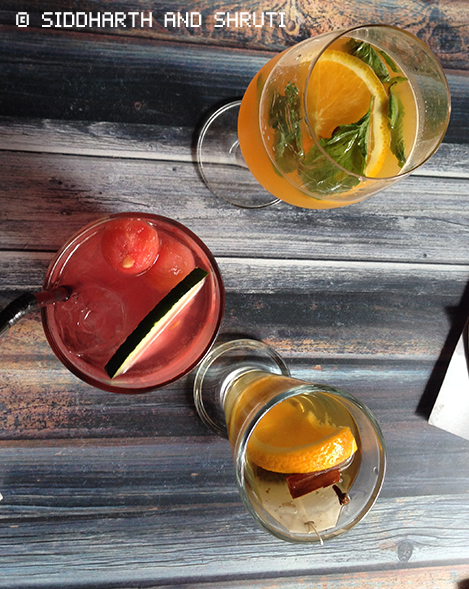 We ordered a round of drinks; two vodka-based spirits called Park Side Fizz (mint, citrus vodka, orange juice with sparkling wine) and Watermelon Ball (blended vodka, watermelon liqueur, cranberry juice and sour mix). The former was particularly refreshing.
The cafe was also running a special 'Monsoon Menu' from which I decided to order a Tangy Tea; a hot blend of orange liqueur, orange tea and amaretto. It was the perfect drink for a rainy day since the tea was served with an infusion of cinnamon and cloves. The spices added an extra kick to the drink. We highly recommend it.
The starters were the highlight of our meal. The Jerk Chicken in particular was exquisite! It came with a side of hummus and salad which gave a Mediterranean twist to an otherwise Jamaican flavored dish. We also ordered the Mexican Nachos which were decent. The only letdown were the Chicken Momos which were not as tender as expected.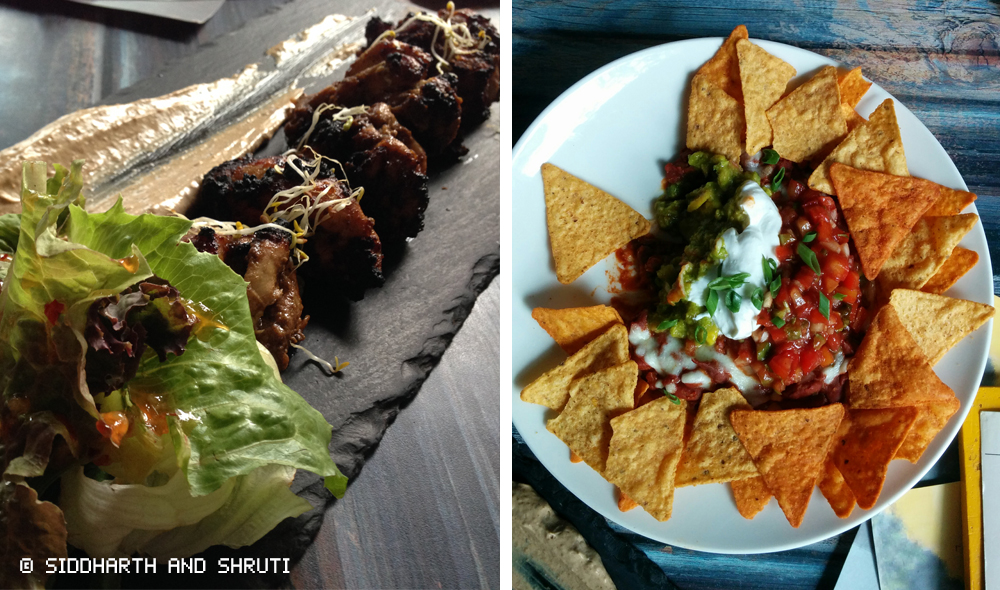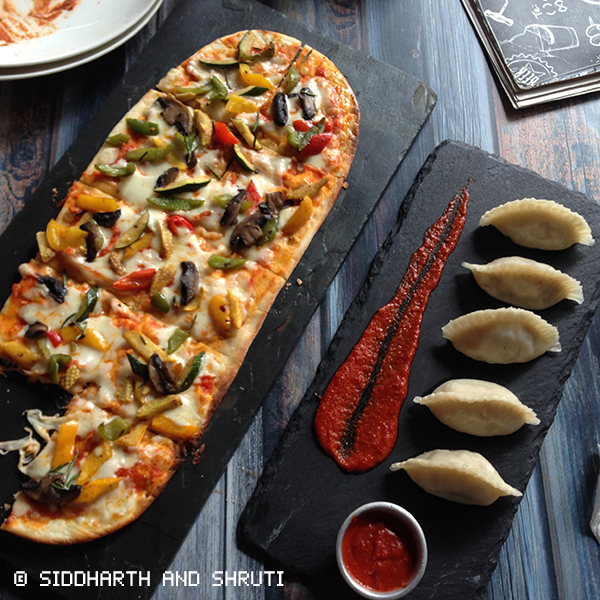 For the main course, we ordered the Home Sweet Home; a light vegetarian pizza. An unusual thing about the pizzas here is their oblong shape and standard 14″ size. Despite its size, the pizza has a thin crust and is not excessive for two. If you're really hungry, you may even be able to finish one on your own.
Taste-wise, the pizza was quite good; a bit on the sweet side. Some of the non-vegetarian offerings on the menu such as the Peri Peri Chicken Pizza or the Sawandika Chicken also sound tempting, so meat lovers could check them out.
Light House Cafe is a great place for a light meal or a working lunch. It's relatively easy on the wallet too; our lunch for 3 including drinks cost INR 2,750. A word of advice; the place gets pretty crowded during the evening on weekends. It's best to go on a weekday or on a weekday afternoon if you like avoiding mad crowds like we do.
Our Recommendation
| | |
| --- | --- |
| Taste: | (4.0 / 5) |
| Ambience: | (5.0 / 5) |
| Service: | (3.5 / 5) |
| Value for Money: | (4.5 / 5) |
| Average: | (4.3 / 5) |
If you do happen to visit Light House Cafe, leave us a comment below describing your experience and what menu items you enjoyed.