Away from the city, yet within driving distance, Sula Vineyards in Nashik is restful haven for wine lovers. Although it may not be an alternative to Tuscany or Napa Valley, it is lovely for a weekend getaway or even a day trip with your loved ones. We both ended going there separately, Siddharth with his family and me with a bunch of my girlfriends. If you start early morning, you can reach around lunch and enjoy the day by the pool or on a wine tasting tour.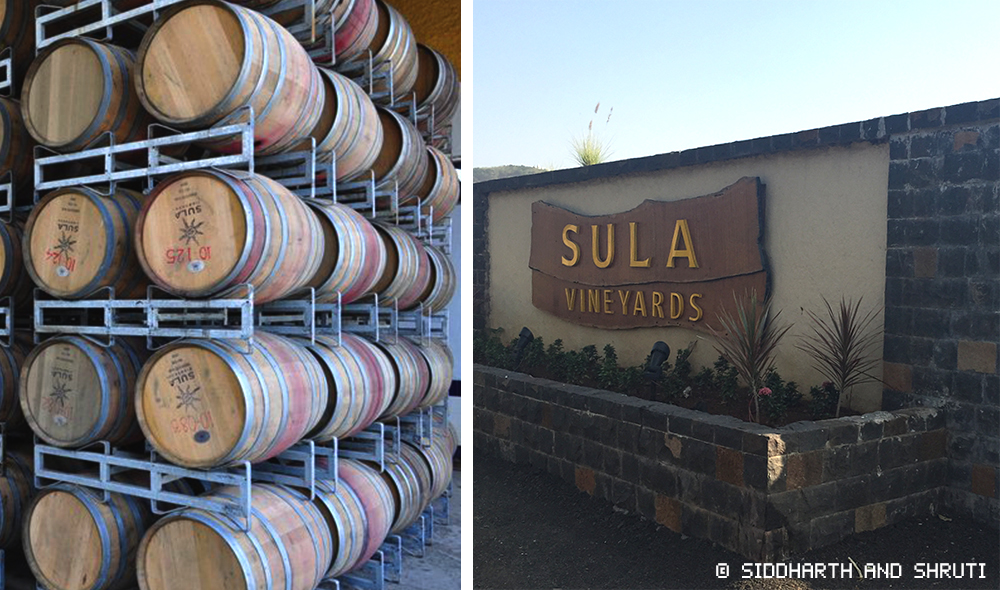 The best time to visit Sula Vineyards is between November to March. We both visited Sula in December. If you go in the first three months of the year, you can participate in the Sula Vineyards' wine stomping exercise. (Stomping is just for fun, and the
grapes you stomp are not wine grapes
. Wine grapes are small and the seeds are tiny and hard. These are done in machines that weigh kilos.)
Reaching Sula Vineyards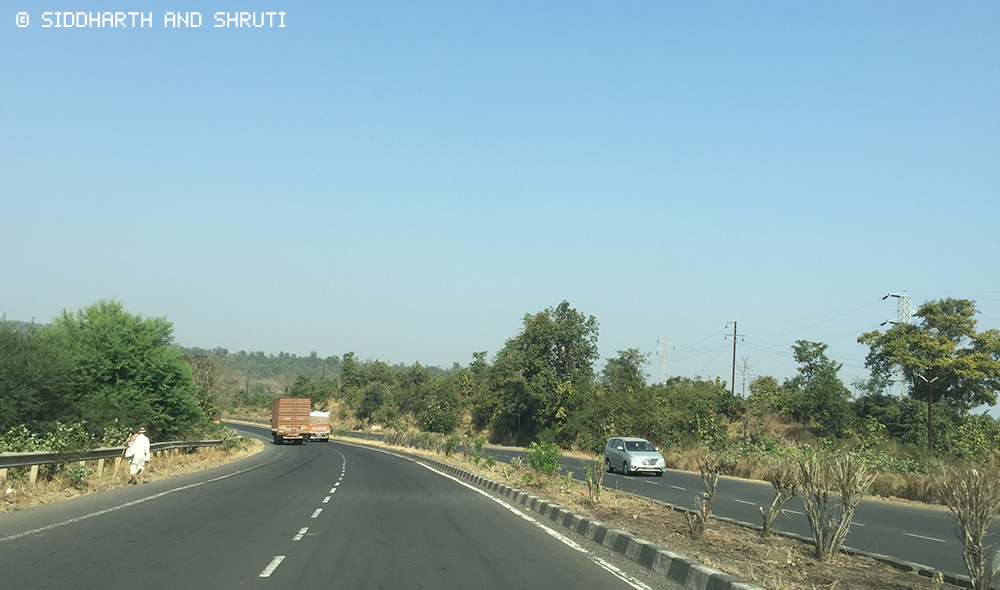 Sula Vineyards is around 200 kms from Mumbai. The
directions on the Sula website
are quite precise and it is marked correctly on google maps. Make sure to take a turn at the junction before entering Nashik city. The drive is quite smooth and roads seemed to be in good shape.
Beyond by Sula
Disclaimer: You can book it viaAgoda.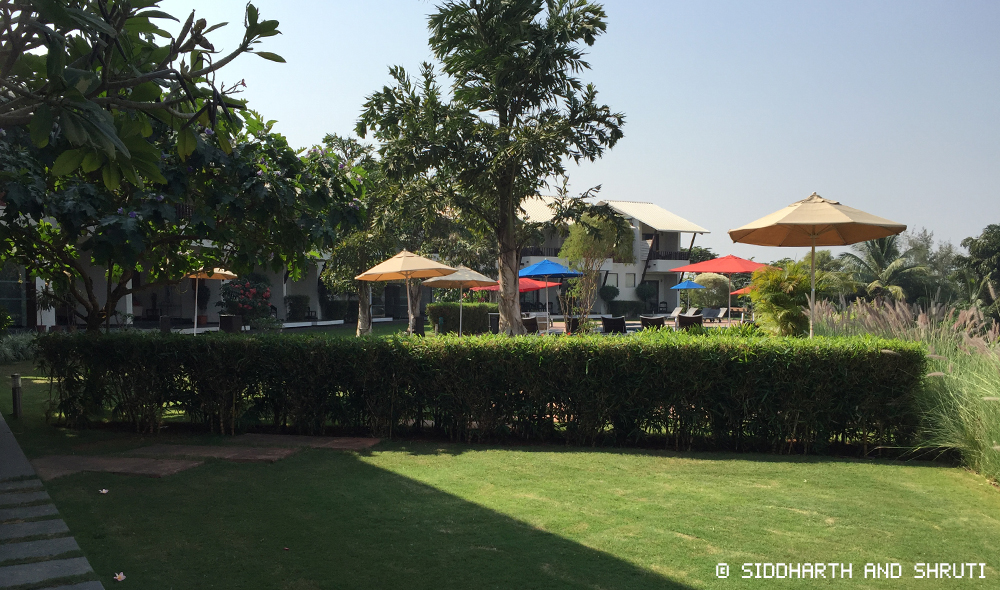 Fresh air, beautiful green vineyards, this idyllic retreat is perfect for relaxing. It is a short ride away (around 3.5 kms) from the Vineyard. It is both a good thing and a bad thing. Since many people come for a day trip, the vineyard area can get crowded and noisy especially around mid-day. Since Beyond is away, you will get your peace and quiet. The con is that the good restaurants are at the vineyard. The restaurant inside Beyond is quite mediocre, which is a shame as you don't feel like driving after hours of recuperating and relaxing around the resort. Package includes one glass of complimentary wine (Umm, Yes Please) and breakfast buffet.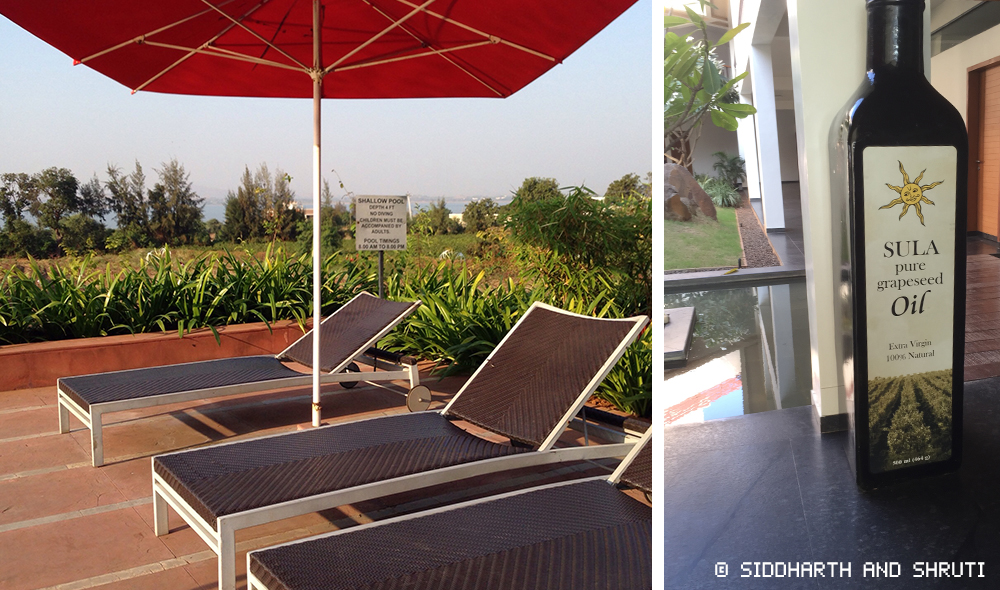 Rooms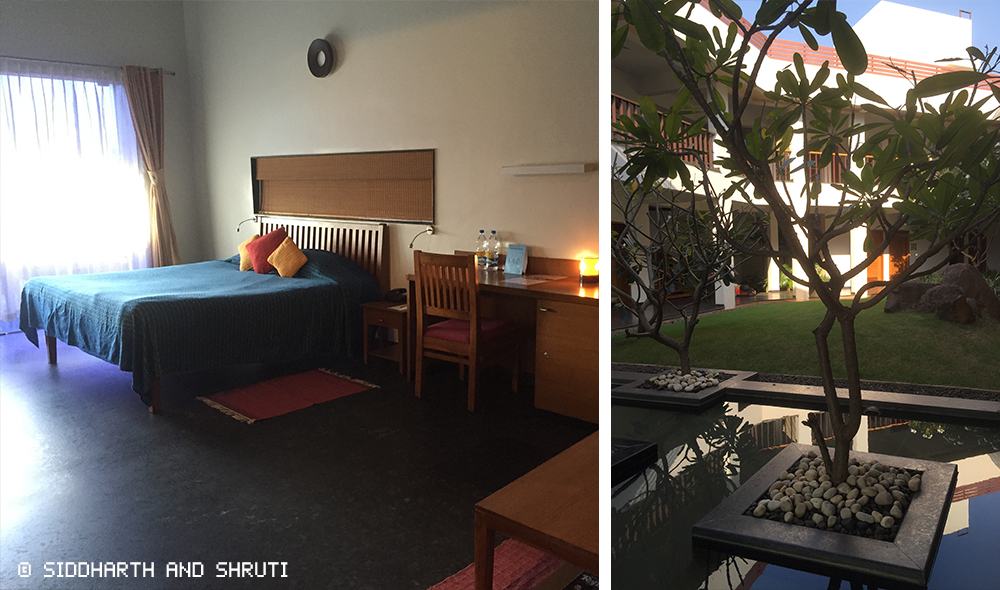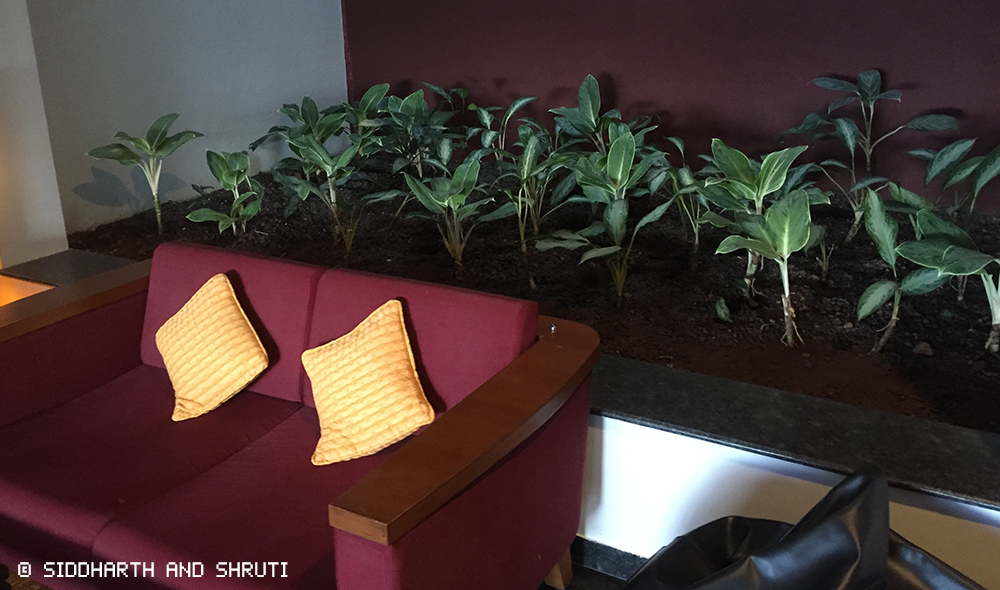 The room we stayed in was quite plush and spacious. I don't know if it was the stress filled week or just the beautiful weather, but the cozy looking bed was calling me. 'Come and lie down, just for a little while.' And then you wake up a couple of hours later. But hey, you are on vacation. They also have a luxury villa if you are travelling in a group.
Vineyard pool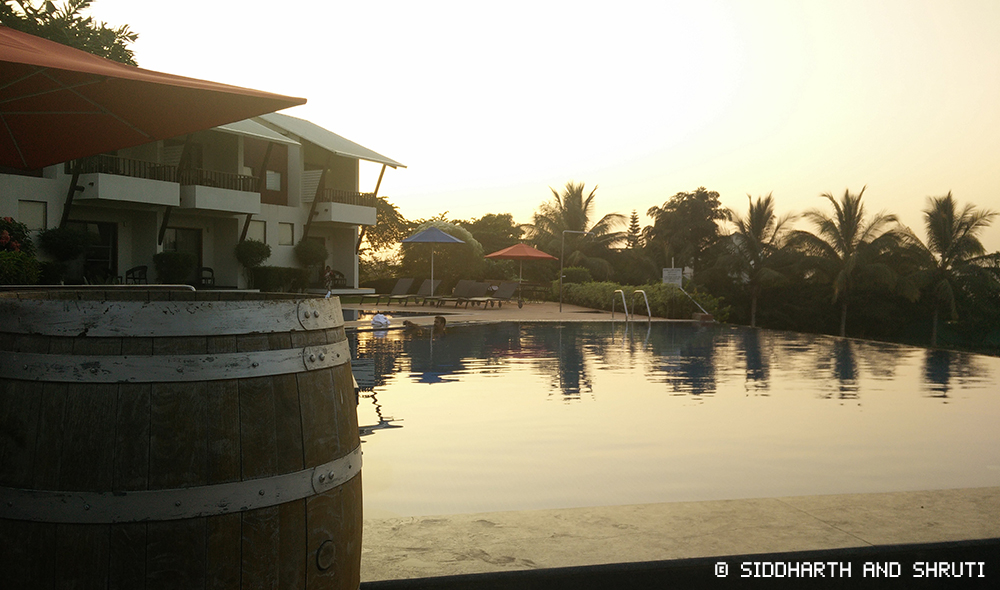 To me, this was one of the highlights of the resort. I was really looking forward to sitting at the pool bar with my girlies and chatting with a glass of wine. But alas! Given that we visited in December, it probably wasn't the best to time to step into the pool. Despite the wine warming my belly, the chilly air and the cold pool water didn't help. It would have been so much better if the pool was heated. Maybe a visit in February might be a good idea if you intend to enjoy the pool.
Wine Tour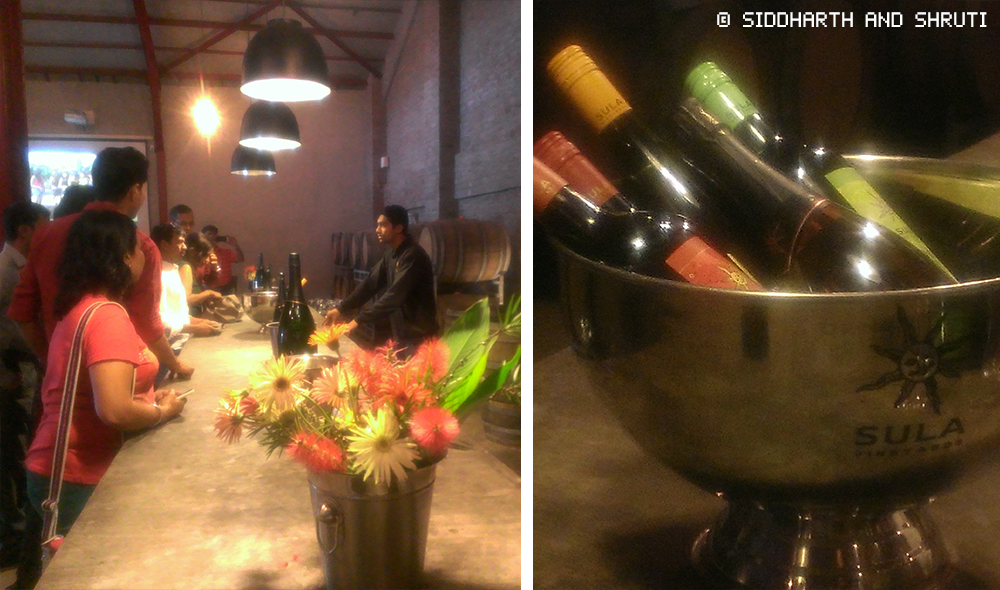 You can buy the wine tour tickets at the reception. They have tours every 45 minutes. It costs Rs. 250 which includes tour + tasting of 5 wines. Winery tours and wine tastings take place on weekdays between
11.30 a.m. – 6.30 p.m.
and weekends (Saturday and Sundays) between
11.30 a.m. – 7.30 p.m.
(one tour every hour).
The tour takes you around the Winery explaining the process right from harvesting of the grapes until ageing the wine in Oak Barrels, taking you through different sections of the plant. The tour ends with the tasting session. If you are a non-drinker you can skip this part. Or if you don't want the factory tour, you can go straight to the tasting room.
They serve a selection of red and white wines with crackers while explaining the process and teaching you to sniff and swirl. My favourite amongst these is the Sula Riesling. If you are fond of sweet wines, then the dessert wine worth a try.
Food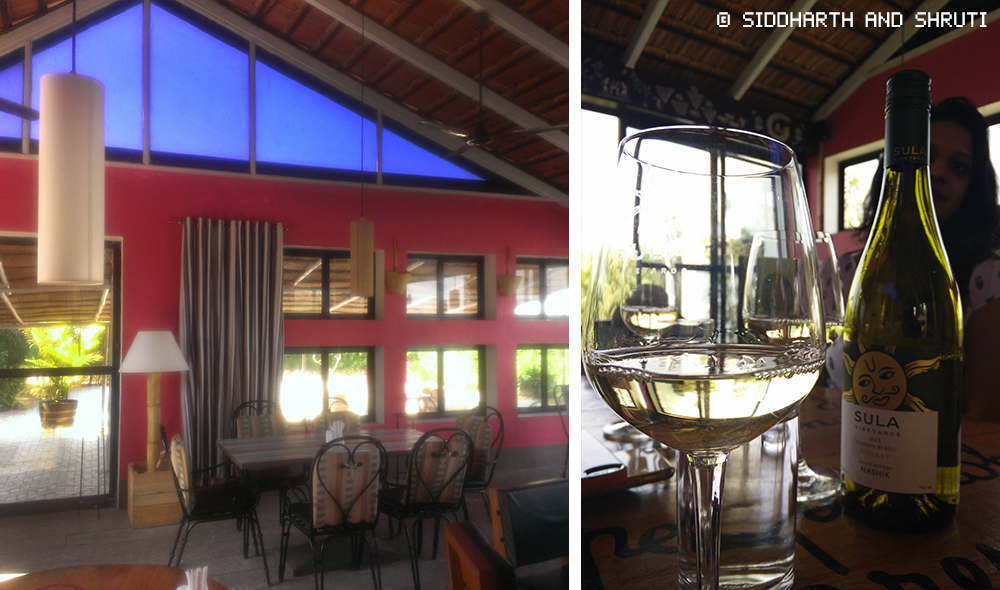 There is a roof top restaurant and a French restaurant called Soliel by La Plage. We tried Soleil and it was really yummy. It was almost empty which is why we decided to try Soleil over the roof top restaurant. The service however was quite slow. They probably are used to everyone having a leisurely lunch while sipping on wine. If you are in a rush, oh! boy are you in a pickle.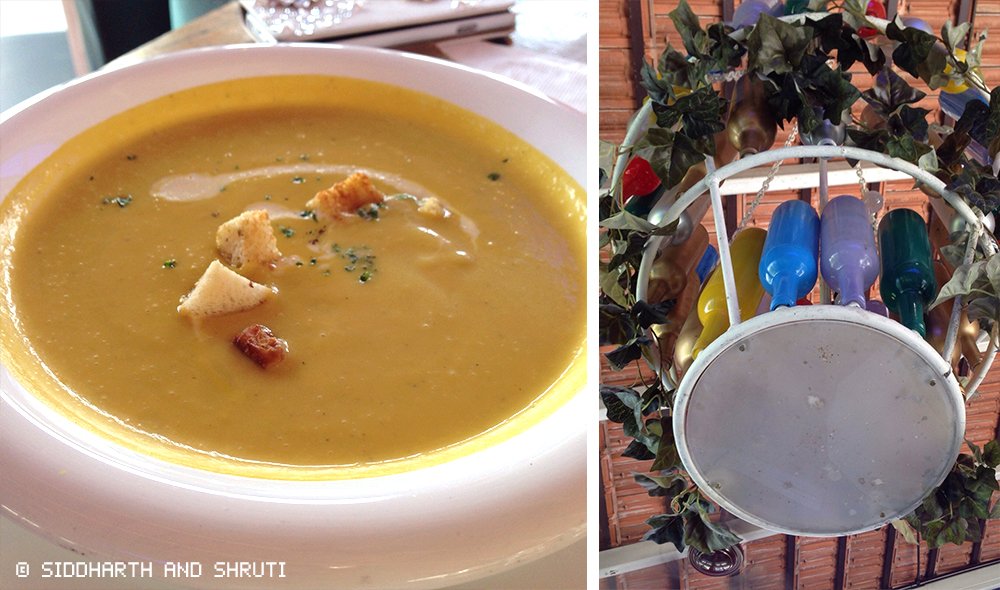 Although the food at Soleil was great, the restaurant at Beyond, like I mentioned above, is a miss. Their breakfast buffet is decent. But definitely drive down to the restaurants at the vineyard for lunch and dinner.
Overall impression
Sula Vineyards has good reviews and bad reviews. If you are a wine connoisseur who has travelled across the world, this winery might not impress you. But if you are a beginner looking for a short trip near Mumbai, it might be good option. Grab a glass of wine, relax and soak up the sun!
Like this post? Why not Pin it!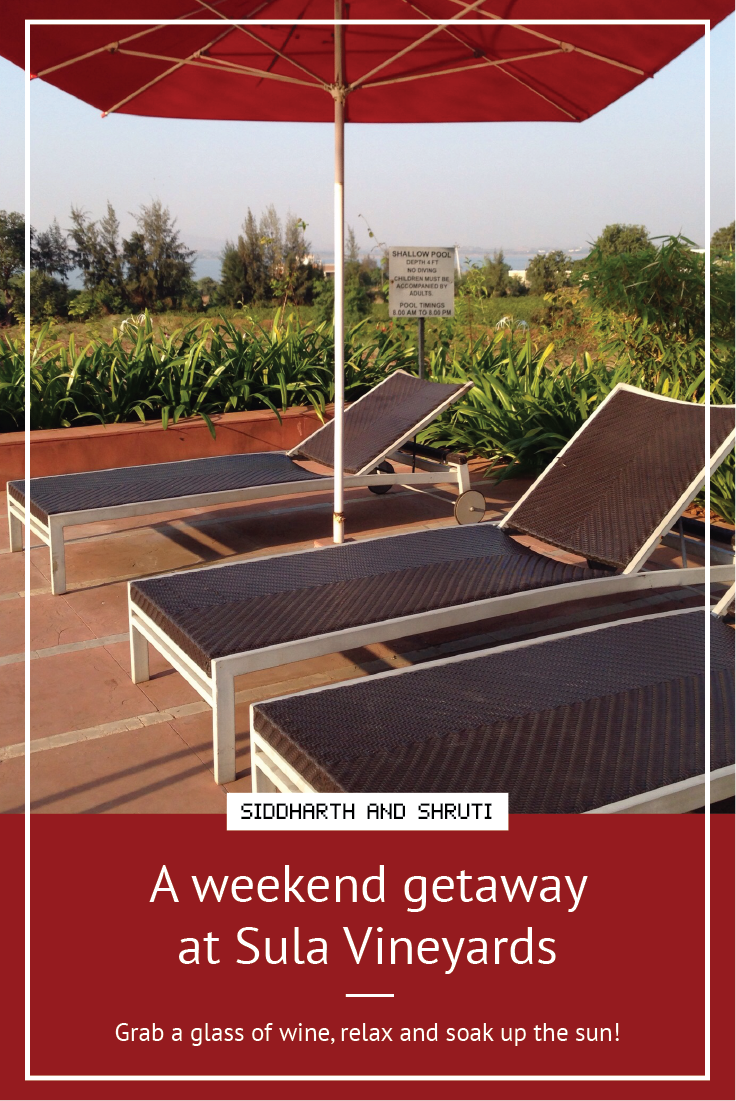 Have you been to Sula yet? What did you think of it? Do you recommend any other wineries in Nashik? Let us know in the comments below.