A stay in a treehouse has been on our bucketlist since so long! Can't believe we actually got around to it in Yala.
Our first impression of the treehouse was it was really well built. It is built using a special tree which is unique to Sri Lanka. We reached Yala Luxury Treehouse around 5.30 pm. We couldn't wait to watch the sunset surrounded by the wilderness. We took our welcome drink upto our room and sipped on the delicious lemony concoction watching the birds return back to their nests and the sun going down. It was a long commute for us from Underneath the Mango Tree in Dickwella and we were really looking forward to some rest.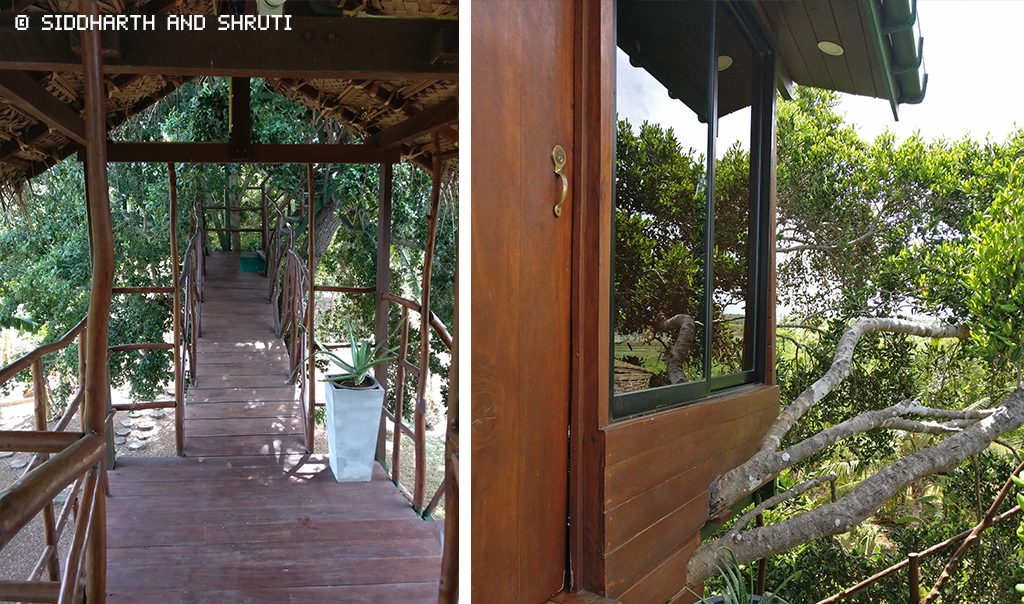 The Luxury Tree House experience
Currently Yala Luxury Tree House has two tree houses which are perfect for couples. They are building two bigger ones this year for family and group travellers. The tree houses have wooden cabins with private bathrooms. The room has minimal organic decor. The bed has a mosquito net to keep the bugs out. Each of the tree houses has it's own wifi. There is a small balcony for viewing pleasure. The rooms are air-conditioned and clean. There are big windows where you can wake up to a view. Surrounded by greens with a view of a pasture, what more can you ask for!
The bathroom has a hot shower and a toilet. Something to note here is, it does not have access from within the room. Which means that you have to exit the room, climb down a couple of steps to get in. If you are clumsy like us, you may want to be extra careful.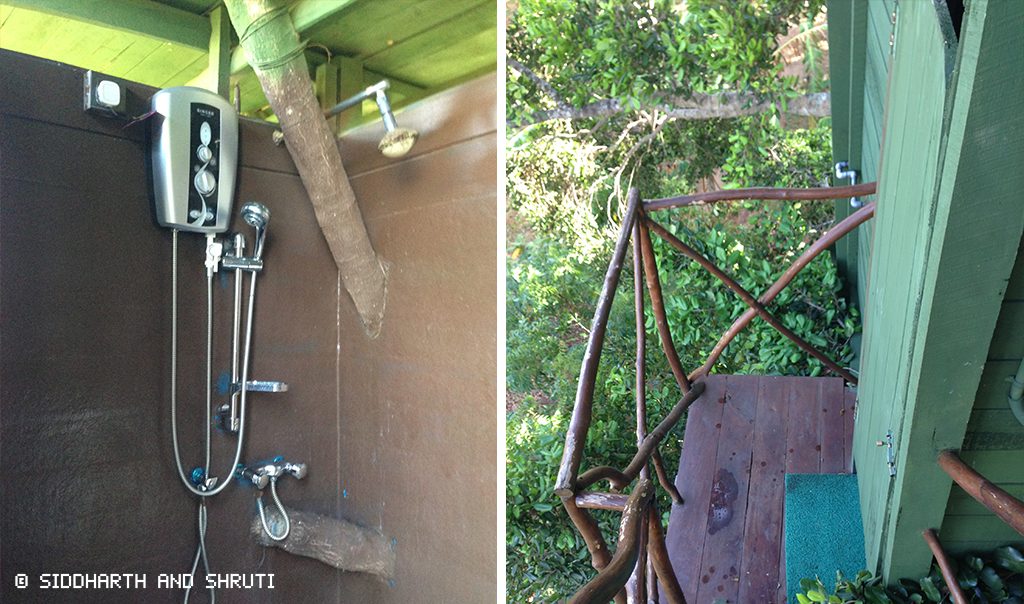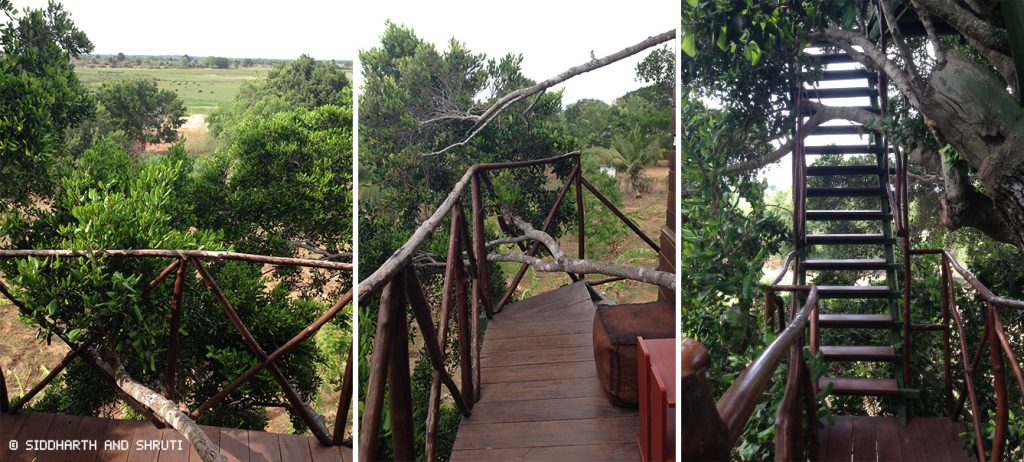 Food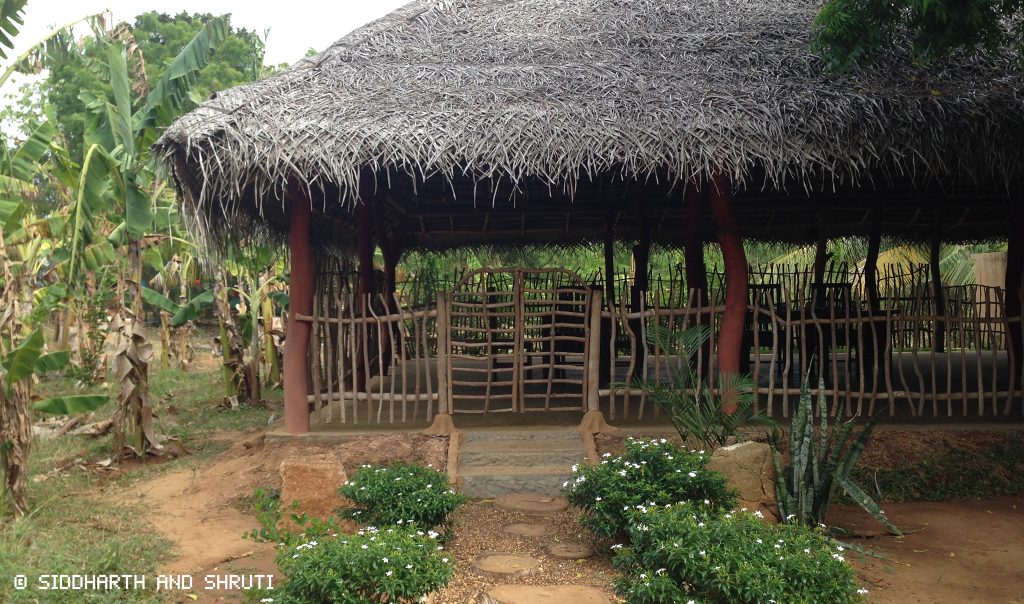 The dining area is a cozy little place nearby within the premises. The meals are all authentic Sri Lankan food – hoppers, curry, sambol, rice. We loved the coffee! The lovely aroma of the Sri Lankan coffee with the egg hoppers is sure to make your meal memorable.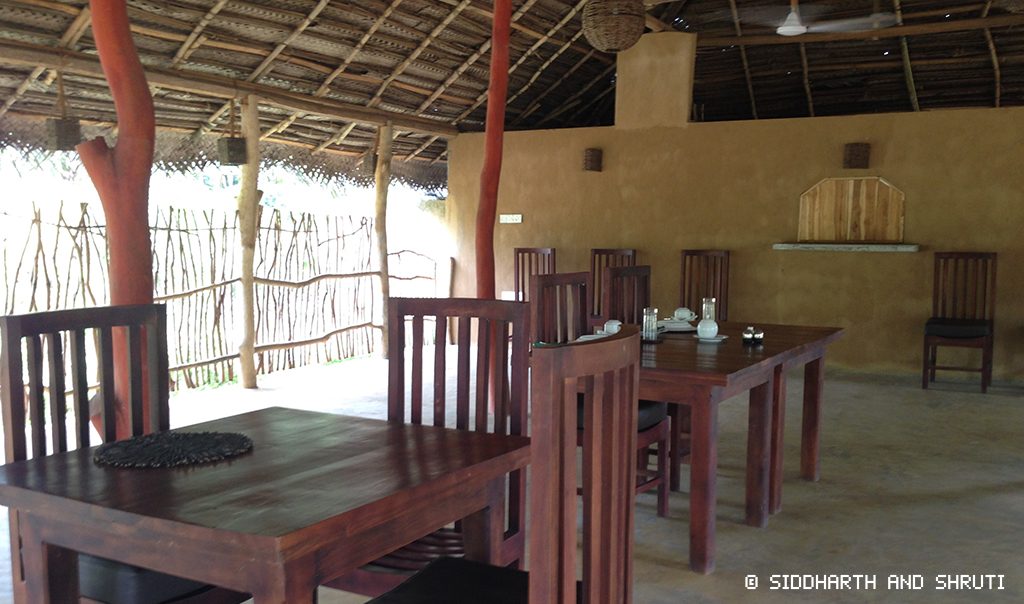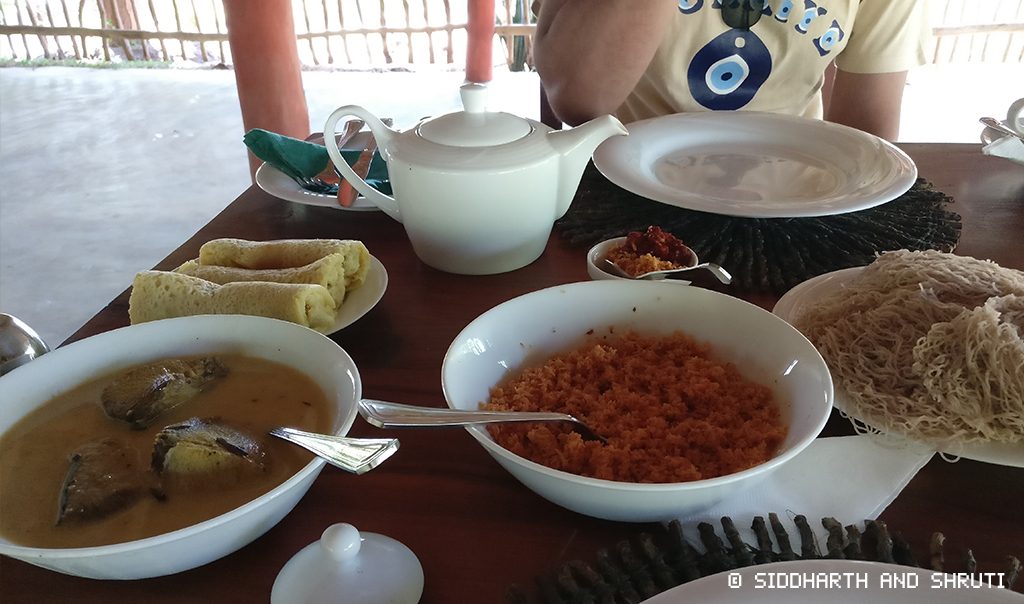 Although the menu is a set menu and not a buffet, the portions are generous and each meal is different. The food was not terribly spicy by our standards unlike some of the other meals we experienced in Sri Lanka.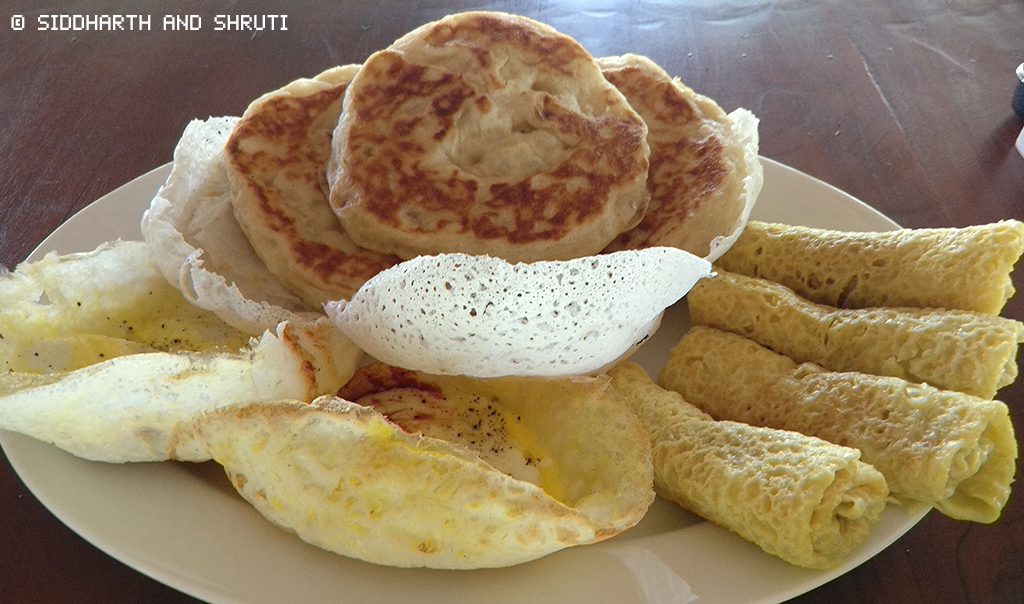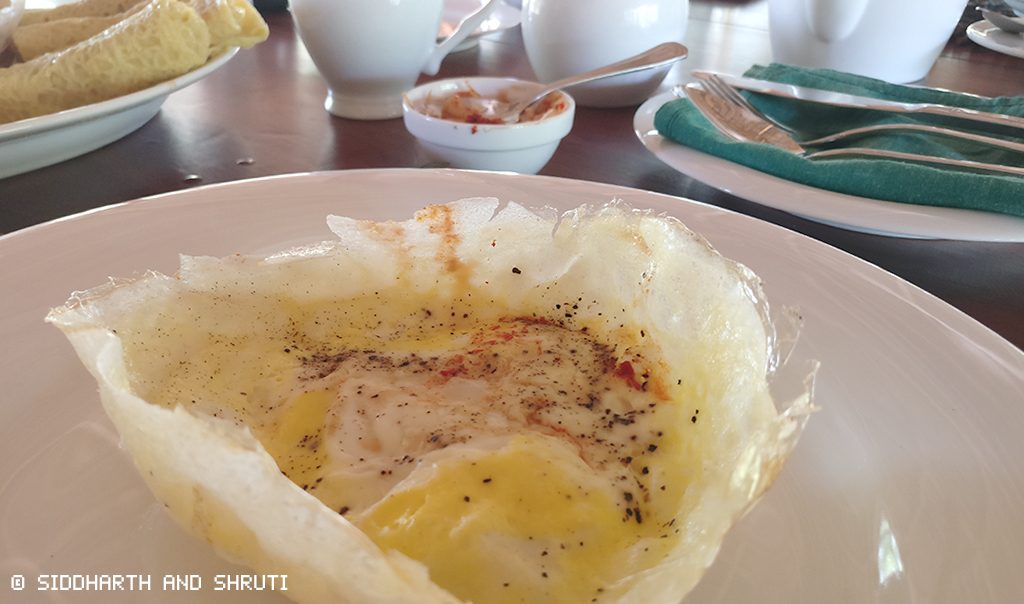 Staff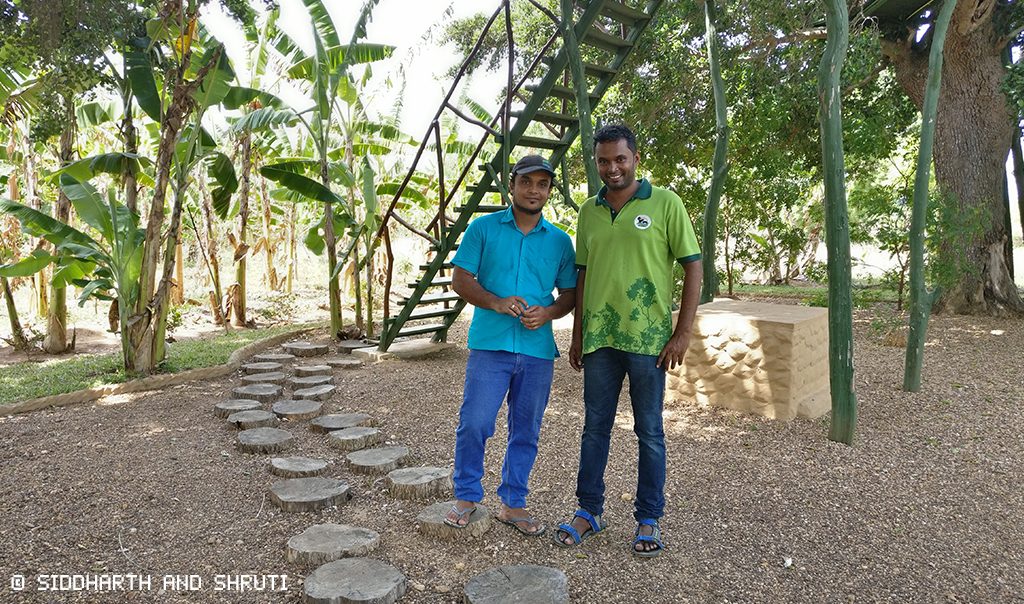 We do judge our stay by the staff. Like the rest of Sri Lanka, their hospitality did not disappoint. Since there are currently only 2 treehouses, there was only one staff member to manage the entire resort. He cooks, cleans and arranges for the safari as well. He was extremely kind and courteous and even packed us a lunch for the safari.
Things you need to remember when you stay here:
Don't leave the door or windows open. When you are living in a tree, there will be insects and small animals that can enter the room.
The mosquitos keep out thanks to the net, but it can get a bit stuffy. Just a heads up for anyone who gets claustrophobic easily.
The bathroom requires you to step down a couple of steps which can be tricky at night or in the rain. Be very careful.
If you are not a morning person (like us), you may find it a bit challenging when you are trying to sleep past 5.30 am but are woken up not so gently by bird calls. Sleep early and wake up early and you will do just fine.
 You can book Yala Luxury Tree House via Agoda
Yala National Park
Yala is a haven for safari lovers. There is access to three national parks, Yala national park, Udawalawe national park and Bundala national park. Bundala national park harbors 197 species of birds. Udawalawe is a great spot for wild elephants and Yala is well known for leopard spotting. Yala National Park in Sri Lanka has the highest population density of leopards in the world. We opted to go to Yala for a half day safari, but unfortunately we did not spot any leopards. For higher chances go for a full day safari. We ended up seeing a lot of birds including painted storks, kingfishers, herons and a lot of peacocks.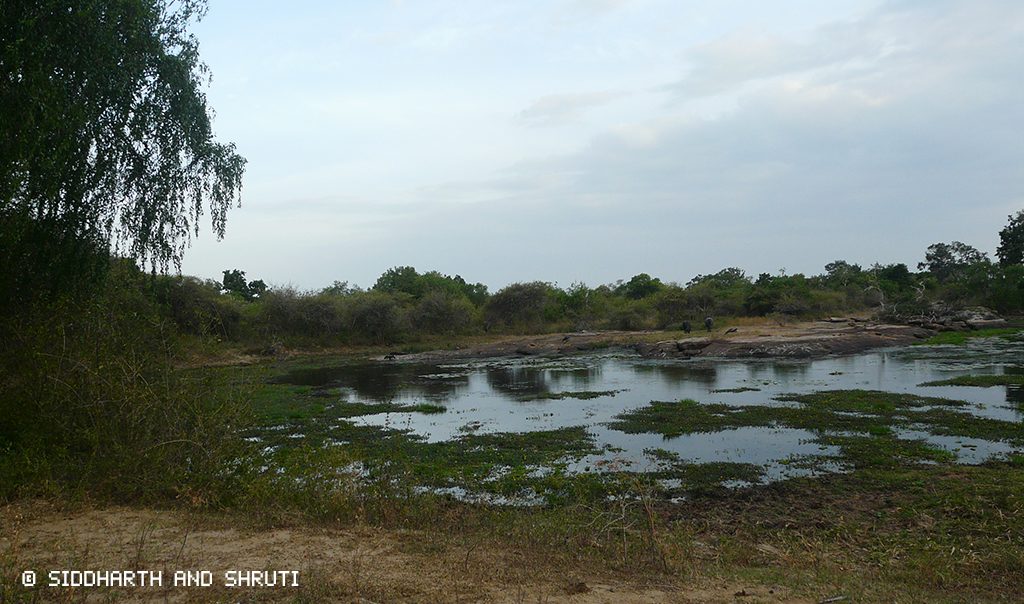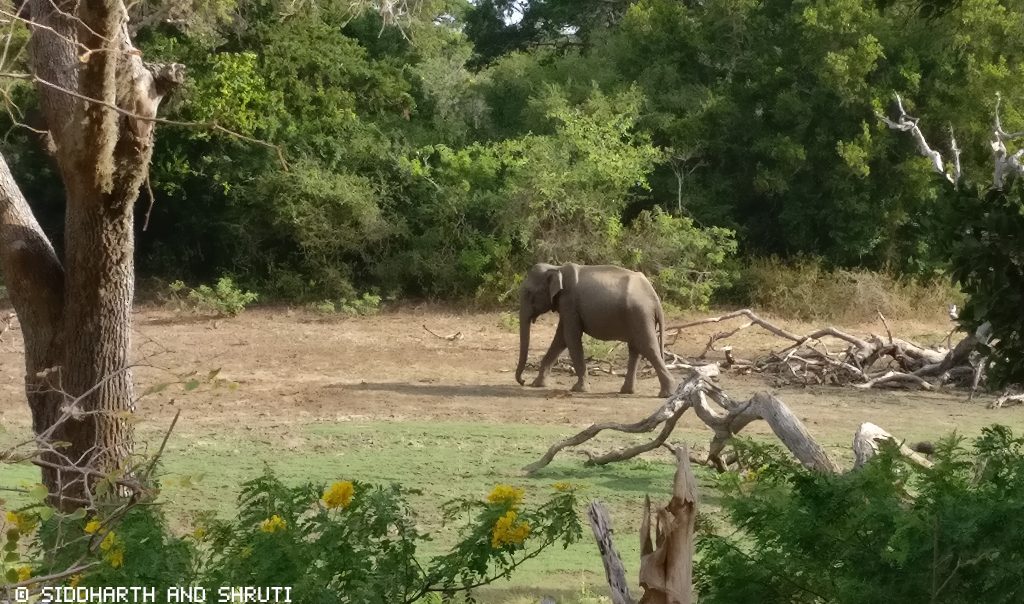 Amongst animals, we did see elephants, crocodiles, and rabbits. To be honest, we were a bit disappointed with our safari since we didn't see any big animals like bears and leopards. The problem was that were ended up going on a weekend. The park was so crowded that the noise from all the jeeps scared off the animals. If you can, we recommend avoiding weekends as it attracts the locals and foreigners alike causing congestion issues in the park. We were happy to see the colourful birds though. The best season to visit the national parks is the dry season from February to June. The park closes each year in September for maintenance.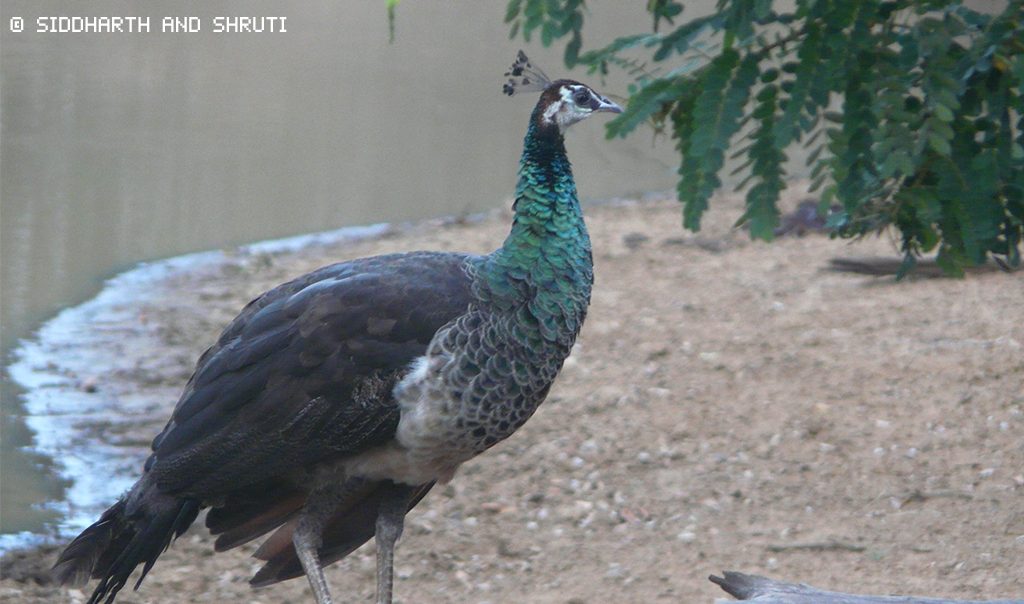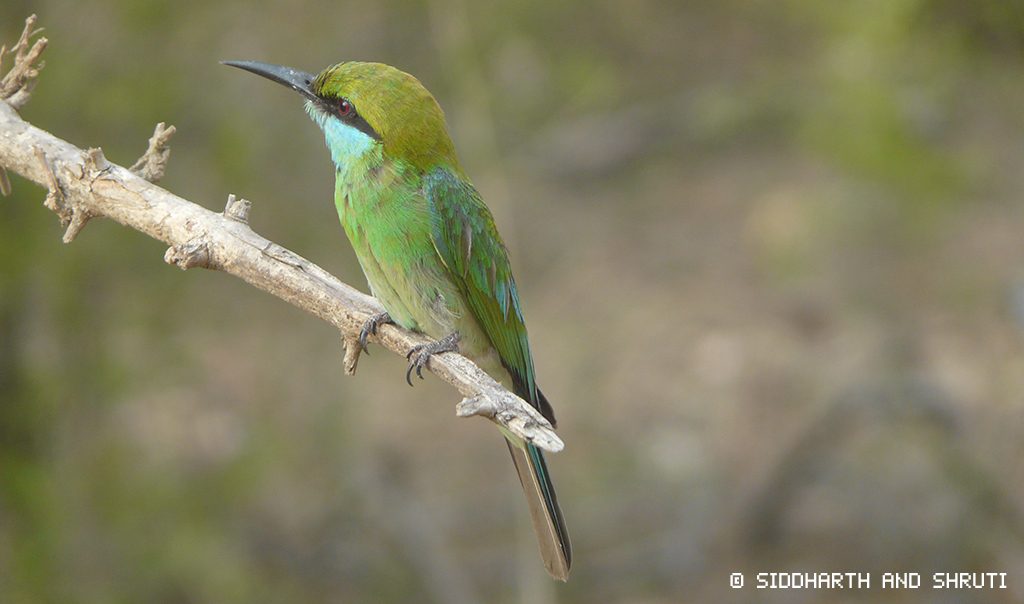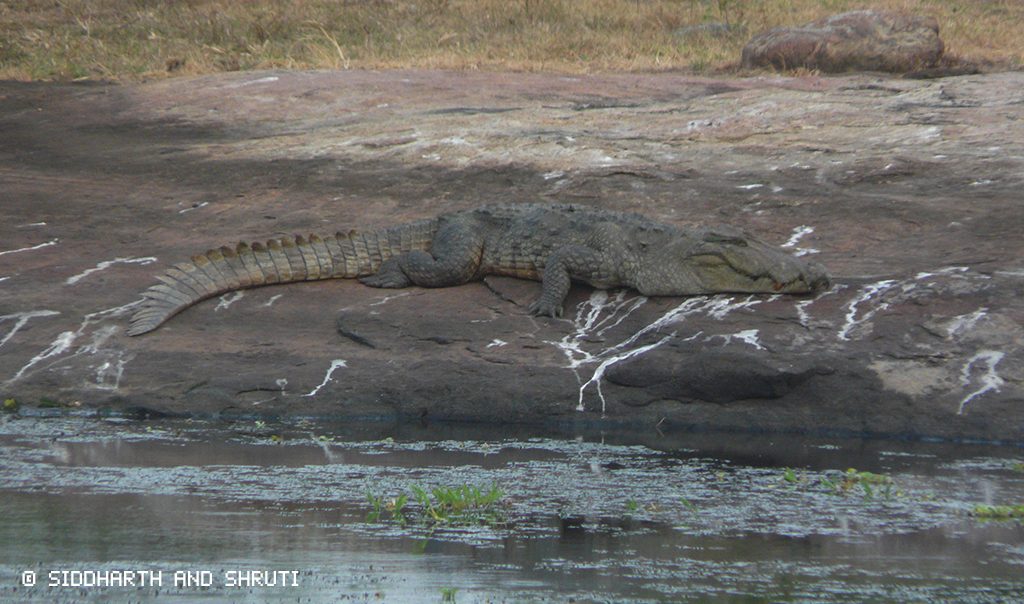 We were hosted by Yala Luxury Tree House. All opinions as always are our own