The diversity available in Indian cuisine always astounds us. Despite having lived in India for most of our lives, we have still not tasted cuisines from all parts of the country. We recently got the chance to sample Sindhi delicacies at 29's Kemps Corner outlet in South Mumbai.
29 (Twenty Nine) is a restaurant with a unique mission; to deliver culinary experiences from each of the 29 states of India. Unlike the current trend of fusion cuisine, 29 aims to put authentic dishes on the table. Want to know what someone from Alibaug eats at their home? Or someone from Meghalaya? The staff here have put together a wholesome, well-researched menu with recipes from locals. The menu changes every 6 months as recipes from different states are added on a rotational basis.
One of the newest additions to 29's menu is the Sindhi thali. Each dish in the thali has a unique flavor and shows off the variety of preparations in Sindhi cuisine. To create the menu, the restaurant teamed up with Mrs. Mohini Ahuja who is a foodie and a home chef. We were fortunate to meet her during our visit. Her vibrant personality, infectious enthusiasm and attention to detail added to the experience of our delicious meal.
"The idea germinated during a casual conversation with Mrs. Ahuja who had visited us at the Kemp's Corner outlet for her husband's birthday. She happened to mention about the diverse food options available in Sindhi cuisine and how the reach is limited to a few. We have developed this menu from the Sindhi Kitchen of Mrs. Ahuja keeping the roots of her ancestors culinary cooking skills intact with an aim to pass on the learnings for generations to come, so that it doesn't get lost." says Nishek Jain, Owner – Twenty Nine Restaurant
Sindhi Lunch Maani Special – 24th & 25th March 2018

When most people think of Sindhi cuisine, Kadhi Chawal and Papad comes to mind. In reality, there is so much more variety on offer! We started our meal with a cool and refreshing welcome drink called 'Thandai'. An assortment of starters followed ranging from Tuk (Crisp double fried potato, arabi & suren variants) to Dal Pakwan (a simple preparation of chana dal infused with spices and deep fried flat maida puri) to Paneer Seviyan (cubes of paneer fried in coating of vermicelli soaked in water).
The main course included a variety of bhajis and curries. We were taught how to eat Koki (Thick spiced up roti) the Sindhi way; dip it in Sai Bhaji (Spinach Subzi) and Raita generously to create a harmonious combination of flavours. The Bhee (lotus stem curry) was cooked to perfection and one of our favorites. The Satpuras we learned can be eaten for breakfast as well as lunch. The texture is somewhere between a Punjabi paratha and a Gujarati thepla. The staple Kadhi Chawal was of course excellent, but the Taahiri (saffron flavored rice) was the real winner in our eyes. The Sindhi Lola (sweet wheat flour roasted flat bread) was an excellent complement to the subzis. We polished off the meal with a sweet bread delicacy.
The Sindhi Lunch Maani Special will be served at the 29, Kemps Corner for Rs. 495 plus tax between 11.30 am-3 pm on 24th & 25th March 2018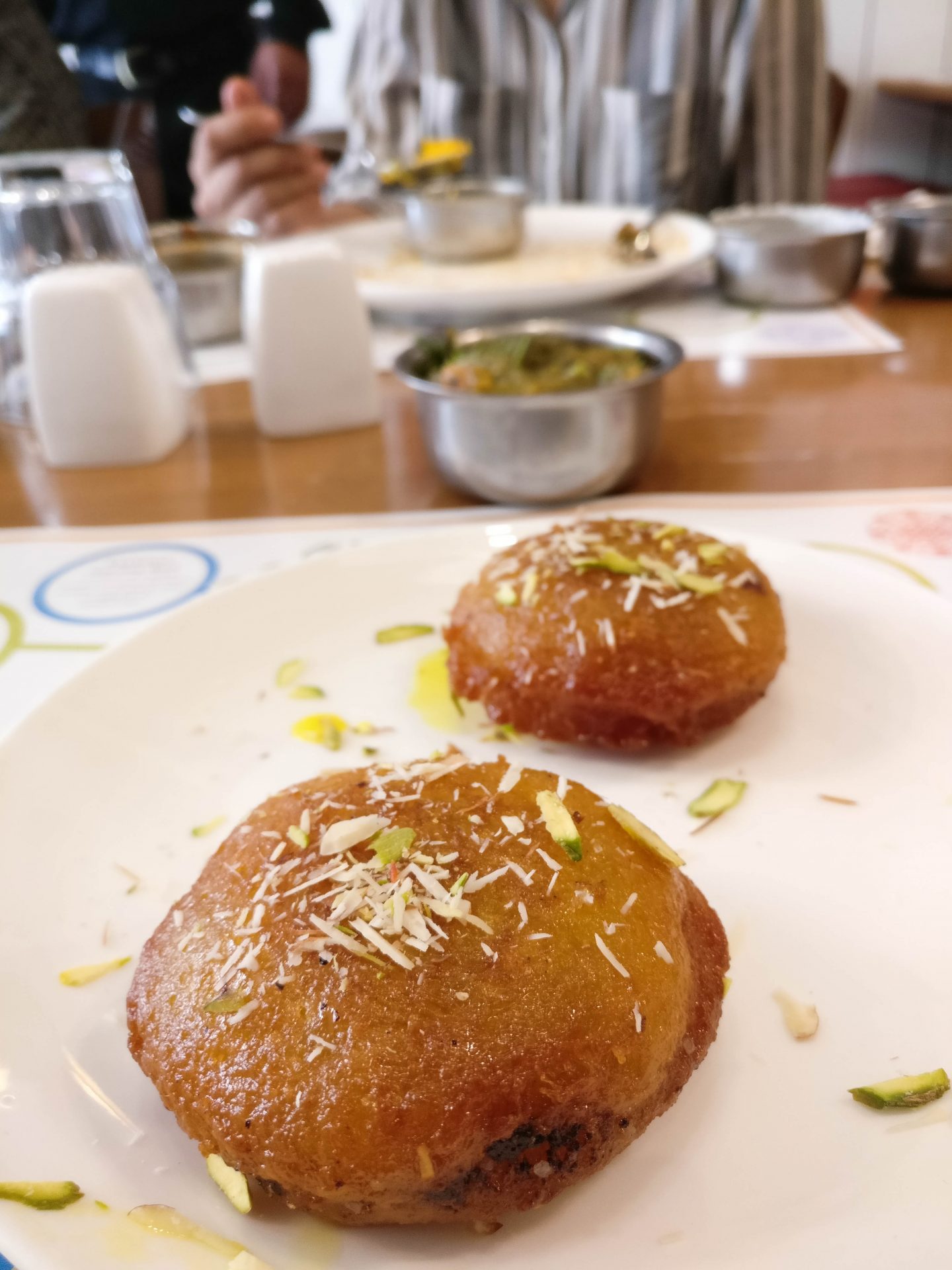 Although we ate to our heart's content, Mrs. Ahuja insisted that she would cook something special for us. We tried her sweet and salty samosas and fried sweet bread which tasted very similar to Gulab Jamuns.
Mrs. Ahuja's philosophy
"Despite the passage of time, I've not forgotten the dishes of Sindh that my mother taught me to make when I was a teenager. Food is the best way for me to connect with my roots now. To me, Sindhi cuisine is absolutely delightful; there are great deal of flavours and spices. I have always dreamt to have a restaurant of my own to serve delicious Sindhi food to the patrons. While working on this project with Nishek as a team, I am living my dream!" says Mrs. Mohini Ahuja, 76- year old home-maker, food lover & patron at Twenty Nine.
We can't seem to get over the taste of Sindhi cuisine. This will surely not be the last time we sample Taahiri or Koki. Trying this thali is a great way to experience Sindhi cuisine at its most authentic.
To book a table, call 29 on +91 7208052999/ +91 7208022929.
Like it, Pin it for later