If you have read our September favourites, you will know that we fell head over heels with Flores! We ended up staying in Labuan Bajo, Flores for 3 days and we wish we had spent more time exploring Flores than Bali.
Why Blue Marlin Komodo, you ask? Diving, diving and more diving! Blue Marlin Komodo is a fantastic dive school in you guessed right – Komodo! If breathtaking sea life is what you are after, reduce your days in Bali and head over to Komodo. Labuan Bajo is a short flight away from Bali. We do not recommend taking the longer and cheaper boat route.

Photo Credit: Blue Marlin Komodo
The vibrancy and energy levels in Blue Marlin Komodo are evident the minute you step into the area. You are surrounded by chatter about speed boats and oxygen and diving techniques. They also have all kinds of amazing scuba gear on display in case you want to buy it.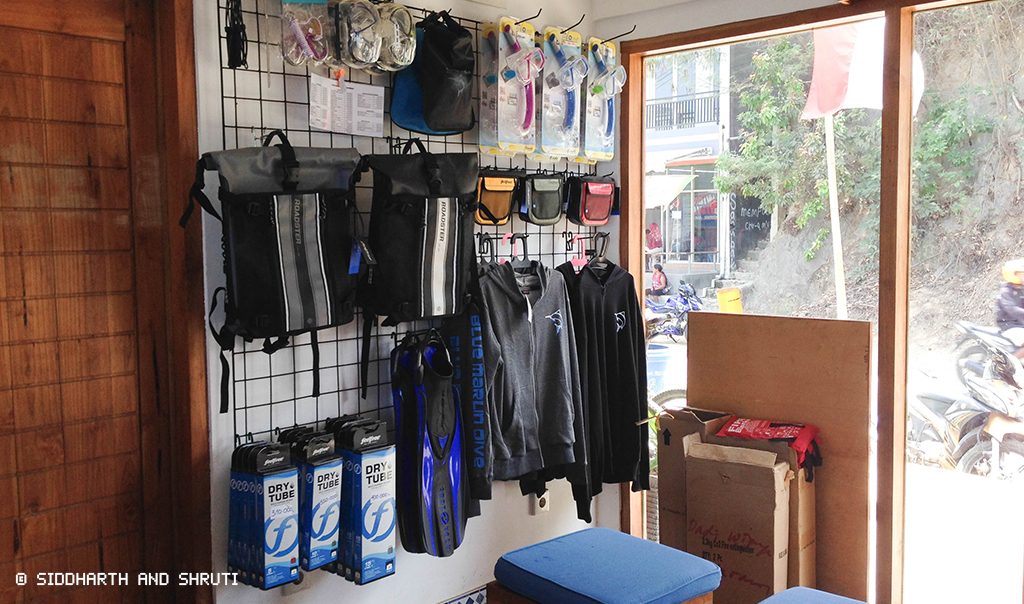 The best part of Blue Marlin Komodo is the dive pool for training. If you are rusty and haven't been diving for a while or if you are just starting out and feeling a bit anxious, this is the perfect way to test it out.
You can swim in the pool too, even if you are not training as long as you are mindful of the divers who might be training at the same time. The pool is open from 7 am until 9 pm.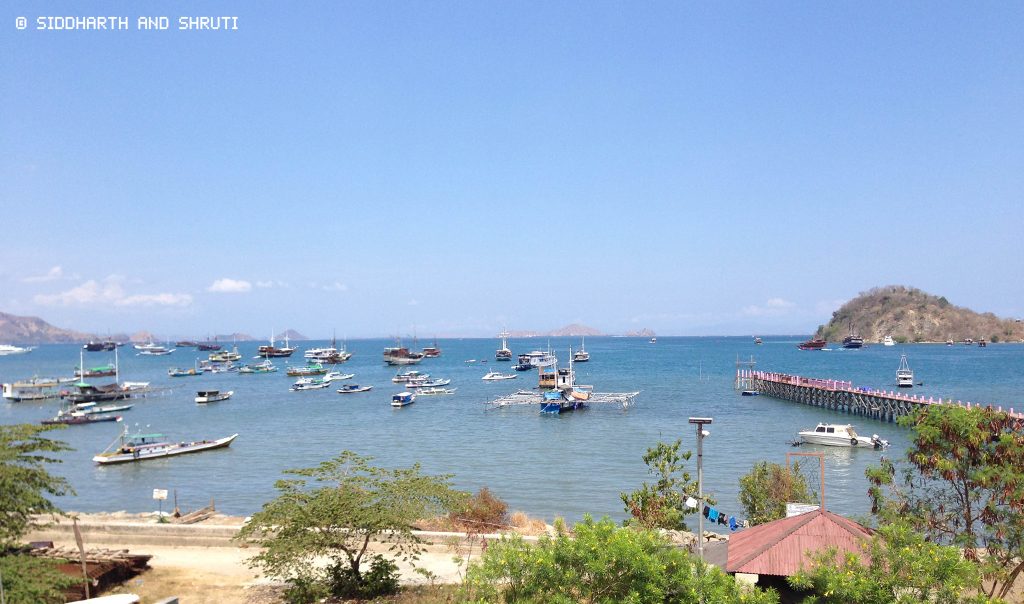 Currently they have Hugo, the 100 HP traditional outrigger boat for newer divers and Toby, the 600 HP speedboat for the more serious divers. They never mix newbies with the serious divers and even have a package with 2 dives and a trek with the Komodo Dragons. You can opt for one of the two liveaboards for more ocean adventures. One is Ikan Biru which is a hop on hop off boat which allows for you to join other divers for any amount of time between three and twelve days. The other one is Bajo Baji, the steel catamaran which is basically diving in style. It is a luxurious home with unlimited nitrox fills.
We seriously miscalculated our stay in Komodo and ended up not going for scuba diving (regrets, regrets) due to time constraints. We ended up on a day trip to Padar, Komodo and Kanawa Island which was fun as well. But we really wished we could have done a diving course here. Well, that's why we will revisit. We have to do a 14 day trip in Flores someday, so we will dedicate at least 3 days of diving here.
The Rooms
The rooms are airy and comfortable and open out to a balcony. Want to see the perfect sunset right from your room? Done!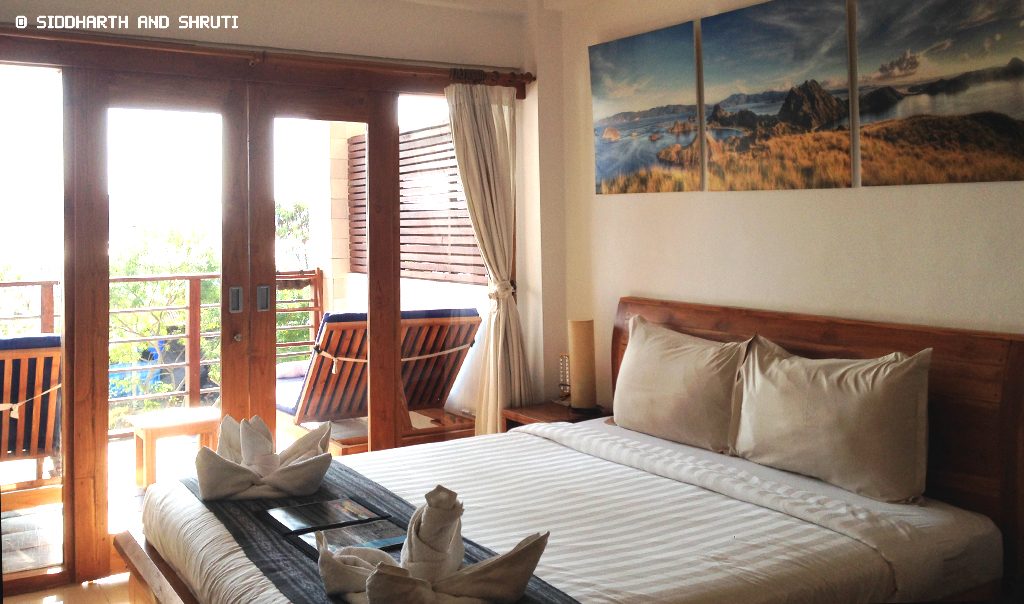 The sun melts away in front of your eyes into a myriad of colours. The perfect way to relax after an adventurous day.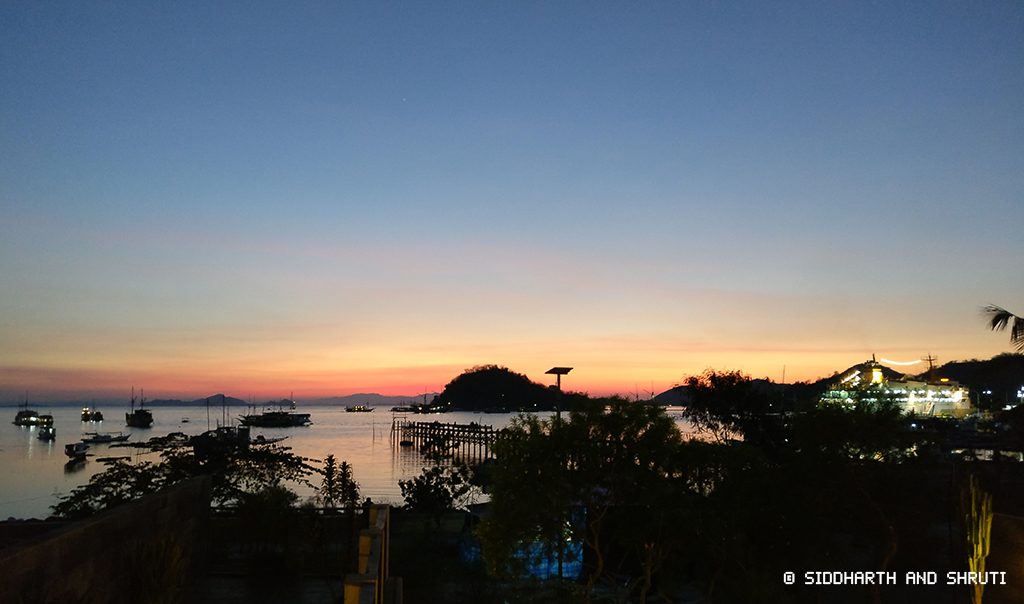 The restaurant at Blue Marlin Komodo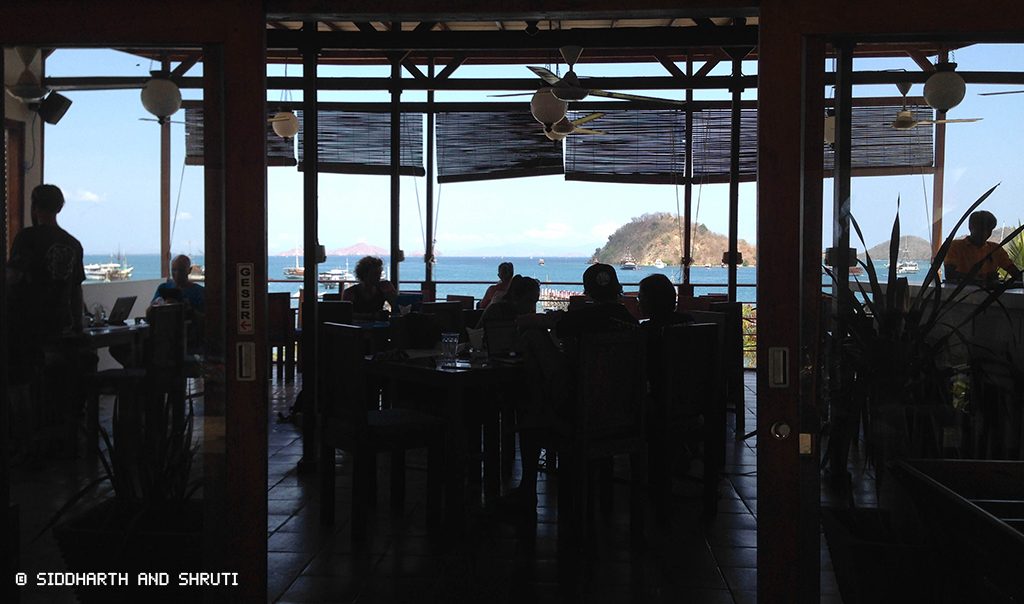 Oh boy, this restaurant is a busy one! Never did we see it deserted. It is quite popular with divers and non divers for it's imported beer and the views. Just look at those blues.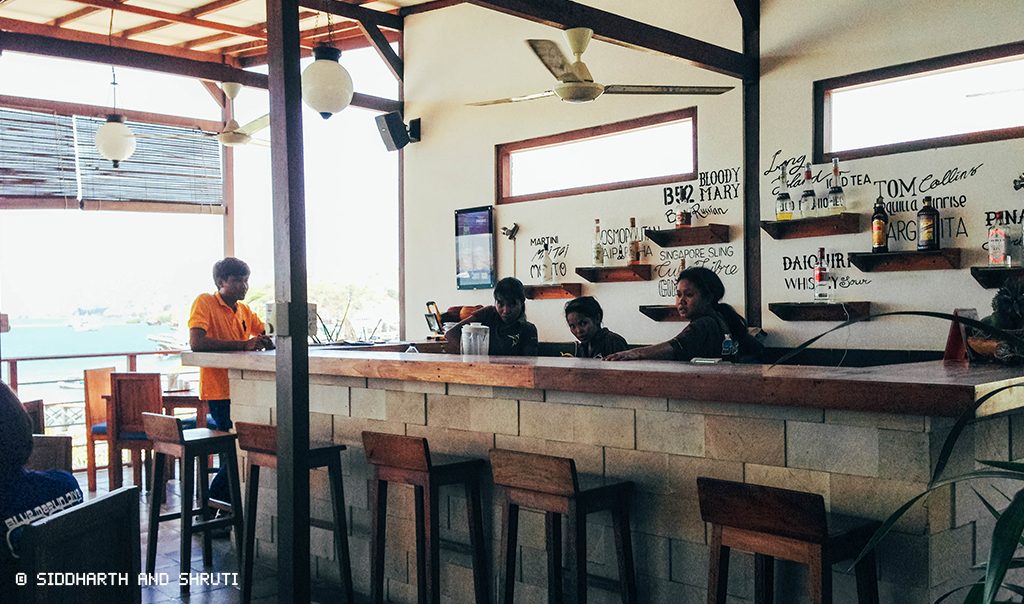 The bar also serves some delicious cocktails. Out trekking/diving/snorkelling all day? You deserve some down time! Go try their ginger smash. A small warning, the portions are meant for big divers not tiny girls like Shruti. Bring your generous appetite and do justice to that Jalapeno bacon burger. They do vegetarian also btw, they do a mean lentil soup.
You can book a stay at Blue Marlin on Agoda
You can email them directly for details on diving at info@bluemarlinkomodo.com
Like it, Pin it for later